Are You a Policy Wonk?
CompetencyWorks Blog
---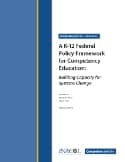 If you are, then you don't want to miss the Wednesday, February 12th webinar about the report A  K-12 Policy Framework for Competency Education: Building Capacity for Systems Change. The webinar will be held from 2:00p – 3:00p ET. Please register here.
As lawmakers in Washington, DC craft a next generation Elementary and Secondary Education Act (ESEA), this report encourages them to take bold steps forward to allow students to advance upon demonstrated mastery and receive the personalized support they need, when they need it. Maria Worthen, Vice President for Federal and State Policy, iNACOL and Lillian Pace, Senior Director of National Policy, KnowledgeWorks will lead this webinar discussing the importance of this federal policy issue as well as how the U.S. education system can evolve to ensure all students succeed and graduate from high school college and career ready. The report's co-authors will provide a comprehensive vision for supporting state and local efforts to implement student-centered learning. Their presentation will describe the barriers and opportunities within federal education policy frameworks and identify how the federal government is in a unique position to catalyze and scale student-centered learning approaches.
We hope that once again the chat room on the webinar will be a place that you all can meet each other, sharing your ideas and resources.
This webinar is free to attend.