Colleges Commit to Accepting Proficiency-Based Diploma
CompetencyWorks Blog
---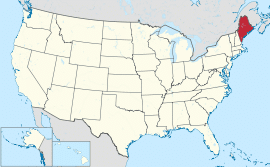 The Maine Department of Education posted the following update on how colleges are responding to a proficiency-based diploma.  The Great Schools Partnership with a cadre of high schools and colleges is also making substantial progress on designing a proficiency-based diploma. Stay tuned for more! 
A frequently asked question relating to Maine's move to a proficiency-based diploma by 2018 is "Will colleges and universities accept proficiency-based transcripts?"
When initially considering the proficiency-based diploma bill, the Legislature's Education Committee specifically heard testimony from representatives of higher education on this question and were satisfied enough that they voted unanimously to recommend passage.
Since then, many districts have also done their own research to satisfy themselves that colleges and universities will indeed accept such transcripts.
Additionally, the New England Secondary Schools Consortium (of which Maine is a partner) recently asked colleges and universities in member states to sign a pledge endorsing proficiency-based practices and assuring that no applicant is disadvantaged by coming from a school that uses standards-based reporting and transcripts. To date, 48 colleges and universities have signed the pledge, and that number continues to grow.
Recent Maine high school graduates are proof positive of that commitment from higher education. For example, the high schools of RSU 2 graduated their second class of seniors with a proficiency-based diploma last year and reports that they now have students attending many of Maine's leading schools including the University of Maine, Bowdoin, Bates, UMaine at Farmington, Husson University and all of the community colleges. Additionally, their graduates are also attending colleges and universities throughout the country, including Hofstra University (NY), Boston College, Massachusetts Maritime Academy, Columbia College of Chicago, Keene State University (NJ), Rochester Institute of Technology, Eastern University (PA), Portland State University (OR), Arizona State University, University of Rochester, Emerson College (MA), Wheaton College (MA), Wentworth Institute of Technology (MA), Roanoke College (VA), Mt. Holyoke College (MA) and others.
For more information about Maine's efforts to graduate every student prepared and the transition to a proficiency-based diploma, visit www.maine.gov/doe/proficiency.