Contributive Learning: Learning to Add to the World
CompetencyWorks Blog
---
"The purpose of education is to learn to contribute—not in a specific or standardized way, but in personally relevant, purposeful ways unique to individuals' interests and goals."
Joanne McEachen, Founder, The Learner First
Recently, I attended a leadership event organized by a high school student leadership council where I live. It included a panel of leaders from the community – from elected officers to corporate leaders of big and small companies to nonprofit organizations. I was struck by their stories, leadership, learning, and their advice to "future leaders."  While each was very different, their messages were clear. Their stories had common themes:
Their shared passion and joy in their work. 

The importance of being genuine and authentic.

The critical nature of connections to others and the world around them. 

The skills they use the most and continue to grow such as flexibility, communication, collaboration, creativity, & critical thinking.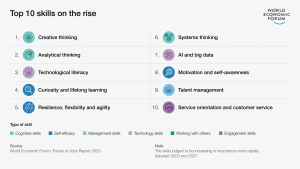 Essentially, they gave me a first-hand account of the recent World Economic Forum, Future of Jobs Report 2023 that was published in April 2023. In the education field, these are important findings to pay attention to so that we are meeting the needs of the students while focusing on jobs and skills that are/will be most relevant in the next five years and beyond. With this in mind, we must make positive changes to engage, measure, empower, and transform schools to meet the needs of the world before us. 
The Purpose of Education
The value of learning is found in application, when it's used to solve a problem, perform a task, or teach others. Often, schools make efforts to link learning to outside, "real-world" applications, because doing so makes learning more vital and engaging. ("You're learning this so you can use it in a personally interesting way" goes over better than "You're learning this so you can use it on a test.") But saying that application is the ultimate purpose of learning falls short of the mark, because our interest extends to how learning is applied: what's the impact or effect of our actions in the world? We all want to be on the receiving end of positive actions (actions that impact our lives for the better), and we want the same for the people with whom we're closely connected. These interests establish two aims of learning: application and, more importantly, positive impact. One-word ties them together: contribution.
We, at The Learner First, define contribution as impacting someone or something for the better. It refers both to the act of contributing and to something contributed (i.e., something that's manifested because of our actions). It can happen on a grand scale, like with scientific discoveries or solutions to global problems, or on the smallest interpersonal or individual levels, when we contribute to our own or another's well-being.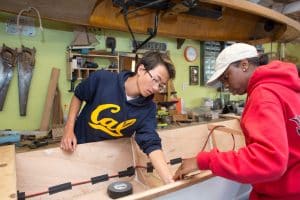 Today, education's purpose should be to empower every student to contribute to the world. We call this Contributive Learning. Contribution is the ultimate purpose in learning, and we believe it is the action most tied to our sense of well-being. And, based on the leaders I listened to, the students and educators I work with on a daily basis, and the Future of Jobs report, preparing our youth to be positive contributors in our communities can start with engaging them in schools where the learning involves being confident in who they are, feeling a connection with the community, being knowledgeable about the world and various subject matter, and having the competency or skill to perform relevant tasks. These goals align with the frame of competency-based learning, which also centers students showing what they know and how they can apply that knowledge in their lives in a way that makes sense to them.
The shift to Contributive Learning in schools benefits from an integrated approach that aligns leadership, teaching, and learning with an embedded learner-first focus at every level. By adopting the lens of Contributive Learning, school is more purposeful not only for students, but for educators, families, and communities alike. We're all better off when we learn to contribute – when we do what we can, in every possible instance, to tie learning to positive action and impact. Foundational in this approach is the alignment of the learning culture, authentic assessment, and everyday learning design in schools. 
Learning Culture
We must create the space for contribution, making learning environments meaningful and fulfilling to those in them. To create this culture, we must foster an environment where everyone is learning and every learner is known, celebrated, and expected to succeed. To examine, reflect, and move towards a culture of contribution, one can start by discussing the following questions: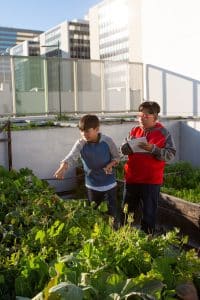 Is our culture characterized by reflection, continuous improvement, and the sharing and celebration of success and learning among all learning partners? 

Are all learners' cultures and individual identities represented in what and how they learn? 

Do we take a proactive approach to creating better conditions for the learners who are struggling the most? 

Have we cultivated relationships with our peers and colleagues at all levels of the school, with the students' families, and with our communities? 

Do we treat education as a celebration of our learners and of what makes them who they are?
Creating a positive learning culture takes time and commitment to learning and well-being; to supporting every student to contribute to the world – to make a positive impact in any moment of the day. The Learning Culture is foundational and begins with the leaders and permeates through the system. This is an important step to get everyone aligned and working towards a common mission. 
Authentic Assessment
What does success mean to you? What does success look like in your classroom/school/district?  Another foundation of contributive learning lies within identifying and measuring what is important. In fact, many districts across the nation have begun this work, adopting a "graduate profile" or "profile of a learner." These profiles typically include skills such as critical thinker, change maker, lifelong-learner, culturally competent, self-directed, etc. However, it is these skills and competencies that are currently missing from traditional assessments (assessments focused on content knowledge). Thus, we must make the important measurable. Schools need to adopt authentic assessment practices that include a wide and diverse range of evidence that is relevant to the success measures defined by the school/district. 
We must use the process of assessment to understand, celebrate,  build on and inform learning experiences that respond to the needs of the learners. Using assessment in this way weaves every element of lifelong success (self-understanding, connection, knowledge, and competency) into everyday teaching and learning. 
Everyday Learning Design 
Too many students are bored and disengaged in classrooms across the country. Contributive Learning makes curricular content more engaging, purposeful, and enduring by connecting it to students' strengths, interests, and goals. If students see themselves in what they're learning – if the learning is relevant to who they are as individuals – they feel a connection to the content that fuels their experience. Thus, educators need intentional, supportive, collaborative learning opportunities that honor their professional expertise while building their capacity to provide contributive learning opportunities. This includes providing resources, tools, and personalized support to meet the needs of the students they work with each day. 
I have seen first-hand the successful results when schools implement processes to collaborate and dive deeply into intentional lesson design for contributive learning. One superintendent shared "The Change Team dialogue opened a window to the need for more broadly defining what we mean by success." This new definition allowed for continued learning and work with staff to embrace competency based learning for their students. A teacher, after engaging in our Designing Contributive Learning Workshops, shared, "I have one student in particular… that for all intents and purposes might as well have been, you know, hiding in her hood, melting into the carpet. [Now,] she occasionally will actually speak up in class. Huge changes, which I just don't think would have ever happened…I never would have never gotten to this place that I am with her without this [framework for lesson design]." These are two of many examples of Contributive Learning supporting positive outcomes for students in different ways. 
As we continue to engage with schools, we are seeing students are showing up in classrooms excited to learn, engaged, and empowered. Teachers are eager to teach, collaborate with colleagues, think deeply, and form genuine connections with students. All of which bring meaning and purpose to the learning at hand. As a result of Contributive Learning, teachers and students engage in everyday learning that sparks curricular discovery, growth, and contribution, and that paints a clearer picture of each learner and their goals.
Contributive Learning: Learning to Add to the World 
In 2022 Secretary-General of the United Nations, Antonio Guterres, underlined the urgent seriousness of our world education crisis. He summed up his vision with four key purposes: 
Learning to Learn

– both traditional and contemporary skills 

Learning to Live Together

– recognizing the requirements for sustainability and gender equality

Learning to Do

– in the rapidly changing world of work which requires lifelong learning 

Learning to Be

– by valuing and having the capacity to live a meaningful life, to live fully, and do no harm 
Contributive Learning. You know it when you experience it. Something happens that leaves you in a better place than before, or your actions contribute to someone's life or to a goal. The feeling in those moments is a sense of fulfillment, a sense that your "wholeness," and that of others, have been added to. 
I felt it when I was listening to the leadership panel. I see it when I engage with principals who are planning professional learning for teachers and when leadership teams are sharing evidence and discussing ways they can grow their learning culture. I hear it in classrooms where students engage with each other, share in their passions, ask each other questions, and collaborate.
Together, focused on a contributive emphasis across academic contexts, education can more fully deliver on its mission to empower every student to contribute to the world. As educators, we owe it to ourselves, those we work with, our communities, and most of all our students, to work collaboratively to transform education to engage and empower students so they are ready for the jobs/skills they need in our ever-changing workforce and are prepared to learn, live together, do and be.
Beth Hamilton is an executive director for The Learner First. With over 20 years in public education as a teacher, instructional coach, and building leader her mission remains the same, as she works with districts and schools across the globe: to support educators in student-centered systems, structures, processes, and resources that will provide a robust learning environment where everyone, from students to staff, and the community beyond, will be engaged, enlightened, excited, and passionate about learning each and every day for the rest of their lives.