Showcase, Share, Inspire: Performance-Based Assessment and Competency-Based Learning in Chicago Public Schools
CompetencyWorks Blog
---
This year, Dr. Ginger Reynolds from EdSystems, a division of Northern Illinois University, and Sonjanita Moore from Chicago Public Schools' Competency-Based Education Team have been working together with Dr. Karin Hess, co-author of Deeper Competency-Based Learning: Making Equitable, Student-Centered, Sustainable Shifts, to guide teachers in the Chicago area in designing and implementing performance-based assessments (PBAs).  Educators involved in this project aimed to create validated Performance-Based Assessments, integrating social justice themes with adaptive and academic competencies.  Final peer-reviewed projects were then submitted to earn each teacher a micro-credential.  ​​This work illustrates the role of meaningful assessment, element 2 of the competency-based education (CBE) definition.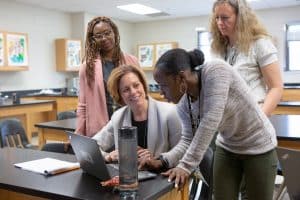 During this project, educators discussed topics during a virtual series of co-led professional development sessions guided by Dr. Karin Hess, a recognized international leader in developing PBAs. The sessions focused on connecting PBAs to rigorous competencies, using rubrics and performance scales to plan instruction and assess both products and processes of learning (element 7 of the CBE definition). Throughout the sessions, teachers made in-depth connections to PBA design, using ongoing feedback for fine-tuning. Equity is central to competency-based learning in CPS, and this group incorporated equity and a commitment to social justice as core principles. 
In June, participants gathered virtually to showcase their projects. Each educator gave a short overview explaining their performance-based task, the questions asked during their project, and the academic and adaptive competencies learned and demonstrated in the project. Summaries included rubrics, photographs, and examples of projects that students were evaluated on. This blog post is based on four examples from the showcase.  
Embracing Culture and Allowing Student Agency 
In Irene Metropulos' classroom, students were asked to create their own projects examining sub-Saharan Africa's history and different cultures. A key goal focused on analyzing the Eurocentric perspectives of Africa that too often make crude generalizations about the continent relating to poverty, slavery, and war and ignore its array of cultures, wealth, and artistic history. One of my favorite parts about this project was that in a city with a 30% population of Black Americans it explores a different aspect of African history and culture that is not commonly studied in the traditional curriculum. Additionally, this project offers students from these backgrounds the opportunity to share personal knowledge or explore connections in their personal lives. Additionally, students were encouraged to demonstrate their learning in whatever way they were most comfortable: skits, monologues, podcasts, Tik Tok videos, and public art were just a few ways the students could choose to present their learning.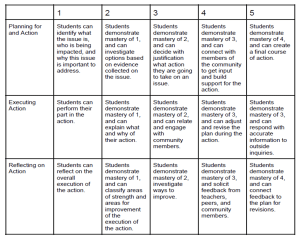 Exercising Agency Through Meaningful Civic Action Plans 
At Round Lake High School, Doug Barnshaw led social studies students in creating a community civics project. Students identified community issues independently and then created an action plan to address them. Throughout the year, students put their plans into action and followed this rubric closely to create in-depth, high-level, impactful projects. Transparency in the learning goals is essential for CBE; this rubric communicates to students precisely what they need to do to demonstrate mastery. From there, students decided on their action plan from their interests, encouraging their self-advocacy and agency. This project also allowed students to work directly with their community through advocacy groups, community members, businesses, and more to create a deep, enriching learning experience.
Policy Making and Make Believe as a Learning
Experience 
Adam Guzy from Ridgewood Community High School also had a great example from his 11th-grade English and history class. Adam proposed a question to the class:  What would a modern New Deal encompass and how could it positively or negatively impact current society and government? Students analyzed the impact of FDR's New Deal on society and applied that knowledge to create their own set of New Deal programs for current society. Students were empowered to make their own decisions about what was important to them regarding a New Deal and demonstrate that learning in the way of their choosing. Enabling the students to choose what was important to them allowed them to use knowledge from their personal lives and community to help guide their projects, supporting equity within this project.  
Empowering Students through Activism and Entrepreneurship 
At York High School, teachers Kim Kirksey, Ayodeji Griffin, Charese Lake, and Anila Niaz designed a PBA that asked students to identify, research, and create a youth activism campaign or business proposal to address real-world issues in the jail where their school is located. The project context was that they had a contract with the Department of Corrections. As incarcerated students themselves, this learning experience was profoundly empowering for students. Not only was it deeply personal to them, but students could determine what they wanted their project to be and how they wanted to demonstrate it. All students chose something different to focus on. Gun violence, bullying, mental health, and housing are just a few examples of the pathways of this project. Even with wide variation in topics, a high point for the teachers was that all projects exceeded the rigorous expectations. They were full of real-world connections, problem-solving skills, advocacy awareness, and citizenship skills.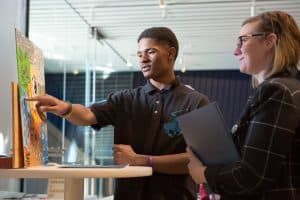 Sharing Experiences
Many educators felt strongly that students transferred knowledge differently in PBAs compared to traditional tests. Even though some students made movie trailers, others created their business project proposals, and others even created unboxing Tik Tok videos or public art, all teachers noticed students demonstrating not only mastery in the project but also skills like collaboration, communication, critical thinking, creativity, self-agency, and advocacy. In a competency-based or performance-based environment, skills like these are just as essential as mastering academic content. When a student is given a performance scale, a rubric, or existential questions to guide their learning, not only are they mastering academic content, but they are working on skill sets that will help them throughout the rest of their life. 
Inspiring and Learning from the Group 
Overall, everyone in the group reacted positively and felt inspired by the different PBAs. One of the best parts about how this information was presented through professional development was that it was inherently modeling CBE. Educators learned together and shared their knowledge with each other. As a result, participants could connect and ask questions, propose solutions, and learn from each other. Throughout the meeting, I saw educators leaving comments using the chat function, not only congratulating other teachers but also providing constructive feedback, asking questions, and reflecting on how they could implement other educators' ideas within their own classrooms. 
Similarly to the educators involved in this professional development, I am amazed by the projects brought forth by students based on these assessments. Once again, it tells how much potential students have when you give them transparent directions and blank pages. They devise high-level, in-depth, sustainable projects that inspire themselves and their fellow students and educators. 
Continuously Moving Forward in Chicago Public Schools
Just as seat time is not good enough to demonstrate mastery in K-12 education, it is not enough just to attend this professional development and absorb the knowledge shared. All participating educators had in-depth projects and seemed eager to learn from other educators on the call. Even though the school year is over, the learning for these educators and educators across Chicago Public Schools does not stop. Nine CPS CBE high schools are hosting CBE Mastery an CBE Acceleration courses for their students this summer. I am very impressed by the work in Chicago Public Schools and hopeful about the empowering, inspiring, and equitable changes being made for students across the city. 
Learn More About CBE in Chicago
About the Author
Briana Medina joined the Aurora Institute in May 2023 as a CompetencyWorks intern. She is a junior at the University of Wisconsin-Madison studying Political Science and Education Studies. She is committed to educational equity and is passionate about its relation to competency-based learning.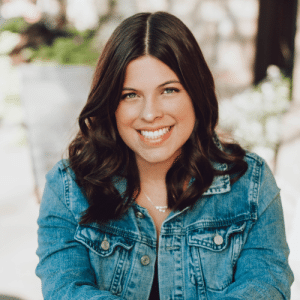 She currently serves on the UW-Madison College of Letters and Science Curriculum Committee, where she reviews and recommends course and program additions, revisions, and policies relating to academic offerings. In the past, Briana has worked as an intern at Kettle Moraine School for Arts and Performance, giving tours and teaching in a competency-based learning environment. Additionally, she worked with the Institute for Personalized Learning on panel discussions, high-level presentations, and blog posts.