Empowering Community Progress: Integrating Open Principles in Education
CompetencyWorks Blog
---
Education plays a pivotal role in driving community progress, development, and local democracy. In our upcoming book, The Open System: Redesigning Education & Reigniting Democracy, we showcase examples of leaders throughout our country who have created substantial change through a community-driven approach. For too long in our education system, closed systems have dominated – disconnected from the communities they serve. We believe that open systems are the future and that leaders, through education, should explore how they can use them in their communities.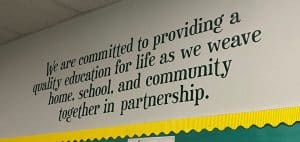 In the book, we ask leaders to commit to embracing the principles of open leadership: knowing your community, designing breakthrough spaces, modeling creative democracy, building abundance partnerships, and expanding openness. We have seen how each of these principles creates a discipline that can create transformative educational systems. We are deeply aligned with the Aurora Institute's principles of exploring new ways of learning, including competency-based education. We believe that it is important that if any community embarks on that journey, that it be an open versus a closed design process. Too many of our best educational efforts begin and end with a small group of educators or leaders around the same table designing what comes next for kids.
In an open system approach, we provoke an entirely different process – where the community comes together to imagine a future. The principles in the book and articulated below are meant to guide community-driven design processes for open systems in education, fostering innovation, equity, inclusivity, and civic engagement. This post will explore how the integration of these open principles in competency-based learning can contribute to community advancement, creating a more inclusive and prosperous future.
Open Leadership for Collaborative Design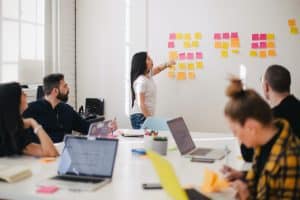 Open leadership within education encourages collaboration and shared decision-making. By involving students, educators, and community members in the design and implementation of educational initiatives, open systems create an environment that values diverse perspectives. Open leadership fosters a culture of trust, empowerment, and accountability, allowing stakeholders to co-create innovative solutions and drive meaningful change. We need leaders to break down silos – in particular in our rural communities.
We saw this take place in Colorado's Homegrown Talent Initiative, promoting local community leadership to revitalize rural communities through bringing together education and economic development – the "educonomy." Rural schools across Colorado in the project embarked on a transformational effort to embed career-connected learning into the fabric of their school, which led to incredible individualized approaches. In Holyoke, Colorado, counselors met with every senior to determine a specific career learning plan, augmenting it with concurrent enrollment offerings, internships, and a capstone project that could be showcased to the community and the board of education. This allowed each student to move at their own pace to contribute to building the educonomy in their hometown.
Knowing Your Community to Address Unique Needs
Understanding the unique needs, aspirations, and challenges of the community is essential for educational progress. Open systems in education prioritize community engagement and participatory needs assessment. By listening to community voices, open systems ensure that educational initiatives are relevant, responsive, and impactful. Knowing your community enables tailored approaches that address local contexts, values, and cultural diversity.
In the book, we highlight the Year Zero approach in Denver Public Schools to showcase how community pressure doesn't have to be met with resistance and instead can be met with co-creation. In these schools, we developed new methods of learning that created new equitable pathways for opportunity. As leaders embark on a community-driven redesign for competency-based learning, leveraging deep community knowledge and approaches is the actual disruption of the closed systems that have held back kids for too long. By bringing in diverse voices into the process, in particular the communities themselves, new ways of thinking and being can inform how the design moves forward. As we saw in the Year Zero process, communities that had long distrusted the district began to build new partnerships for new learning strategies that led to powerful academic, social-emotional, and relational growth.
Designing Breakthrough Spaces for Innovation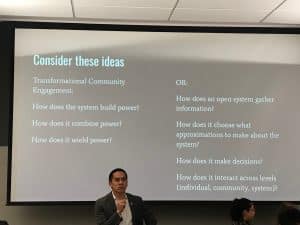 We need to admit it – the traditional way of building school task forces and committees is broken. These events are too often Groundhog Day repeating patterns where we watch great people and ideas get stuck and fail to deliver results. In an open system approach, we recommend new ways of organizing these efforts – seeking radical clarity, using lottery methods for bringing new voices to the table, and designing for a cadence which moves swiftly to deliver on the promise of change.
Open systems in education encourage the design of breakthrough spaces that inspire creativity, collaboration, and critical thinking for all community members. In Boulder, a community equity council recommended significant changes to how school resource officers were deployed, creating a co-created and co-produced new model – the School Safety Advocate – built with community trust. By incorporating technology into the process, interactive tools, and adaptable infrastructure, open systems create spaces that foster innovation, experimentation, and interdisciplinary learning in group decision-making. These high-stakes community conversations can be incredible moments for a community to break through the traditional tropes of what a process should look like.
Modeling Creative Democracy for Civic Engagement
Our democracy is currently undergoing an important moment that will determine whether or not we commit to exploring the contours of community-decision making or retreat to old, static top-down decision-making. Open systems encourage community members to develop critical thinking skills, engage in meaningful dialogue, and understand the principles of democracy. Across schools and communities, we've seen leaders practice new ways of decision-making and building shared direction, which we call modeling creative democracy. Modeling creative democracy within education promotes active civic engagement and participatory decision-making.
In Kentucky, Commissioner Jason Glass kicked off the United We Learn process to ask big questions about the future of learning, assessment, and accountability. At the end of the process, leaders used a modified consensus protocol (fist to five, seeking 90%+ agreement) to truly listen and hear each other. By fostering a sense of responsibility and agency, open systems empower students, parents, and community members to contribute to their communities, address social issues, and become agents of positive change – all by innovating at the heart of our democracy.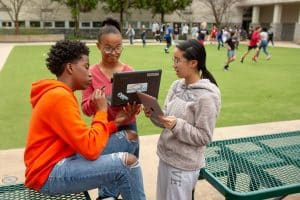 Building Abundance Partnerships for Larger Impact
When the COVID pandemic hit, many communities and organizations were forced to think beyond scarcity to solve issues.  In Chicago, the city, school district, and many organizations came together to bring internet access for tens of thousands of kids by creating a new type of partnership – Chicago Connected – based on abundance, that could serve more than any group could have done on their own. Building abundance partnerships within education encourages collaboration among educational institutions, community organizations, and businesses. Scarcity is too often hard-wired into our education system – we need to model abundance through coalitions like New Mexico's Sin Fronteras Education Partnership. Open systems facilitate partnerships that leverage collective resources, expertise, and networks. These abundance partnerships promote shared goals, support resource sharing, and amplify the impact of educational initiatives, ultimately fostering sustainable community development.
Expanding Openness for Future Impact
We cannot stop with one opening into a closed system – we need to continue expanding openness to broaden impact. By embracing open educational practices, open systems ensure equal opportunities for learning, reduce barriers to education, and foster collaboration among learners, educators, and communities. Expanding openness enhances educational equity, embraces diverse perspectives, and strengthens the fabric of the community, and therefore local democracy.
Conclusion
We applaud the Aurora Institute for its path-finding work of leading organizations, individuals, and systems toward a brighter future where students can determine their own educational destinies. We are honored by the opportunity to share our perspective about how we must avoid the closed system trap of designing without the very community we are here to serve. By integrating the principles of open leadership – knowing your community, designing breakthrough spaces, modeling creative democracy, building abundance partnerships, and expanding openness – open systems in education can empower communities to thrive. These principles foster innovation, equity, inclusivity, and civic engagement, enabling individuals to shape their educational experiences and contribute to community advancement. Embracing these open principles in education is crucial for creating a more inclusive, prosperous, and sustainable future for communities.
Dr. Landon Mascareñaz & Dr. Doannie Tran are the co-founders of The Open System Institute.  Landon lives in Colorado and Doannie lives in Georgia. The Open System: Redesigning Education & Reigniting Democracy is currently out from Harvard Education Press.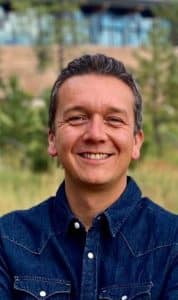 Dr. Landon Mascareñaz is an educator, writer, and democracy builder. As co-founder of the Open Systems Institute, he partners with leaders around the country to encourage an emerging discipline for openers everywhere. He is a senior partner at the Colorado Education Initiative (CEI) where he is responsible for community-driven economic development through breakthrough partnerships in the Homegrown Talent Initiative, working in sixty rural districts across eight regions of the state.
Learn more about Dr. Landon Mascareñaz.
Dr.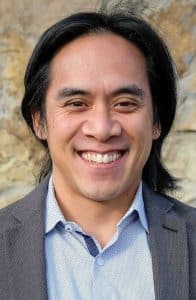 Doannie Tran taught middle school and high school science in both Oakland, California, and Boston, Massachusetts, before leaving teaching to help launch the Massachusetts region of Teach For America (TFA) in 2009. Doannie was responsible for professional development for all new TFA teachers in Massachusetts and he built up their partnership with Boston University, where he has also served on faculty. During that time, the Massachusetts region was in the top 10% of all TFA regions in terms of effectiveness, satisfaction, and retention of teachers.
                                Learn more about Dr. Doannie Tran.