Evaluating Your School's Competency Education Journey and Answering the Question: Are We There Yet?
CompetencyWorks Blog
---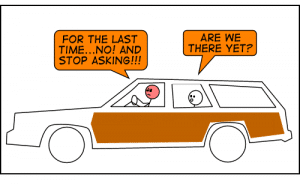 I'm sure this is a story we can all relate to: Mom and Dad have packed up the gear and the kids into the family minivan (or station wagon, depending on your frame of reference) for a long trip. In less than an hour, one of the kids asks, "Are we there yet?" The trip continues with at least one kid asking this same question every half hour. With five kids under the age of ten and countless road trips, my wife Erica and I know this story all too well. We try to patiently answer them the first time they ask, but as the hours pass and the question keeps coming up, our patience begins to wear thin. We can't fault them because they don't know where we are going. This past summer on a ten hour car ride from Boston to Washington DC we finally found out how to appease the oldest of our children and silence the question once and for all – we gave them each a road map so they could chart our journey.
As the principal of a high school that started on a journey to transition from traditional to competency education six years ago, I am often asked if our school is "there" yet. Surprisingly, my response has two parts: It depends on who you ask, and it depends on where we are trying to go. Over time we have found that a competency-based structure has led us to several directions of improvement. For example, we learned that we could be more responsive to our ninth graders by creating accountability of our ninth grade teachers to prepare students for high school rigor. We realized that our assessments and instruction needed to be lifted up to meet the higher depths of knowledge. Now our district is on a new journey to create greater personalization. This is all happening because we started on the journey to competency-based education.
When we started our journey we lacked an important tool: a road map. Six years ago, we were one of the first public schools making the transition. Feeling a little like Lewis and Clark and with no one to help us chart our journey, our first few years felt very much like we were driving without a road map. Our Superintendent of Schools, Dr. Brian Blake, likes to refer to it like we were building a plane and flying it at the same time, and he shows people this video to make light of the situation. Best practice and research was our compass. It navigated us through our early work with assessment, grading, and instruction. As time passed, more and more schools began their own journeys. Researchers began to study this transition and pull together the experiences that schools like us were having with our journeys. Through this work, some of the earliest road maps for schools looking to transition to a competency education model have begun to emerge.
Competency Education: From Definition to Road Map
On the website www.competencyworks.org, Chris Sturgis and Susan Patrick offer a simple five-part definition for competency education that I believe is very helpful:
In competency education,
Students advance upon demonstrated mastery.
Competencies include explicit, measurable, transferable learning objectives that empower students.
Assessment is meaningful and a positive learning experience for students.
Students receive timely, differentiated support based on their individual learning needs.
Learning outcomes emphasize competencies that include application and creation of knowledge, along with the development of important skills and dispositions.
From this definition, I developed a rubric to help schools like my own chart our journey and finally answer the question of whether or not we are "there" yet. The rubric can be used by schools as a self-reflection tool to help them determine where they have been, where they are now, and where they are going next.
Competency Education School Design Rubric
So, are we there yet?
If I were to apply this rubric to my own school, I believe we would score ourselves as slightly above developing because we are still learning in all but one indicator: "Students Move When Ready." People who visit our school are often surprised to see that we do not yet have a set of consistent school-wide practices for our kids to, as Bramante and Colby (2012) suggest, advance upon mastery "anytime, anyplace, anyhow, at any pace." For many who are entering competency education work today, this is one of the biggest motivators, and perhaps one of the hardest components to understand or be able to put into context in their own school. I agree, and perhaps this is one reason my school hasn't made much progress on this yet. In fact, the same could be said of any school in our district, a district that has been implementing a competency education model for the last several years.
We entered this school year recognizing the need to expand the extended learning opportunities that are available to our students beyond the school day. We are looking hard at blended learning approaches that will allow our teachers to provide students with more opportunity to advance through their learning at their own pace. We see a discussion of the elimination of grade levels, particularly at our district elementary schools, as something that could become a reality in the not-to-distant future.
So, we aren't there yet. We might not be there tomorrow. Who knows, we may redefine what "there" is before we arrive. What we do know is that every day that we stay on this journey, we are providing a better education to each of our students, and that is all that matters.
REFERENCES
Bramante, F. and Colby, R. (2012). Off the Clock; Moving Education from TIME to COMPETENCY. Thousand Oaks, CA: Corwin / SAGE Publications
Competency Validation Rubric (2010, September 15). Retrieved December 28, 2015 from http://education.nh.gov/innovations/hs_redesign/documents/validation_rubric_for_course-level-competencies.pdf
Sturgis, C. (2015). Implementing Competency Education in K-12 Systems: Insights from Local Leaders. International Association for K-12 Online Learning
See also:
---
Brian M. Stack is the National Association of Secondary School Principals 2017 New Hampshire Secondary School Principal of the Year. He is Principal of Sanborn Regional High School in Kingston, NH, an author for Solution Tree, and also serves as an expert for Understood.org, a division of the National Center for Learning Disabilities in Washington, DC. He lives with his wife Erica and his five children Brady, Cameron, Liam, Owen, and Zoey on the New Hampshire seacoast. You can follow Brian on Twitter @bstackbu or visit his blog.