Proficiency-Based High School Diploma Systems in Maine
CompetencyWorks Blog
---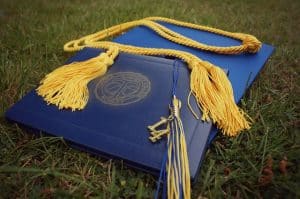 I toured the state of Maine last fall to try to understand what was happening in districts, as the policy for a proficiency-based diploma challenged all districts to create more meaning than time-based credits for graduation and figure out how to get all students to be able to cross the finish line. (Maine's policy essentially made high school a four year clock that started ticking when students enter ninth grade.) You can find the overview of the Maine Road Trip here.
Last month, the Maine Education Policy Research Institute (MEPRI) at the Center for Education Policy, Applied Research & Evaluation (CEPARE) at the University of Southern Maine released their fourth policy report Proficiency-based High School Diploma Systems in Maine based on six case studies. This stage of the research asked three questions:
How do Maine public school and school district educators and administrators perceive the challenges and facilitators of implementing the state's mandated proficiency-based diploma system as described in An Act To Prepare Maine People for the Future Economy?
How do Maine public school and school district educators and administrators perceive the impacts of implementing the state's mandated proficiency-based diploma system as described in An Act To Prepare Maine People for the Future Economy on management systems and structures, fiscal allocations, school climate, instruction, as well as curriculum and assessment?
How are Maine public school districts defining proficiency and developing local PK-12 proficiency-based diploma policies?
For any state thinking about going in this direction as a high leverage policy strategy, it is well worth reading all the reports.
Here are a few highlights from the report by Erika Stump, Bernadette Doykos and Catherine Fallona.
Progress Being Made
In those districts that are making headway in creating a proficiency-based system, the researchers report increased communication and strategies for remediation were reported as advancing student performance and contributing to an enhanced culture of learning. This work encompassed increased collaboration among teachers, families and leaders surrounding students' progress, and many educators spoke of the benefits of "breaking down the walls" of the teaching profession.
From my point of view, one of the most powerful benefits isn't mentioned in the summary. The researchers found that school districts made great strides and were continuing work to improve interventions to support students who did not meet the standards. This doesn't mean that we know the best way to do this as a nation, as we are so trapped by the coverage mentality in which students are taught at their grade levels regardless of their performance levels. What this means to me is that proficiency-based learning is doing what it is supposed to do – create the conditions for continuous improvement focused on both student achievement and district/school performance.
Faced with finding ways to help all students become proficient in the graduation expectation, districts are seeking other avenues not required by the state law. They are turning to more personalized learning approaches. From the report: Therefore, some districts were utilizing this opportunity of mobilization to engage in school- or district-wide reforms to improve school climate, instructional practice as well as student outcomes. The specific improvement approaches or reforms varied by district and included "student-centered learning," "customized learning," expeditionary learning," and others. These reforms often promoted pedagogy that was similar to or complementary to proficiency-based learning but also included recommended practices that were not explicitly required by the state law.
Challenges
In the summary, the report identifies several challenges districts are encountering, including:
selecting an appropriate grading scale,
developing a standards-based reporting system,
assessing student work-study habits (in addition to content standards), securing public support for changes, and
understanding postsecondary expectations in a manner that best served all students while remaining compliant with state and federal reporting requirements.
In reading the report, there were a few other challenges that I think are worth noting:
addressing the dynamic between work study practices, pace and personalizing instructional support for students that need more help to master the material, (p 19-20)
to more clearly delineate the multiple pathways available to students in their K-12 journey to demonstrate proficiency
misalignment or confusion regarding the concept of proficiency-based advancement.
Beyond Social Promotion and Retention
On page 34 of the report, there is an illuminating discussion that shows how our thinking still hasn't fully advanced to understanding the concept of "advancement upon mastery." We think of the options as either passing students on or retaining them based on either course, semester, or calendar year. However, there is a third option: Students advance within their own trajectory of learning that consists of performance levels regardless of what grade they are in. Thus, a student who started at Level 7 math when he enrolled in ninth grade might move with his cohort to tenth grade despite that he only reached half of the standards in Level 9 (i.e., ninth grade standards). This means that he learned at a rate of 2.5 or so over the year. Either during the summer or when he comes back to school in tenth grade, he picks up where he was. Now, that doesn't mean we have to do this for every student all the time.
However, as a nation we have to become adept at considering two other options in addition to social promotion and retention. One might be "leveling," as described above, in which students' progress is student-centered not determined within only the structure of the course. The second is providing "supplemental" instructional support (and time) for students who haven't quite met all the standards by the end of the year. (We don't have language for these concepts. Do theses terms work for you – there may be more formal or official language to describe them. Please let me know if there is and I'll integrate it into the growing common language of competency education.)
FYI, pages 34-44 are especially interesting reading, as they capture many of the questions or concerns educators have in sorting through what it means to be a personalized, proficiency-based system. What they do not do is compare it to how the traditional system exacerbates some of these very same problems. Thus, it is important to think about the issues raised through a solution-finding lens rather than a lens to critique proficiency-based learning.
To Calibrate or Not to Calibrate
One of the issues Maine is not addressing at this stage in implementation, at least as far as I can tell, is calibration. One administrator quoted in the report says, "Each district has the discretion to choose their proficiency level. We don't want to set a standard too high so current students end up not graduating." At some point, the state, partnering with districts, will need to do some level of calibration if they want to ensure the transparency needed for a system that is accountable to students and families. Or if the state isn't going to step up, which may very well be the case, then the wonderful set of regional educational collaboratives that exist in Maine could begin to be the keepers of calibration themselves.
Design or Compliance
The report raises the issue that many districts are not sure of what is actually required by law and what is left to their own design of a system that works. There is a big risk in districts implementing practices and policies they perceive as part of a proficiency-based learning system without fully embracing the values and assumptions, understanding the purpose, and ensuring there is alignment in the new system so that the pieces work together to reinforce student learning and the instructional capacity of schools.
I hope this report will empower districts to take a step back and ask, "What type of system will help all of our students reach proficiency?" rather than "What do I need to be in compliance with the law?" I'm so deeply impressed with all the educators I've met in Maine – they put their know-how together, and they can definitely create powerful systems that produce proficiency.
See also: