It's Simply Buzzing in New Hampshire
CompetencyWorks Blog
---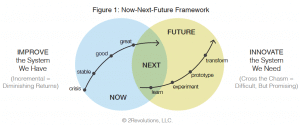 2:15 pm ET
I'm sitting amidst 500 very energetic educators from all around New Hampshire (it's 2 percent of the teacher workforce). To get access to the 2015 New Hampshire's Educator Summit, districts had to be willing to send a team of people that had identified problems of practice to drive their learning….and it is just electric in the room as we wait for Virginia Barry, Commissioner of Education to launch the meeting with the introduction of the New Hampshire 2.0: A Blueprint to Scale Competency-Based Education Across a P-20 System.
The event is around six strands: Competency-Based Education, Community Engagement, Co-Teaching, Data Literacy, Early Childhood Education, and STEM. Several folks who are part of the CompetencyWorks network are leading sessions, including Anthony Kim, CEO of Education Elements; Rose Colby, consulting superstar; Jonathon Vander Els, Principal of Memorial Elementary School, Sanborn Regional School District; Scott Marion, the Center of Assessment; and Joe DiMartino, Executive Director, Center for Secondary School Redesign. Other presenters include Lindsey Lapointe, Epping Middle School and Monique Temple, Maple Street Magnet School (emphasizing inquiry-based and project-based learning). I wish I could go to every session!
3 pm ET
Here are a few highlights so far:
Building a Big Voice: Bill Duncan, member of the NH School Board, spoke to the need to tell families, community members, and political leaders from the most local to statewide positions about their experiences in the classroom in an effort to build out a big voice to support schools and teachers. We need to get to the people who know and can influence those who have the decision-making power to stay the course.
From Improving the System We Have to Creating the One We Need: Virginia Barry kicked off her discussion with a video giving voice to teachers and students who are using extended learning, project-based learning, and place-based learning. There was an interesting story about a class in Surry Village Charter School using their own community to learn about the civil rights movement, finding a local leader, Jonathon Daniels, who was murdered while trying to register African-American voters in Alabama.
She explained how NH is moving beyond improving the system that we have to innovating to create the system that we need. In describing the system, she is emphasizing personalization as the overall approach to redesigning the system and confident, competent children as the end-goal. She listed off a few of their accomplishments in building the new system:
The U.S. Department of Education's Office of Special Education gave NH the highest rating for closing the gap in special education. This is really impressive to me and indicates that NH is taking equity really seriously.
They are going to start using the SAT for every eleventh grader, increasing equity and access. It also is a real-world mechanism with real-world consequences to let students now how they are doing while they still have time to build their skills for college.
The PACE pilot is an example of the NH strategy to engage educators in creating the future. They want to avoid the pile-on problem (you know this problem–it's when educators feel crushed by the pile of disconnected policies and programs they are supposed to be implementing) by creating opportunities for them to fully participate in the development of new systems and practices.
They are moving away from grading schools as the best or worst or somewhere in between…to a personalized whole-school approach that creates a safe culture for schools and for students to focus on learning.
They are preparing for the upcoming bubble of teachers retiring over the next decade by engaging higher education to upgrade teacher preparation to increase capacity and ensure incoming teachers are prepared to teach in a personalized, competency-based system.
Barry raised the point that personalization is the only way to support youth who end up in the corrections department that share the two-fold challenge of having families that are ill-prepared to support them and a journey in and out of the special education system.
Take Note: New Hampshire is the fifth highest performing state, and it feels like they are on the way to being first. Get ready– the first class of graduating students learning the college ready standards is 2023.