Learner-Centered Tip of the Week: Making Space for Learners to Wonder
CompetencyWorks Blog
---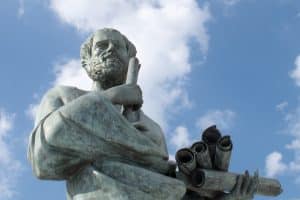 This post originally appeared at the Learner Centered Practices Blog on October 16, 2017. Belolan is the instructional coach for RSU2 in Maine.
Socrates said "wonder is the beginning of wisdom." This quote is incredibly powerful because it reminds us that in order for any kind of learning to happen, we first have to be curious about something. The desire to know something, the question, is what sparks learning. In a learner centered proficiency based environment, we must make as much space as possible for learners to be curious and wonder.
One of the tenets of personalized learning, is that learners build and demonstrate proficiency through their own passions and interests. Another philosophical underpinning is that there is a culture that cultivates learner agency. Providing opportunities for learners to ask their own questions in any learning opportunity supports both these tenets. When learners ask their own questions, and then follow through with exploring the answers to those questions, they have much more investment and ownership of their learning. Here are some ways to make space for learner to ask questions in any social grade level or content:
1. Wonder Walls and Community Curiosity: Make being curious a public practice. I have always loved the idea of a giant mural-like display in a hallway where learners post their questions. Of course, there are many other ways to make wondering a regular part of any learning environment. In younger social grades, this can be part of the morning meeting. In addition to sharing what is going on in their lives, they then also share something they have a question about. Older learners might do this as part of an advisory group, or informal thinking exercises at the start or end of class. While this type of wondering might not tie directly to any content it certainly provides space and time for practicing asking questions, which is something our learners are not necessarily used to doing in school.
2. Questioning Protocols: Commonly, after learners interact with an input resource (something that gives them information about content or a skill) the first thing they are asked to do is summarize, or reproduce the important understandings. An interesting twist is to have learners ask questions instead. This can be as simple as learners writing down questions in a reading notebook, or even sharing them with a partner. If you prefer starting with something a little more structured, check out the questioning texts organizer form Engage NY, or questioning the author from the Wisconsin RTI Center. Don't forget about the Question Formulation Technique (QFT) from The Right Question Institute as well.
3. Learning Journals: Many classrooms already use learning journals as a way to hold and reflect on knowledge. Whether learners make daily or weekly entries, learning journals are a perfect place to start practicing asking questions. A broad list of questions might start off a learning opportunity, and as learners go through building their understandings they can narrow down their lists, make attempts at answering questions, revise answers, and ask new questions.
4. Opening Experiences: Field trip time often comes at the end of a learning opportunity, the culminating experience. Putting field trips, visitors, and other experiences at the start of learning opportunity drives wonder and curiosity. Not only will learners be set up to ask questions, they will also have the reason to learn the content. Questioning protocols such as the QFT can be easily applied to opening experiences, as can learning journals.
There are so many ways to introduce and incorporate questioning into our learning environments. If we want our learning communities to be learner centered, then making space for questioning practice is an essential piece of that evolution. None of us can be a learner with out being a wonderer first.
See also:
---
Courtney Belolan works at RSU 2 in Maine where she supports K-12 teachers with performance-based, individualized learning. Courtney works closely with teams and teachers as a coach, and with the school and district leadership teams as an instructional strategist. Courtney has worked as a 6-12 literacy and instructional coach, a middle level ELA teacher, an environmental educator, and a digital literacy coach. Her core beliefs include the idea that the best education is one centered on student passions and rooted in interdisciplinary applications, and that enjoying learning is just as important as the learning itself.