Learner-Centered Tip of the Week: The Big Picture of Applied Learning
CompetencyWorks Blog
---
This post originally appeared on the RSU2 Professional Learning Blog on February 5, 2018. Belolan is the instructional coach for RSU2 in Maine.
As more of us begin to work with the elements and tenets of Applied Learning here in RSU2 the concept of applied learning as more than an it is solidifying. There are many different ways an applied learning experience can look. The look and feel of any experience depends on the extent to which the elements and tenets are owned by the learners. Sometimes the driving questions are presented to learners by the teachers, other times the learners write their own and every learner works with a different one. Sometimes all the learners interact with all of the same input resources, and other times learners are given menus and options for which input resources to use. Sometimes all the learners produce a similar product with varying content, sometimes learners are tasked with deciding on their own final product. Sometimes an applied learning opportunity happens in one content area or class, in others a few content areas are in the mix. In any case, all applied learning opportunities provide the context for working towards learning targets, and all applied learning opportunities tend to follow a similar pattern of implementation.
The following graphic shows the implementation flow of an applied learning opportunity. The phases of an applied learning opportunity are lined up with the learning process phases. Underneath each phase are examples of possible instructional strategies and actions appropriate to that phase of applied learning. The items in bold type are the "if you don't do anything else do these" items, and the rest are other possibilities.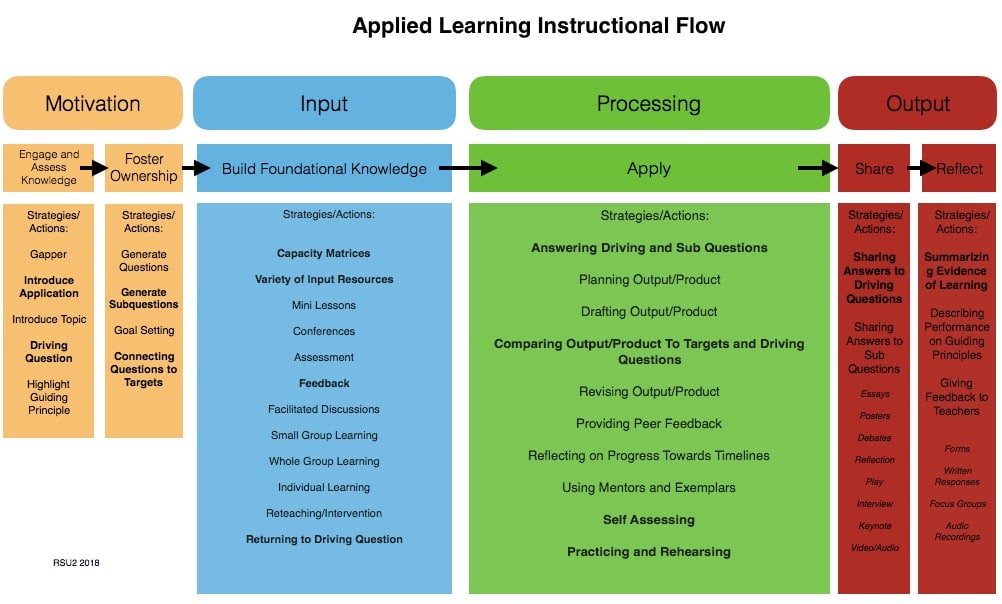 You may notice that the green "processing" phase is larger than the other phases. This is intentional! When this graphic was brought to learners for feedback, they clearly communicated that they felt the processing phase was most important and that they needed to spend more time there. They thought that visually making it larger than the others would help make that point. A pdf version of this tool, Instructing Applied Learning, is available by following this path:
Google Drive –> Team Drives–> RSU2 Curriculum –> Applied Learning
See also:
---
Courtney Belolan works at RSU 2 in Maine where she supports K-12 teachers with performance-based, individualized learning. Courtney works closely with teams and teachers as a coach, and with the school and district leadership teams as an instructional strategist. Courtney has worked as a 6-12 literacy and instructional coach, a middle level ELA teacher, an environmental educator, and a digital literacy coach. Her core beliefs include the idea that the best education is one centered on student passions and rooted in interdisciplinary applications, and that enjoying learning is just as important as the learning itself.