Littles, Middles, Molders, and Olders – Multi-age Learning at Journey Elementary
CompetencyWorks Blog
---
This is the second post in a series about the Harrisburg School District in South Dakota. Links to the other posts are at the end of this article.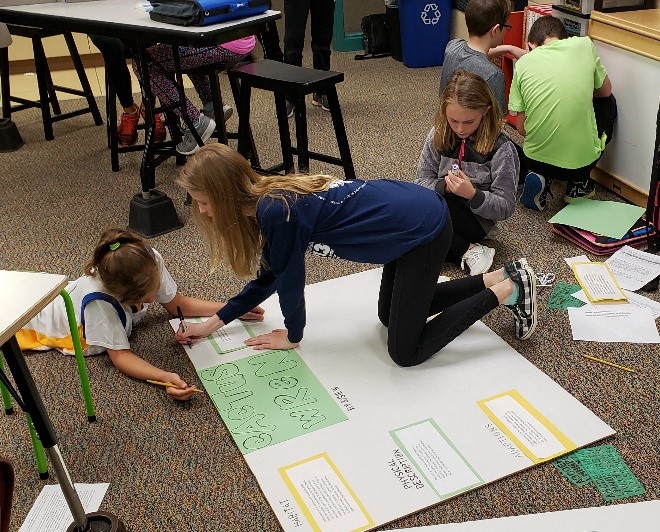 When I asked a teacher at Journey Elementary how he liked teaching in his school's personalized, competency-based model, he looked at his bare forearms and said, "It gives me goosebumps every time I think about being able to do this. I love it. I could never go back to being the boring teacher I was for so many years. I wish all my former students could have had this opportunity."
Journey is the second elementary school in Harrisburg to shift to a personalized model. As with Freedom Elementary, described in the previous post, Journey has phased in two personalized cohorts in two years, while keeping one cohort in a traditional model to accommodate parent preferences.
The two personalized cohorts are each about 90 students—a little over 20 students in each of the four age groups that traditionally correspond to 2nd through 5th grade. However, learning happens in multi-age groupings for mathematics and English language arts in the morning. Then afternoon classes in other subjects are conducted by grade level, although the school's goal is eventually to have those be multi-age and flexibly scheduled too.
To de-emphasize the idea of different grade levels, the four age groups  are called "littles, middles, molders, and olders," terms that have become familiar and normal in the school. The school's architecture complements the multi-age groupings, with four "studios" arranged around a large, carpeted central area. The personalized schools in Harrisburg prefer the term "studios" to "classrooms" to suggest that all the needed tools are present, but student agency is needed for the tools to result in acquiring knowledge and demonstrating learning. The youth and adults also use the terms "learners" and "facilitators," rather than "students" and "teachers," to shift everyone's mindframes toward learning that is driven by student agency and personalized adult support.
Notice all the wonderful new words, plus new meanings for old words! One of the exciting opportunities of transforming education is creating new language that both describes and enables new ways of thinking and doing.
Kindergarten and first grade do not participate in the personalized cohorts, in part because after first grade a small percentage of students leave Journey to attend the district's gifted and talented program. However, school administrators reported that the kindergarten and first grade teachers are increasingly adopting personalized practices and pushing for permission and supports to move further in that direction.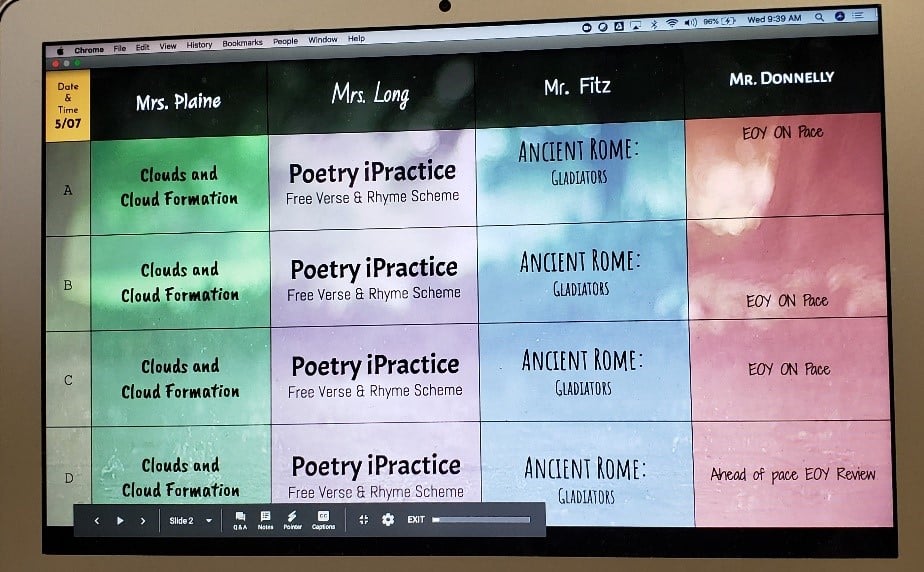 Personalizing Student Schedules
As with many other personalized schools, Harrisburg uses the Empower learning management system to organize student assignments into playlists that permit personalized scheduling and progression. All students have to demonstrate mastery on lists of standards that are divided into learning targets. Each learning target has activities developed by teachers in categories called iLearn, iPractice, and iMaster, with iLearn focused on exposure to new content, iPractice providing opportunities to develop skills with the new content, and iMaster providing options for demonstrating mastery. (The playlists are online, but many of the activities are offline in a variety of formats.)
During a given class period, different teachers offer different iLearn activities, and students who haven't demonstrated mastery of the corresponding learning targets attend those activities. This is where multi-age grouping comes in, because a given learning target might be the next step in the learning progression of both littles and middles, or both molders and olders. At the elementary level, teachers do most of the personalized scheduling of students into activities. Some of this takes place during the teachers' common planning time, using data about student progress from Empower and from shared Google Docs that the teachers developed.
At the middle school level, students take more ownership of scheduling their learning activities. Each day begins with a meeting where students use their iPads and scheduling software from Personalized Learning Tools to select their classes, often in consultation with teachers. Students who are not yet able to do this effectively can have their class periods locked into specific activities by teachers, and some parents also request that the teachers assign a schedule to their child in whole or in part. As students demonstrate their ability to schedule themselves successfully, they are permitted to do so for more of their daily class periods.
A school administrator said, "Our playlists and our habits of work keep kids moving. Sometimes when I go to schools in our district that aren't doing personalized learning, I hear a kid who has finished something say 'I'm done – now what should I do?' We never hear that in our learning studios. If they finish something, they move on to their next piece of work, and they know what that is and they know what to do. So learning doesn't stop because somebody finished and they're waiting for somebody. The students love that they can move forward when they're ready, and don't have to wait for their friends. Also that if they're struggling, they're not slowing anyone else down. Their playlist allows them to keep moving forward, and the teacher doesn't have to interrupt their coaching sessions with other students."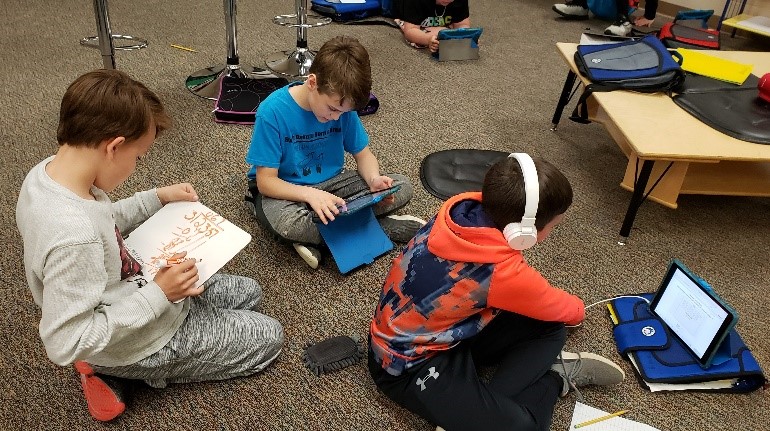 The Role of Technology
A key staff member in each personalized learning cohort is the technology integrationist, who facilitates the extensive use of technology by both students and teachers that is central to the implementation of the personalized model. For example, to help students with their demonstrations of mastery, the technology integrationist teaches students a new production app each week, such as iMovie, Garage Band, poster creators, or animations. Students use these apps to develop personalized demonstrations of what they have learned.
When asked whether students were using their computers all day, staff drew a distinction between being engaged with the device as a device, versus using the device to get instruction or receiving next steps on a learning activity. They also emphasized that students generally have a choice of using different mediums, such as paper or group conversations and presentations, if they prefer. While my own half-day visit may not have been representative, I observed students conducting many individual, small-group, and large-group activities that did not involve computers.
The next, final post on Harrisburg, will discuss how students and teachers learn how to learn in this new system, as well as how the district's habits of work facilitate personalized learning.
See Also:
Eliot Levine is the Aurora Institute's Research Director and leads CompetencyWorks.