Habits of Mind and Learning New Ways of Learning at Journey Elementary
CompetencyWorks Blog
---
This is the final post in a series about the Harrisburg School District in South Dakota. Links to the other posts are at the end of the article.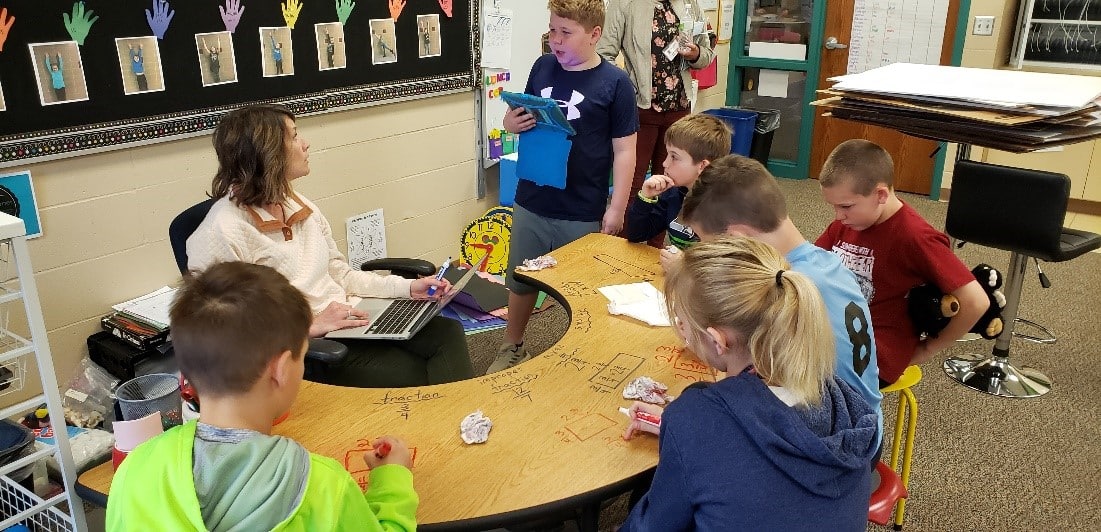 One teacher at Journey Elementary who was in her third year of personalized learning recalled, "Early in my first year it was chaotic and I said, 'I don't see how this is going to get better.' But by mid-November the learners were moving, they were advocating for themselves, things were clicking for them. It's something about that time frame. There's enough time there that you can build some structures and routines for them. Then it gets easier for both learners and facilitators in the second year and beyond."
Another teacher explained, "This was the first year for my cohort, and we spent about the first 10 days of the school year setting up our procedures. We don't really do any curriculum during that time. It was a lot of team building with learners because it's so different from traditional school. You're used to having 24 learners, but with our multi-age groupings there are now 90 of them that you might see at some point in the year. So we want them to be comfortable with us, and we want to be comfortable with them and know who they are. You also want the different ages to be able to interact with each other. That was particularly true because it was the transition year for our cohort. For the cohort that started a year earlier, they didn't need as long to do culture-building at the beginning of the school year. You need everyone to be comfortable with each other and the program before you really dive in."
The initial weeks of school are also used for students and teachers to get comfortable with changes in the use of space. For example, since students move across studios during the day, there are no student desks containing a student's own supplies. Instead, each room has bins of pens, markers, paper, and other supplies that students share. Each teacher sets up the supplies in their room similarly, so students can easily find what they need and don't keep asking the teacher.
Habits of Work
Another key aspect of helping students learn to make good use of personalized learning, flexible scheduling, and multi-age groupings are the "Habits of Work" utilized across multiple competency-based schools in Harrisburg. These are the skills that students use to manage their learning, which also go by other names including "personal success skills," "habits of work and learning," "non-cognitive skills," and "21st century skills."
Harrisburg uses Costa and Kallick's "Habits of Mind," which is the longest list of these skills that I have seen used in practice. There are 16 in total, each with a name, a phrase (listed below), and a description (shown in the image below, from posters on the walls in Freedom Elementary):
Persisting – Stick to it!
Managing impulsivity – Take your time!
Listening with understanding and empathy – Understand others!
Thinking flexibly – Look at it another way!
Thinking about your thinking – Know your knowing!
Striving for accuracy – Check it again!
Questioning and problem posing – How do you know?
Applying past knowledge to new situations – Use what you learn!
Thinking and communicating with clarity and precision – Be clear!
Gather data through all senses – Use your natural pathways!
Creating, imagining, and innovating – Try a different way!
Responding with wonderment and awe – Have fun figuring it out!
Taking responsible risks – Venture out!
Finding humor – Laugh a little!
Thinking interdependently – Work together!
Remaining open to continuous learning – Learn from experiences!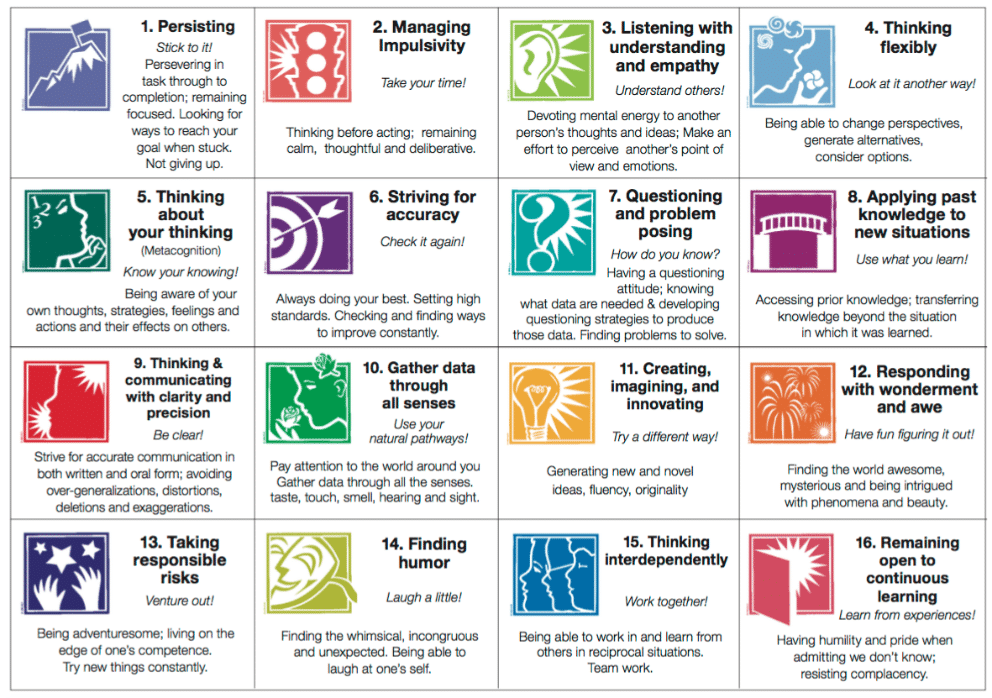 Much of the orientation to personalized learning and getting-to-know-each-other activities during the first two weeks of school involve activities related to the 16 habits of work. They were also integrated and mentioned throughout the school day during my visit. During the morning meeting, with all 90 students seated together on the floor in a carpeted common area, a big soft ball was thrown up in the air, from student to student, and whoever caught the ball needed to share a way they had used the habits of work recently. Students gave examples such as: "I was persistent in my soccer game," "I was flexible with my time when I was figuring out my schedule," and "Our baseball game might get rained out today, and we'll have to manage our impulsivity if we're frustrated."
At the end of the morning meeting, a teacher said, "Have a great day! Make good choices!" Students kept being brought back to thinking about the aspects of their behavior that facilitate personalized learning. These habits of work are of course also the same ones used by successful adults. The students don't get graded on the Habits of Work, but teachers said they have begun talking about a learning progression which could assess students' progress over time.
See Also:
Eliot Levine is the Aurora Institute's Research Director and leads CompetencyWorks.