Mastery-Based Learning in Idaho
CompetencyWorks Blog
---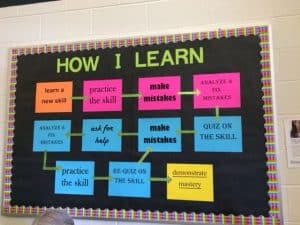 This is the first post in a series on Mastery Education in Idaho. 
In April 2018, I went on a whirlwind tour of seven schools in four districts in Idaho in an effort to understand how mastery-based learning was advancing there. Idaho is a big, beautiful state with several different geographical regions. My site visits were all within the large river valley extending from Boise, land that was originally of the Shoshone and Bannock people. The districts we visited were all transforming their schools to mastery-based learning while their communities were shifting from an agricultural area into an extended metropolitan area.
A great big thank you to Kelly Brady, the director of the Idaho Mastery Education Network (IMEN), for organizing the visit, coaching me about their approach, and for the rich conversations we had all along the way.
What did I find? Even though it was the first year of implementation, every school had implemented some pieces and were starting to understand what it was going to take to create high quality models.
I found an amazing interdisciplinary middle school model in Kuna School District that reminded me a bit of what I had seen in Kettle Moraine Wisconsin – essentially, a schools-within-a-school model where students are highly engaged, working on projects that matter to them, and supported by a strong information management system that enables students and teachers to monitor pace and progress.

I found a new roll-out strategy used by a comprehensive high school in Nampa School District whereby eighth grade students could choose to be in a traditional program; a personalized, mastery-based school; or a mastery-based STEM academy.  

I found alternative schools thinking deeply about how to improve their programs for students who have not been well-served by traditional schools. Students had opportunity to apply their learning and receive instruction that repaired gaps rather than just accumulate credits.

I found educators who were thinking about how to take responsibility for repairing gaps in knowledge and skills so that students could progress and fully master grade level standards. I found educators who understood that mastery-based education is about equity, deeper learning, and creating responsive schools.

I found that Summit Learning has become so flexible that it is is a "gamechanger," with schools able to get mastery-based schools (within schools) up and running in less than a year.
Background
As we know, competency education or mastery-based learning didn't spring up as something new. It's an accumulation of what we have been learning over the last thirty or so years about how students learn, how to optimize learning that supports students as active learners, and how to redesign districts and schools to ensure students are actually mastering the academic knowledge and skills, not just being exposed to it and then passed on.
One can start the timeline for mastery-based learning in Idaho in 2013 when the Governor's Task Force for Improving Education included recommendations for mastery-based education. The next step was in 2015 when the state legislature unanimously passed Idaho House Bill 110. The legislature defined mastery education as an education system where student progress is based upon a student's demonstration of mastery of competencies and content, not seat time or the age or grade level of the student. A student can accelerate through concepts and skills they have mastered and receive more time and support in areas where that may be more difficult. The new system is comprehensive and can include fundamental changes in schedules, calendars, assessment, and grading.
From the

Idaho Mastery Education Network

(IMEN) website: House Bill 110, passed by the Idaho Legislature during the 2015 session, directed the Idaho State Department of Education (SDE) to move Idaho towards a mastery-based education model. This model will move students away from the current time-based system to a mastery-based system to allow for a more personalized and differentiated learning experience. Mastery Education (ME) requires focus on explicit, measurable, transferable learning objectives that will empower students and prepare them for the 21st Century (

Idaho Code §33-1632

).
In response to H 110, the following activities are in progress for the initial move to a mastery education system:
Conduct a statewide awareness campaign

to promote understanding and interest in mastery-based education for teachers, administrators, parents, students, business leaders, and policymakers.

Establish a committee of educators

to identify roadblocks and possible solutions in implementing mastery education and develop recommendations for the incubator process.

Facilitate the planning and development of an incubator process and assessments

of local education agencies (LEAs) to identify the initial cohort of up to 20 LEAs that make up the Idaho Mastery Education Network (IMEN), to serve as incubators in fiscal year 2017.
The next step was a RFP to select twenty districts and schools to pilot mastery-based approaches. This group of pilots formed the Idaho Mastery Education Network (IMEN). Districts and schools received limited funding to support their effort. One of the super-smart things the state leadership did was bring in one of the leading organizations with depth in their understanding of competency-based education to launch the kick-off meeting and partner with them. I've watched other states bring together pilot schools and tackle the topic of competencies and unpack standards at their launch meeting, sending the signal that competency education is purely a technical change. In Idaho, Sydney Schaef from reDesign was involved in shaping the launch, convening and engaging the participants in understanding the core features of the culture, pedagogy, and structure of competency education.  
Brady and reDesign are working alongside the district and school pilot sites to provide support as they develop their model. A few examples of resources or training that have been developed or are underway include: Idaho Mastery Education Symposia, Research and Evaluation Model Design, Train the Trainer (Coaching) Model, and Curriculum Design Community of Practice.  
For more information on the Idaho story, see Idaho Mastery Education Network (IMEN): From Policy, Planning,and Design to Successful Implementation, Policy Pilots and the Path to Competency-Based Education (spring 2017) and The Path to Personalized Learning (fall 2017).
In 2018, there was an effort to expand the number of districts and schools that were moving toward mastery-based learning. Although the legislature didn't pass it, from what I can tell it was more a cautionary approach to let the first wave of pilots advance before expanding. One might even call it good governance. In addition, there is nothing stopping districts and schools that want to move forward toward mastery-based learning from doing so.
Up next, we will visit Kuna School District. Kuna is one of the pilot sites that is on the path to converting their entire school district to a mastery-based approach. In the next three articles, two of the schools will be highlighted, Kuna Middle School and Initial Point High School, to give you a sense of the direction they are headed.
Read the Entire Series: