Personalization and Positive School Culture at Del Lago Academy
CompetencyWorks Blog
---
This is the third post in a series about Del Lago Academy in Escondido, California. Links to the other posts are at the end of this article.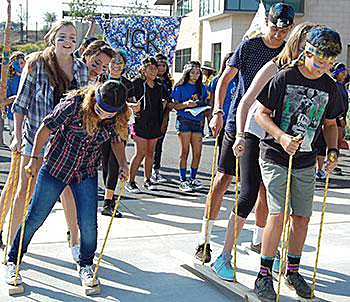 Del Lago Academy's commitment to personalization has led to design innovations such as a village structure with cohorts of 100 students sharing a small group of teachers, daily staff circles, and facilities that support individual and small group learning.
One of the school's key strategies for personalization and building a positive culture is a weekly advisory period. Each advisory has students from all four grades. Students stay with the same advisor for all four years of high school, but the group changes as the seniors graduate and new 9th-graders arrive.
Advisory activities often revolve around reinforcing the school's "pillars of excellence," which they describe as "mutual agreements guiding how we work and live together" and "a framework to proactively and intentionally teach scholars the skills they need to be responsible, respectful, ethical, and compassionate world citizens." The five pillars are: Welcome, Do No Harm, Never Too Late To Learn, Choice Words, and Be The Best.
For the "Welcome" pillar, they have done activities on what it's like to be welcoming and to feel welcome. When a mass shooting took place at the synagogue in nearby Poway, they did a "Choice Words" activity that focused on the impact of their words and actions. If the campus is looking strewn with trash or otherwise neglected, they might do a cleanup and a discussion of "Be the Best" and "Do No Harm."
Older students often lead activities, including discussions to pass down the school culture to younger students. Every student has an advisor, and most staff members, including administrators and guidance counselors, have an advisory. (The principal and assistant principal co-advise with a teacher in case they have a conflict or need to step out.) Advisory meets for 45 minutes every Wednesday.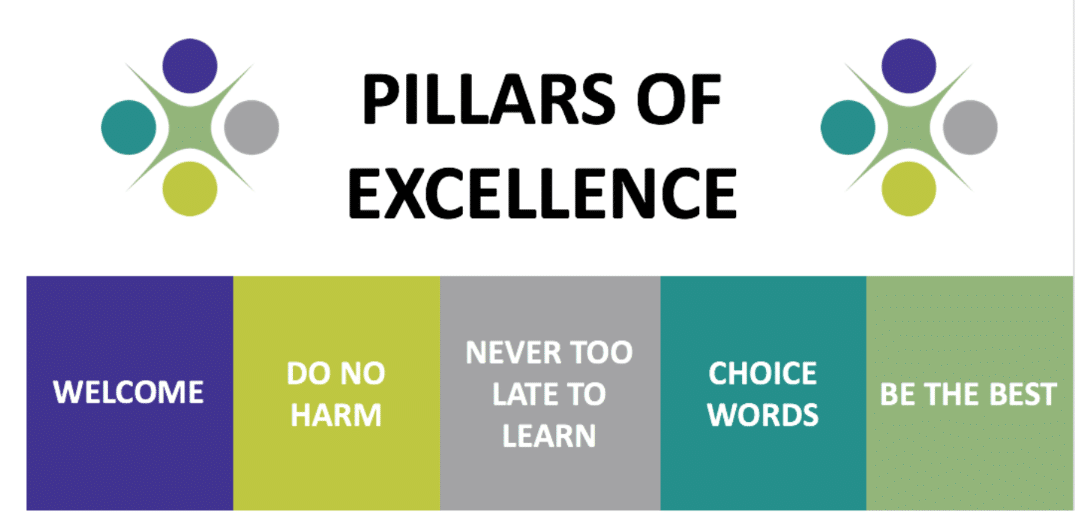 Daily Staff Circle
In order to build a positive, personalized culture for students, Del Lago believes they need to do the same for staff. A terrific culture-building activity for school staff is a daily 10-minute morning circle that takes place just before school starts. It's optional, but the day I was there about 30 staff members were present, which was almost everyone. Given how busy teachers are as the day begins, this was a tremendous turnout. But for staff who value community and connection with their colleagues – most of them, I suspect – it seems that it would be an uplifting and energizing part of the day. There was lots of laughter as everyone filed in, and many teachers were wearing bright orange for a school-wide pep rally that afternoon.
After Principal Ruth Hellams kindly introduced me, the meeting began with a quick touch base about any students of concern, and teachers raised issues about students' injuries and academic problems. The goal wasn't to fix problems during the meeting, but to share information across all of the staff who work with the students in question. Next was a brief announcement about discussing vaping-related health risks with students. A few teachers asked for a schedule change because unexpected school days off due to nearby forest fires had led advisory to be cancelled. The ten minutes passed quickly, and as teachers left to join their students, Hellams said, "Have a good day. Let's inspire kids to do great things!"
One purpose of the morning staff circle is to model practices that staff can use with their students. On Mondays they do check-ins in smaller groups to ask how everyone is doing. Sometimes they form groups of three or four and do a quick share-out, such as describing an assessment practice they used in the past week or an interdisciplinary project they're working on. Once a week they have a quick discussion of a piece of scholarly research that everyone has received ahead of time, related to an aspect of competency-based education. (Hellams believes that deep understanding of competency-based education theory and practice is essential for sustaining it; otherwise, it's too easy to revert to traditional thinking and practice when challenges arise.)
Thursdays in staff circle are for letter-writing, using labels the school prints with every student's name and address. By the end of the year, a staff member has sent an affirming handwritten letter to every student about something specific the student has done – more than just "How are you doing?" or "Thank you for being part of our school." Fridays are celebratory and include shout-outs to staff and check-outs to see how the week went.
Other staff community-building activities have included doing a ropes/adventure course together in the days before the school year began, and the principal periodically surprising staff with nurturing foods like coffee and yogurt at the beginning of the day. During my years as a teacher, my experience was that these types of brief, ongoing connections with colleagues and demonstrations of caring by school leaders have a powerful impact on the staff's synergy, devotion, sense of community, and shared purpose.
Other Personalization Activities
Del Lago has many other strategies to build a positive culture and personalize students' experience in the school. A few more examples:
Twice per year the staff looks across all students to make sure every student has a meaningful connection with an adult. For students who don't, they work deliberately to build a relationship with an adult in the school.
Del Lago uses restorative practices proactively to build relationships and a feeling of being welcome. When discipline issues arise, students have the opportunity to meet in a supportive environment to "learn about how their actions have affected others and what may be done to 'repair the harm.'" All teachers and many support staff participate in a three day Restorative Practice training. For more on this topic, the school recommends beginning with Defining Restorative by Ted Wachtel, founder of the International Institute for Restorative Practices.
"X-Blocks" (short for "Exploratory") at the end of the day on Tuesday and Thursday give students opportunities to go deeper into areas of interest and to receive timely, differentiated supports.
The school's architecture is designed to foster small-group meetings and connections, with various configurations of meeting spaces, seating, and welcoming hallways. (The section of hallway shown below has seven nooks with different types of individual and group seating.)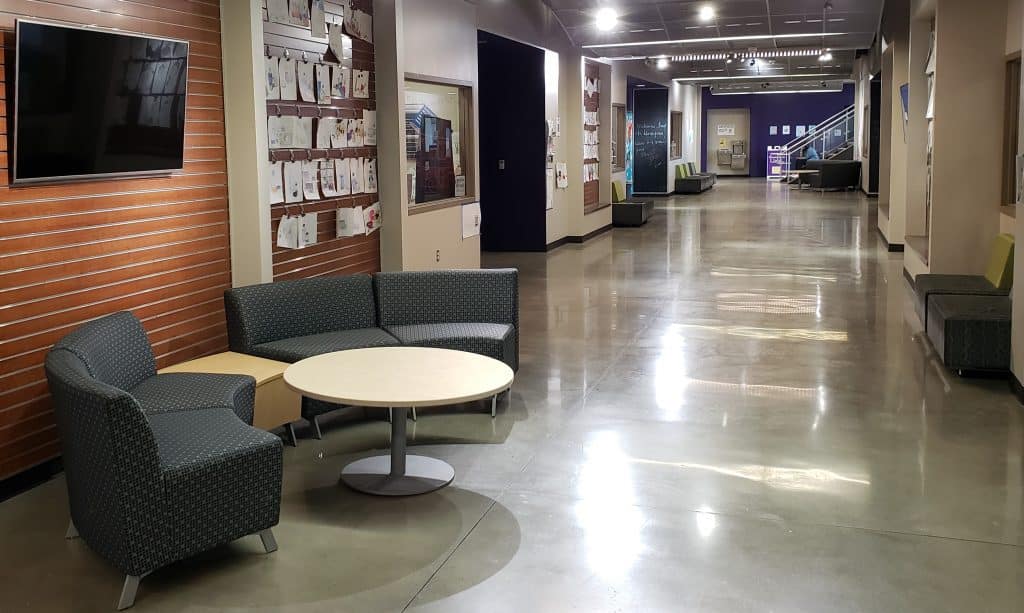 The final blog post in this series focuses on another important piece of Del Lago Academy's school culture – their reasons for using the term "scholars" rather than "students."
Learn More
Eliot Levine is the Aurora Institute's Research Director and leads CompetencyWorks.