Put Us In the Room Where It Happens: Teacher-Driven Shifts To Mastery
CompetencyWorks Blog
---
This post originally appeared at the Center for Collaborative Education blog on January 4, 2017. 
I wanna be in the room where it happens.
This line from the Broadway hit Hamilton is one I refer to often when thinking about how we can effectively bring students and teachers in to create honest and equitable systems of assessment.
Our little school in Queens, New York, has worked tirelessly to create and maintain a teacher-created system of mastery-based grading. I'm thirteen years into my middle and high school English teaching career, but the school I have had the privilege of being a part of for the past six years is The Young Women's Leadership School of Astoria. Our school is grades 6-12, public, all-girls, and Title I.  On average, 98% of our graduates are accepted to and attend college, and we have been a mastery-based school for the past seven years.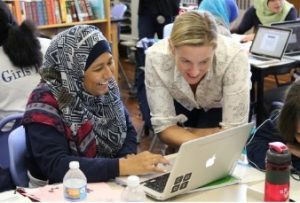 Our mastery work began when our founding principal shared a paper with her then-staff, "Removing Structural Barriers to Academic Achievement in High Schools: An Innovative Model" by Camille A. Farrington and Margaret H. Small.  The gist of the paper addressed the dropout rate as a "structural problem" connected to traditional systems of determining final grades and course credit. It was a call to action honoring "differential learning rates". For our founding teachers, this was an issue of social justice-being able to provide multiple opportunities for students to achieve mastery of skills over time was simply more equitable. Our through line was, and remains, educational equity.
Seven years ago, the school launched into an outcomes-based system with each teacher creating her own set of outcomes. After a few years of experimentation, we learned our students needed more consistency. Our principal gave us the time and space to come together from varying departments and grade-levels to create a more unified system. Just before the start of the 2013 school year, in a sweaty, chart-papered and post-it laden classroom, ten teachers hashed out a system of 21st century competencies, derived from Authentic Education's work, that we would use to rate our student's skills.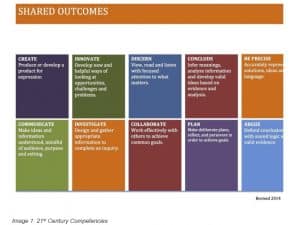 Now, all students in all subjects are assessed on these 21st century skills: planning, collaborating,discerning, being precise, arguing, innovating, investigating, concluding, communicating, and creating. Once we had hashed out our larger buckets, we had some "Goldilocks years" until we finally settled on a system of ten to fifteen departmental outcome learning targets connected to these ten 21st century buckets.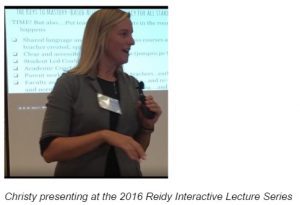 The key to our system's success is that we had room to experiment and revise. We were trusted as educators to create a research-based, standards-aligned system that worked for our community. Then we were trusted to revise that system again and again until we found elements that worked.  Paid overtime hours were set aside to support our efforts. We have critical friends in other NYC-based mastery schools as a part of the DOE's Mastery Collaborative. As we consider the implications of the "age of accountability" on our students and schools, as we search for ways to adapt to the new world of work our students find themselves in, why not fling open those doors to the room where it happens?
See also:
---
Christy Kingham has been a middle and high school English teacher since 2003. She began at TYWLS in 2011 and currently teaches 11th and 12th grade ELA. She is also a Lead Teacher and instructional coach, working with teachers on their curriculum and instruction.