Question Making
CompetencyWorks Blog
---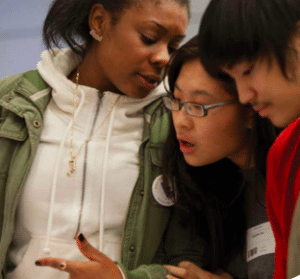 There is something a bit magical about the transformation from time-based/A-F structures to competency-based education.  Over and over again students, teachers, parents and administrators discover and rediscover the magic of learning.
All of it starts with creating powerful questions. We all know that our learning is shaped by how we construct questions. In fact QED Foundation includes "Question Making" within their Curiosity and Wonder rubric, one of their essential habits of learning.
Making Mastery Work: A Close-Up View of Competency Education helps us understand the questions behind competency-based schools. The authors capture the questions the ten schools use to drive their decision-making as well as the variety of design decisions that each school makes.  For example, the questions below guide the overall design of schools, focusing on the mastery and assessment system.
 What are the learning targets or competencies that best represent the skills and knowledge students are expected to master?
 What is the relationship between the program or school's learning targets, the Common Core State Standards, and other relevant standards?
 How, and how often, will student progress toward learning targets be assessed?  What kinds of interim benchmarks and formative assessments will be needed?
Proficiency-based grading sounds like you could walk in as a ninth grader and do twelfth grade work and be done. We have had to struggle with what consistency looks like in the framework: how many times do students need to meet the standard, how many times do they need to show that they have mastered content? We've worked on trying to figure out what the ladder looks like to being college-ready. -Kippy Smith, Expeditionary Learning Coach at Casco Bay High School, From Making Mastery Work
 How will students demonstrate mastery?
 How will teachers and students track progress? What kinds of learning management systems, adapted grade-books, and student-managed tracking      tools will be needed?
 How will the program grade and award credit?
 How can the system, once developed, be clearly communicated to students, families and other stakeholders?
The authors are clear – the schools use similar questions but it's not always the same sequence. For example, I've learned from site visits that in many districts, the communication process starts well before the other questions so it is about creating a shared vision as well as communications or marketing.
Are there other questions that you have found that you have to be able to answer as part of the quest for innovating competency education?