R5 High School: Abuzz with Learning
CompetencyWorks Blog
---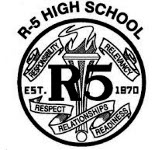 This article is the thirteenth in the Designing Performance-Based Learning at D51 series. A reminder: D51 uses the phrase performance-based learning or P-BL.
One of the reasons I believe D51 is going to be successful in implementing performance-based learning is that they already have a 100 percent strategy in place, with four alternative schools designed to make sure that every student, even those who left school and want to re-enroll, have options. It means they are putting resources toward serving 100 percent of the students. Even more so, they have demonstrated that all learners are valuable by co-locating two of the alternative schools, Summit and R5, in a brand new building (many district-run alternative schools I've visited have been in portable classrooms, old buildings, and very dingy basements).
D51 has thought strategically about the mix of high school programming that is needed. In addition to the four comprehensive high schools, there is Summit (a transitional program for students who do best with more support and structure); Valley High School (a small school model); the Career Center; and R5, an early stage performance-based high school designed for students who need flexibility and opportunity to advance more quickly than traditional course-based schedules will allow. R5 High School, which is based on Respect, Responsibility, Relevancy, Readiness, and Relationships, is the only high school of the seven demonstration schools in District 51.
Observation and Inquiry: Is having strong, comprehensive multiple pathways to graduation that ensure students can take a "leave of absence" and return to school at a later date to complete their diploma an indicator that districts are committed to helping all students reach proficiency? Will those districts that have expanded alternative schools to be better able to reach out and, when needed, re-engage 100 percent of their students (as opposed to maintaining a one-way door out of school) be better positioned to implement strong, continuous improvement efforts? Should we create formal leave of absence policies so that there are triggers about what this will mean regarding when students might graduate?
About R5
The students at R5 are there for all kinds of reasons:
a child care program invites pregnant and parenting teens to stay and return to school
a strong career program engages students who need to start earning income immediately
students without enough credits have the opportunity to access a more personalized, performance-based system to allow them to focus on skill-building and more rapid credit recovery
Some students go to the career center in the morning for career-technical courses and then to R5 for classes in the afternoon. Students enter in cohorts, groups of around thirty to thirty-five students, throughout the year. The backbone of the program is goal-setting both academically and in terms of Habits of Mind. Approximately 40 percent of students are minorities. Forty-five students are on IEPs.
R5 is abuzz with learning – it's in the air. Visitors feel this the moment they walk in because the school is organized around a wide open space with multiple seating and working areas. Smaller classrooms are organized around the outside for meeting space. Two rooms are dedicated to childcare. Teachers work both individually and with small groups. They may use a classroom space, but they don't have their own classroom that they call home. A double sized classroom is organized for project-based learning. Principal Donald Trujillo pointed out that students were only drinking water during the school day – with a strong focus on well-being, both physical and emotional, soda machines have been removed.
Each teacher is responsible for advising eighteen students. The school is organized around twenty-day modules, allowing a cycle of students and teachers to reflect on growth and setting new plans. Trujillo shared his insights on this structure. "Focusing on one Habit of Mind (HoM) per week didn't work well," he said. "It's hard to change behaviors and develop new habits. We've found it takes twenty-one dedicated, supported days." At this time, classes are highly structured and move at the same pace. Students can get as much extra help as they need during the day so they are able to continue to advance. For students who have demonstrated that they can manage flexible pacing, integrated learning courses are available.
R5 put together their own learning management system last year using Sharepoint. They didn't feel they could wait for the district to get Schoology up and running. Students can access a transparent curriculum tied to standards and rubrics. Units are available that can be accessed 24/7. Here is a video of a student explaining goal-setting within the current system at R5. Remember, as D51 rolls out the P-BL system, the approach at R5 will change.
Student and Community Engagement
Last year, R5 added project-based learning so students can apply what they are learning and engage with the community. Projects are organized around questions such as, Should food be labeled for GMO? Should a dam be built to produce more energy on the Colorado River? Trujillo explained that many of the R5 students are there because of "relationship poverty." They don't have the connections beyond their family that can help them network in the community. The project-based learning is organized so that they spend time in the community interviewing people and learning about different types of jobs. Community members are also invited to final presentations.
Trujillo explained that students don't have connections to the world around them, either. When he discovered that only three students had been to the Colorado Monument National Park nearby, the school organized weekly outdoor experiences such as rock climbing, biking, and kayaking. They've built bikes and sent them to community organizations serving low-income communities in Denver. Trujillo is also starting a school-wide project to build a garden on the grounds of the school – his dream is a small business producing twenty tons of produce a year. Trujillo is clearly a visionary. His other dreams include a establishing a re-engagement center that could serve any student in the valley and building coalitions with the unions to develop direct pipelines into apprenticeship programs and to expand certification programs.
Trujillo is one of these principals who has laser focus on learning. He explained that teachers are not assigned a classroom, and you won't see anything personal on the walls because it "breeds isolation and stagnation. We stay focused on learning needs, not our comfort levels." Even the principal doesn't have an office. Trujillo has also learned about how to use his own time more effectively when he learned about breakthrough coaching during a site visit to Lindsay. He says removing the loveseat and pictures of his kids in his office was liberating – he is on the move more, talking to students and to teachers, resolving issues as they appear. Some teachers left when they had offices taken away. The teachers there now share the same sense of mission.
Performance-Based Schools in Time-Based Systems
Principal Donald Trujillo is an advocate for performance-based learning. "We have students enrolling at all different stages of their high school careers," he said. "The transcript doesn't tell us much. What does it mean to get a C? Do they know the material well enough for the next level? We've had students with Fs who know more than students with a C. That's a system that doesn't work." Not trusting the transcripts, one of their early steps in the induction process, means leveling students or assessing where students are based on STAR or Khan Academy. Trujillo explained, "We want the diagnostics so we can organize the best learning plan we can for students."
Trujillo is clear that students shouldn't be penalized by the dysfunctions of the system – credits still count toward graduation even if they don't have the skills. This does put schools in the awkward place of trying to figure out how to award credits even if students aren't at the performance levels they would expect. In the traditional system, this is just the way things are and no one does anything about it. In the performance-based system, it becomes explicit. They've managed this by creating three graduation pathways: individual based on growth; conventional based on demonstrating grade level; and distinguished for students who have accrued college level credits. There is also a bilingual seal for students who have pursued both English and Spanish.
Another challenge is that some students want to go back and forth to traditional high schools so they can take advantage of the sports programs. When all schools are using the same performance-based structure, these issues should diminish. Or the district may find that they want to modify how students take advantage of sports programs so that any student can benefit wherever they go to school. (There are lessons to be learned from how NYC managed the issue of sports and the arts when they moved to small schools.)
Going Forward
Trujillo knows that R5 is in a process of improvement as teachers build their skills in effective practices of learner-centered classrooms and embrace a district-wide structure for performance-based learning. He looks forward to the day that the system is aligned around transparency and responding to student needs.
Read the Entire Series:
Read the Entire Series:
Post #1 – Designing Performance-Based Learning at D51
Post #2 – Building Consensus for Change at D51
Post #3 – The Vision of Performance-Based Education at D51
Post #4 – Holacracy: Organizing for Change at D51
Post #5 – Growing into the Framework: D51's Implementation Strategy
Post #6 – Laying the Foundation with Culture and Climate
Post #7 – Supporting Teachers at D51: A Conversation with the Professional Learning Facilitators
Post #8 – Creating a Transparent Performance-Based System at D51
Post # 9 – New Emerson: Learning the Effective Practices of the Learner-Centered Classroom
Post #10 – Transparency and Trust
Post #11 – Lincoln Orchard Mesa: What Did You Notice?
Post #12 – Performance-Based Learning in a Dual Immersion School