Reflections on Competency-Based and Blended Learning
CompetencyWorks Blog
---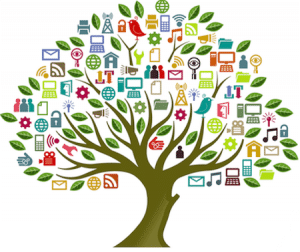 Originally posted June 4, 2014 by Education Elements
Last week, Justin DeLeon and I attended the Competency Based Education Convening in Los Angeles, held by CompetencyWorks, an initiative led by iNACOL and MetisNet. The goal of the convening was to bring together technical assistance experts in the field around competency-based education and blended learning to better understand how blended, competency-based programs can facilitate personalized learning (which emphasizes student voice and choice). The technical assistance providers in attendance were comprised of competency-based learning organizations, such as Re-Inventing Schools Coalition (RISC), recent authors of papers on pertinent topics including Liz Glowa and Julia Freeland, in addition to practitioners of competency-based programs like Boston Day and Evening Academy.
The group visited USC Hybrid High and further developed practices pitches to superintendents on what ideal steps we would take to achieve a blended, competency-based program to achieve personalization across a set of schools. Over two intense days, we determined a current roadblock to understanding how blended learning could better facilitate competency-based learning was the glaring need to clarify for the field how digital content providers' pedagogy is designed to personalize.
It is increasingly well known, among those seeking to personalize, that digital content providers provide students the ability to move at their own pace through a continuum of content, and provide multiple pathways to understanding through exposure to modularized content. However, what is less well known is that adaptive digital content programs can provide freedom in pacing and modality of learning, and also meet students' individual learning needs based on continuous/regular assessment. Further, these adaptive digital content providers, along with formative assessments, can provide rich data to drive small group instruction for teachers and give direct feedback to students to inform goal setting. The art of incorporating digital content into personalized learning environments happens through understanding how digital content adapts to student engagement. The pedagogy, strengths, and weakness of each digital content provider in the suite of options for students is key to developing a clearly articulated theory of change around the goal of learning and the tools to support the learning. What role does each digital content provider serve in my academic agenda? What student needs does this digital content provider address, and how? At what level of Bloom's Taxonomy does it assess? How is data from each of these tools being used to guide and empower students? How are opportunities for students being created to show what they know via deeper learning opportunities?
Education Elements believes that in today's large classroom environment, using adaptive digital content is the only way to personalize at scale. The majority of adaptive digital content focuses primarily on the lower levels of Bloom's taxonomy — "remembering" and "understanding" — freeing teachers to focus on planning and facilitating more rigorous performance tasks and helping students achieve the deepest levels of learning. Digital content alone and teacher-centered classrooms alone, cannot personalize. It is through the combined efforts of teacher, student, and digital content that learning experiences are more customized and adaptable, furthering students' mastery of concepts more efficiently and deeply.
Note: CompetencyWorks plans to continue the national dialogue by authoring a paper detailing how blended learning and competency-based programs can complement each other to help schools achieve personalized learning, emphasizing student voice and choice.
---
Jane Bryson works to design and implement blended learning into schools at Education Elements. Jane has six years of teaching experience, including two years at Town School for Boys, a private school in San Francisco, and four years at East Palo Alto Academy, a charter school serving a low-income neighborhood. At East Palo Alto Academy, she was a lead teacher and administrator running the Early College program focused on college readiness. Beyond the school environment, she has also worked with NewSchools Venture Fund as well as with the US Department of Education on the Race to the Top federal grant program. She graduated from Stanford University with an MBA and MA in education, as well as a BA from Stanford.