Seeding the Future of Learning Today – Part 3
CompetencyWorks Blog
---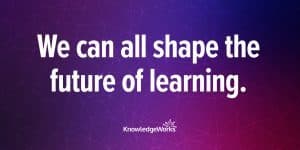 This article is the concluding post in a three-part series by KnowledgeWorks futurist Katherine Prince on the challenges and opportunities emerging in education. Part 1 is here; Part 2 is here.
Ten years ago, competency-based education was just beginning to take hold as a way of preparing all learners for college, career and life. Since that time, the movement has grown steadily, with more schools, districts and states implementing the approach or creating the policy and other conditions necessary for it to spread. The seeds for today's successes were planted through many people's past actions.
Similarly, tomorrow's approaches to learning will have their seeds in the actions that educators and system influencers take today. In the face of ever-greater complexity, education stakeholders need to examine what the changing landscape could mean in their contexts and what futures of learning they would like to see and shape.
This post draws upon KnowledgeWorks' new 10-year forecast, Navigating the Future of Learning, to explore some critical starting points for responding to the changing landscape today. It builds upon previous posts describing drivers of change that are influencing education and creating possibilities for the future of learning.
Responding to the Changing Landscape Today
To shape a future of learning that will foster young people's healthy development, lay the groundwork for their effective lifelong learning and encourage community vitality, educators and education influencers can consider how to incorporate the strategies described here into their practice and advocacy work. These strategies invite us to question our assumptions about how education works today, to push even our most innovative approaches forward and to identify what stakeholders can do today to move toward our visions for learning.
Design for Equity – Equity must be an explicit aim and a core design principle of all efforts and reforms. It will often require strategies that focus on specific populations and on individual students' needs, along with frank and inclusive conversations about how and why inequities in learning persist. Without such a focus, innovative approaches such as competency-based education may fall short of equity-related goals.
Prioritize Human Development – As emerging technologies and workforce needs continue to influence many conversations about the future of learning, stakeholders will need to keep learners' fundamental human needs at the center of their decisions. Approaching learners as whole people, emphasizing relationships and integrating social-emotional skill development alongside academic mastery will help educators stay focused on students' holistic development.
Distinguish between Efficiency and Transformation – Pressure to adjust rapidly and the temptation to mistake increased efficiency for system transformation are likely to intensify. There will be a role for guides who understand that using new tools to make tasks easier does not necessarily improve student learning and that pursuing major changes often leads to unintended consequences. Educators and their partners will need to put in place appropriate safeguards to help ensure that the goals of new developments are clear and that their outcomes are monitored appropriately.
Lead with Inclusive Governance – Education stakeholders will have powerful opportunities to promote student and community agency, to make decision-making processes more transparent and inclusive, to foster more meaningful and relevant learning and to recognize and form connections among the many people and places that support learning. Creating new systems, structures and talent pathways that empower educators and that prioritize the leadership of people of color and other traditionally marginalized groups will be a critical step.
Identify Your Organization's Role in Social Regeneration – With their many existing assets and relationships, K-12 schools, districts and other education organizations can serve as critical leaders in efforts to define new narratives of success and to improve individual development, social cohesion and community well-being. Identifying the role your organization and potential partners might play in regenerating the health and vibrancy of your local community can help guide your responses to the changing landscape.
The changes on the horizon could help education stakeholders attain more of what they want for learning, advancing innovations such as competency-based education and finding new solutions to some persistent problems. The same shifts could also introduce new quandaries. Educators and system influencers need to begin taking action today to ensure that we continue to aspire to the futures that we would like all children to inhabit.
We sow the future of learning through the choices that we make today.
To explore more ways of responding to the changing landscape, download Navigating the Future of Learning. In addition, KnowledgeWorks has just released a guide to hosting a discussion about the forecast in your context.
Additional Resources:
—
Katherine Prince is Senior Director, Strategic Foresight at KnowledgeWorks, where she leads the organization's exploration of the future of learning. She speaks and writes about the trends shaping education over the next decade and helps education stakeholders strategize about how to become active agents of change in shaping the future. Katherine holds a bachelor's degree from Ohio Wesleyan University, a master's degree from the University of Iowa and an MBA from The Open University. She is a member of the Association of Professional Futurists. Tweet to her @katprince.