An Era Shift Creates New Opportunities for Education – Part 2
CompetencyWorks Blog
---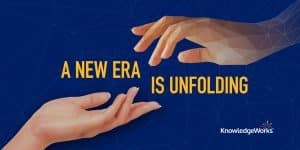 This article is the second in a three-part series by KnowledgeWorks futurist Katherine Prince on the challenges and opportunities emerging in education. Part 1 is here; Part 3 is here.
Putting students at the center of learning and pursuing competency-based education is at once an exciting and daunting challenge. Pursuing systems change is hard work. But the shifting climate surrounding education could create new urgency and new opportunity for reorienting learning around mastery and students' needs.
In my last post, I described five drivers of change that invite educators and system influencers to steer the future of education toward one that supports all learners in thriving amid a rapidly changing world. These drivers of change, and the era shift to which they contribute, are raising big questions for education. They are also raising exciting possibilities for competency-based education and other approaches to learning.
Human-Centered Learning
Among those possibilities, it seems possible – and in my view, desirable – to devise new views of success that prioritize human development and well-being. What if we reoriented education systems and learning environments to put learners' development as whole people at the center of learning? Could we reorient our expectations of learning around broader views of success? How might doing so free up learners and educators to spend their time together in more fulfilling and authentic ways while still collaborating toward mastery of important knowledge, skills and dispositions?
If we pursued this zone of possibility, education design principles could come to focus on supporting learners' healthy development and on meeting core needs such as secure attachment, creative expression, self-discovery, social belonging and meaningful purpose. In addition to reflecting knowledge and skill acquisition, assessment could broaden to support students in developing their full intellectual, emotional, social, physical, creative and civic potential and in building the foundation for lifelong learning. In addition, educators could draw upon our deepening understanding of neuroscience and brain development to help learners develop their cognitive fitness while addressing the impacts of factors such as trauma, racism, inequality, community backgrounds and their intersections.
Looking toward current signals of change – or emerging practices that indicate a future direction – can help make such possibilities more approachable. Already, the Making Caring Common Project of Harvard University's Graduate School of Education aims to change schools' and families' conversations about healthy definitions of success. In another example, the Oakland, California-based Homies Empowerment School, an after-school program for youth who have been involved in gangs, is becoming a school that reframes students' hardships in a positive light while helping youth harness their unique power and potential.
These examples point to changing educational climates and expectations that, along with the learner-centered education and competency-based education movements, could help shift the focus of learning to the young people whom it serves in deeper and more holistic ways than are common today.
Signature Learning Ecosystems
It could also be possible for educators and partners of many kinds to collaborate in creating rich place-based learning experiences that combine local assets along with technology tools and learners' interests and identities to enhance and extend opportunities for learning. Could local communities become a more integral part of the learning landscape? Could more learners engage in relevant, locally situated projects through which they pursued their interests, developed agreed-upon competencies and contributed to solving real community problems? How might such possibilities extend our understanding of what is attainable and desirable for learning – and for all learners?
This zone of possibility invites us to imagine new educational roles and practices. Among them, community network builders could foster multi-stakeholder partnerships and cross-cultural understanding by drawing on their community knowledge. They could use smart technology tools to map, model and engage community networks and to identify shared interests and goals as well as potential collaborations. Or designers specializing in place-based learning could engage in intentional educational placemaking, working alongside educators, local municipalities, residents and regional governing bodies to address community issues and support community identity. We could also see nested learning become increasingly common, with diverse community organizations – including museums, parks, zoos, art and science centers and businesses – hosting clusters of students for defined learning stints or longer learning residencies.
Related present-day examples include the Real World Scholars' EdHarmony program, which supports students in partnering with local businesses and community organizations to build meaningful relationships and help communities thrive. Círculos, a high school with no fixed location that is part of the Santa Ana Unified School District in California, groups students in tight-knit learning circles comprised of peers, teachers and community members and embeds them in co-working spaces, mobile labs and the offices of partner organizations. And the Place Network, an initiative of Teton Science Schools, works with rural K-12 schools in Idaho and Wyoming, putting both the learner and the local place at the center of a rich competency-based, whole-child educational experience that leverages the distinctiveness of each community.
These examples highlight the potential for future approaches to learning to intertwine deeply with the places learners live, enriching their experiences, deepening community connections and cultivating students' agency in impacting their communities.
Pushing Current Innovations
Realizing these kinds of possibilities is by no means a given. Pursuing truly human-centered learning or fostering signature learning ecosystems would require education institutions, influencers and decision-makers at all levels to take concerted action to respond to the changing landscape and pursue renewed visions for learning. Competency-based education already leads the way in opening traditional education systems to new ways of supporting all learners. We need to reach beyond what competency-based education and other innovations look like and aspire to today to continue pushing toward a future in which all learners can thrive – not just in today's context, but in the context of the emerging era. Today's systems and institutions will need to adapt or reinvent themselves to rise to the emerging era's challenges and make the best of the opportunities that it presents.
My next post will explore how education stakeholders might begin responding to the changing landscape today. For more on possibilities for the future of learning, see Navigating the Future of Learning, KnowledgeWorks' latest 10-year forecast.
—
Katherine Prince is Senior Director, Strategic Foresight at KnowledgeWorks, where she leads the organization's exploration of the future of learning. She speaks and writes about the trends shaping education over the next decade and helps education stakeholders strategize about how to become active agents of change in shaping the future. Katherine holds a bachelor's degree from Ohio Wesleyan University, a master's degree from the University of Iowa and an MBA from The Open University. She is a member of the Association of Professional Futurists. Tweet to her @katprince.