Structuring Standards-Based Instruction and Assessment at Vancouver iTech
CompetencyWorks Blog
---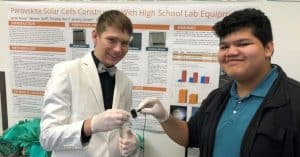 The Vancouver Public Schools in Washington reached out to me about a recent CompetencyWorks blog post, creating an opportunity to learn about their innovations aligned with competency-based education. I spoke with Darby Meade, principal of the Vancouver iTech Preparatory school (iTech), a STEM-focused magnet school that serves students in grades 6-12. The school also has a substantial early-college component, and students can enroll in classes at Clark College and Washington State University Vancouver as early as 9th grade. iTech is located on WSU's campus.
Competency-based education is a continuum of practice along the seven elements of the CBE definition. Schools and districts deepen their practice along this continuum in different ways, depending on local conditions. iTech opened in 2012 with aspects of standards-based instruction already in place, so they didn't need to go through the typical shift from traditional instruction and assessment. For example, they used a 4-point grading scale rather than the traditional 100-point scale. Nonetheless, needs arose that led the principal at the time, Christina Iremonger, and staff to modify their standards-based grading practices. Moreover, they are grappling with ways to move toward competency-based grading, particularly with regard to reducing time-based cutoffs (e.g., end of semester) for demonstrating mastery of standards.
The image below, from the school's pamphlet on grading practices, explains differences between traditional and standards-based grading to families and community members.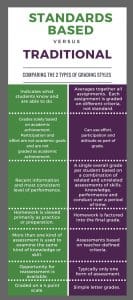 An essential evolution in iTech's approach was a mindset-shift from thinking in terms of assignments to thinking in terms of the standards that were addressed by different assignments (and other ways that students demonstrated mastery). To support this shift, they began using the JumpRope grading system, which is designed to facilitate standards-based instruction and assessment. Using JumpRope made it much less burdensome to track and communicate student progress on individual standards. (Traditional online gradebooks and learning management systems make that difficult or impossible.)
In the transition, Iremonger and the team also shifted away from traditional averaging and instead weight students' most recent work more heavily. This approach recognizes the absurdity of traditional averaging, where early struggles are averaged with later mastery, such as an early 'F' and a later 'A' on quadratic equations being averaged to a 'C' grade. Another advantage of JumpRope for iTech is its ability to support this approach to weighted averaging. (This blog post goes into much more detail about weighted averaging that is consistent with standards-based grading and a learning management system that facilitates it.)
Principal Meade adds that, "With this system, since everything isn't averaged together, students know they can try something, and if it doesn't work, they'll have another chance to address the standard, or they can revise and resubmit. That freedom and willingness to take a risk and try something different, knowing it might not work, and knowing they can recover—that's real learning. As opposed to 'I need to get a 92% or better on everything I do this year in order to get my 'A.' It has changed the way students look at things."
Like many schools using standards-based grading, iTech sees problems with converting to letter grades for report cards and transcripts but has concluded that doing so is unavoidable, and even unethical, because grades serve as "currency" outside the school. For example, iTech is an early college high school, and course enrollment at their two partner colleges require students to submit transcripts with letter grades.
Meade explained that iTech converts their 4-point scale and individual standard scores to an overall letter grade using a "conjunctive" approach that they adapted from Marzano Resources. They explain the approach in the two images below, which are taken from the school's grading practices pamphlet. The first image explains the four-point scale that will be used to determine students' mastery of each standard. The second image shows how letter grades are based on students having a majority of their standards equal to or above one level, and then none of the remaining standards below a second level.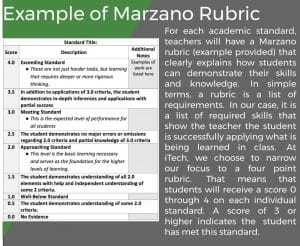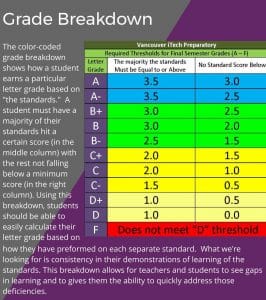 In a typical transition from standards-based grading to competency-based grading, one important change is that student grades on standards are changeable over time. Currently iTech's system mostly finalizes students' grades on each standard at the end of each semester, and there isn't a way for subsequent mastery to improve prior grades.
However, the school is taking additional steps in this area. They are starting to create improvement plans where teachers and students develop a plan to focus on improving one or two standards. Then the grade can be changed retroactively to reflect growth. The challenges of distance learning during the pandemic have catalyzed and accelerated this change, with additional opportunities to work on many standards during second semester being offered to students who didn't meet them first semester.
In addition, due to the pandemic, statewide guidelines in Washington did not permit public schools to assign failing grades during the 2019-20 school year. When students returned for the fall 2020 semester, they could work on individual standards they had missed, rather than having to redo a whole course or grade. Meade made it clear that these accommodations to the pandemic—which are consistent with competency-based education principles—gave students hope, helped them re-engage, and were an equity intervention that recognized students' different levels of access to resources and environments during remote learning. Whether the school plans to continue some or all of these changes was unclear, but the pandemic experience has demonstrated that moving deeper into competency-based grading is possible.
Another innovation at the Vancouver district level, not just at iTech, is the possibility of students who receive credit for English 10 being awarded retroactive credit for English 9, even if they hadn't passed it. Demonstrating mastery at the higher level is considered evidence of mastery at the lower level. The district has done extensive work to develop essential standards, and they believe in the educational value of this approach, which they call "subsequent course credit."
Other Elements of Competency-Based Education
iTech uses a personalized, project-based approach to much of student learning and has worked with PBLWorks on developing innovative projects and ways for students to demonstrate mastery and develop and exercise their sense of agency. One example was an issues in technology and environment class where students developed projects on issues that interested them that could also address course standards. Another was a Shark Tank project where students developed and pitched innovative project ideas. Part of the goal was developing skills in making arguments other than through writing essays, and to be able to address challenges that don't have singular or predetermined answers. Another goal was to accelerate student's English language arts learning to prepare for taking college-level English courses starting as early as 9th grade at iTech's partner colleges.
Opportunities for student voice and choice were apparent in these projects and students' ability to propose different topics, products, and ways to demonstrate mastery. Students were also able to propose the standards they would meet through their projects. Standards-based structures have allowed and encouraged students to advocate for themselves, asking teachers if work they've already done demonstrates proficiency in a standard, such as a physics assignment meeting math standards. Taking advantage of these overlaps has prompted some teachers to coordinate their efforts across disciplines.
Meade felt that the district's standards-based instruction helped with the equity and "rigorous common expectations" aspects of competency-based education. "What standards-based instruction does is it gives us all a common understanding of what kids should learn," he said. "And the experience then becomes more equitable across the district. It's not each teacher deciding what the most important thing is differently in different places, but all of us collectively committing to 'these are the essential things that all of our kids need to learn' and really focusing in on those things."
The school also has structures that enable varied pacing and differentiated supports. They have a daily period when teachers can work with small groups of students to re-address standardsand other students can do deeper work on standards they've mastered or focus on areas of greater need or interest. Moreover, during distance learning for the pandemic, Wednesday's have been intervention days rather than regularly scheduled school days.

Looking to the future, Meade explained that iTech relocated to a new facility in 2020, and the design reflected their ideas about how learning might evolve over the next 50 years. They asked, "what it would look like if students weren't bound by periods and were able to work on things and move through the building working with different teachers and students as needed?" The building design prioritized spaces for projects and collaboration. The center of the building is a big collaborative space with fabrication labs or maker spaces as well as a three-story open central staircase with various collaboration spaces. Classrooms are placed around the periphery. Students returned to the building on February 22 after nearly a year away, with half attending Monday and Tuesday, half attending on Thursday and Friday, and Wednesdays focused on intervention, planning, and professional learning.
iTech has made important shifts toward competency-based education, and the staff are clearly considering going deeper. Returning to the idea that competency-based education is a continuum of implementation across many practices, iTech and many other schools have already taken essential steps. With inspiration, commitment, and supports, these schools can continue developing the key elements and benefits of competency-based education.
Learn More
Eliot Levine is the Aurora Institute's Research Director and leads CompetencyWorks.