The Magic Ingredient: Information Management Systems
CompetencyWorks Blog
---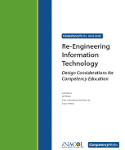 Two weeks ago I had the opportunity to visit Lindsay Unified for a full day tour of their performance-based system.  Delightfully it started out with a presentation from students that talked about what a performance-based system meant to them and their education. One of the strongest themes was transparency — transparency in the curriculum, in what proficiency looked like, how students were progressing, which courses were available to them… The essential ingredient for this systemic transparency was the information system Educate.  We know competency education can be implemented without an information system. However, we can't take advantage of all the data generated without one. It's the information systems that are going to allow us to move away from top-down accountability systems to dynamic continuous systems.
CompetencyWorks released a new paper today  Re-Engineering Information Technology: Design Considerations for Competency Education by Liz Glowa with an introductory essay from Susan Patrick. It's chock full of information — so you'll want to pick and choose the sections that are most important to your work. We hope you can join us at the follow-up webinar planned for February 28th 3-4 ET on the topic. You can register here.
If you are new to competency education you may want to sign up for the webinar on February 26 at 3:30 ET as well to hear from the leadership team from Maine's Gray-New Gloucester district on their journey to whole district reform. You can register here.