"This Isn't What I Learned In School": Teachers Share Learnings from New, Competency-Based High Schools
CompetencyWorks Blog
---
At iNACOL's Blended and Online Learning Symposium this fall, Springpoint—a national organization that supports new and innovative high school models—led a panel of teachers sharing practical lessons from their work in competency-based schools.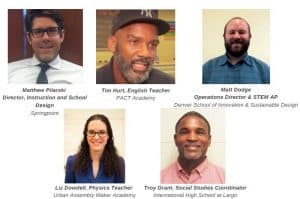 What does it take to be a founding teacher in a new, competency-based school? How must teachers shift their mindsets and practice to thrive in this new setting? Panelists share hard-won lessons from adapting to competency-based teaching and learning, generating buy-in for the approach among their colleagues and students, and communicating with families about student progress.
As panelists describe, a competency-based approach challenges every member of a school community to develop trusting relationships focused on learning. One teacher recounts his initial struggles letting go of control and allowing his students to set their own course. Another shares a strategy for communicating with parents who may be unfamiliar with this kind of system. Throughout the discussion, teachers reflect honestly on how they've grown alongside their students in these new and innovative models.
—
Springpoint is a national nonprofit organization that supports the design and launch of new, innovative public high schools. Our mission is to enable all students – regardless of environment or background – to succeed in high school, college, and beyond. Since 2013, we have partnered with school districts, school networks, and charter management organizations around the country to design and launch 12 new high schools in six cities, and next year we will support teams in opening five more. Together these schools will serve over 6,000 students at capacity. Visit our website, like us on Facebook, and follow us on twitter.
---
Victoria Crispin is Network Engagement Manager at Springpoint, leveraging her experience in project management, school-based programming and operations, and positive youth development. She began her career in the Small Schools of Choice movement in NYC at Millennium High School, and has spent over a decade both in schools and community-based organizations growing school-based programs and partnership models. Prior to joining Springpoint, Victoria served as a director in the Office of Postsecondary Readiness at the NYC Department of Education. Victoria holds a Bachelor of Arts degree from Tufts University.