How Competency-Based Education Can Transform K-12 and Connect with Higher Education
CompetencyWorks Blog
---
The growing interest in competency-based education was clearly on display at this year's INACOL Symposium, and we had the privilege of facilitating a conversation of how competency-based education is developing in K-12 and where it intersects with higher education.
The number of competency-based programs are growing quickly in both K-12 system and higher education. Both allow students to advance to higher levels of learning when they demonstrate mastery of key concepts and skills regardless of time, place, or pace. And both recognize that diplomas and credits based on seat-time and barely passing grades have been sending students and families mixed messages.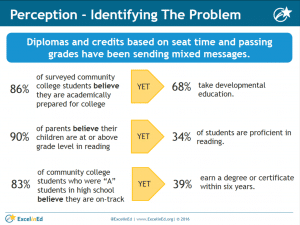 We described the similarities and differences of K-12 and higher education competency-based programs but honed in on the many common policy challenges.
One of the most frequently asked questions centers on the issue where K-12 and higher education intersect: diploma requirements and transcripts. How college admissions officers will receive competency-based credentials is both a practical and perceived hurdle. Fortunately David Ruff from the Great Schools Partnership was with us and confirmed that their work to address this concern has resulted in over 60 statements of support from New England institutions of higher education. Our nation's colleges and universities have experience reviewing different diplomas and transcripts from other states and countries but we recognize that proactive communication with students and their families will be necessary to allay their concerns.
As innovative K-12 programs continue to develop, higher education may have to confront subtle yet corollary policies such as acceptance into specific programs or scholarships based on traditional metrics like class rank and/or GPA.
Other common policy challenges are:
Competency-based data systems that are incompatible with existing systems tied to traditional age, grade, and credit hour models.
Difficulty in developing rigorous, valid, and reliable assessments with clear rubrics tied to competencies.
State finance and federal financial aid models tied to seat-time and traditional credit hours.
These issues present a wonderful opportunity for states to leverage the momentum and create forums for K12 and higher education to collaborate and develop real solutions.
For more on Competency-Based Education see:
---
Tom Vander Ark is founder and CEO of Getting Smart. He is also a partner in Learn Capital and a director of iNACOL, Digital Learning Institute, Imagination Foundation, Charter Board Partners, Strive for College, and Bloomboard.
Karla is the State Policy Director of Competency Based Learning for the Foundation for Excellence in Education. Previously, she served as Special Assistant to the Deputy Superintendent of Policy and Programs at the Arizona Department of Education. Karla also served as the Education Policy Advisor for Governor Brewer and as the Vice-Chair of Arizona's Developmental Disabilities Planning Council. Her experience includes serving as Director of State Government Relations for Arizona State University (ASU) and as a senior policy advisor for Arizona's House of Representatives. Karla received her B.A. from Indiana University and an M.P.A from Arizona State University. Contact Karla at Karla (at) excelined (dot) org.