Unpacking Thinking: Empowering Students in Proficiency-Based Education
CompetencyWorks Blog
---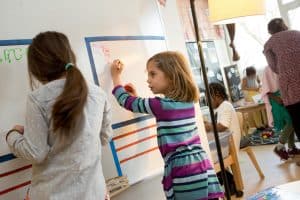 What does it take for all students to meet high standards? All students, including those with functional and academic disabilities, can meet rigorous standards. All students can be empowered to reach rigorous standards, increase opportunities for growth, and deepen their learning when provided with explicit instruction on how to use the knowledge taxonomy as the foundation. The knowledge taxonomy serves as a resource for students and teachers to clearly map out what students need to do for demonstrating proficiency.
RSU2 has been involved for seven years in a proficiency based learning (PBL) model. Each year brings new learnings and new enhancements to our PBL system. Over the past five years we've focused on building our capacity to ensure all students have opportunities for deeper learning and applied learning. One of the big lessons learned is the need to explicitly teach cognitive processes if we expect students to be empowered, lifelong learners.
Taxonomy the tool:  At RSU2, we start with the Cognitive Rigor Framework developed by Karin Hess. Our students develop skills to use the framework or what we refer to as the taxonomy as a tool that supports learning in a PBL system. Our students use the Marzano & Kendall New Taxonomy (2007) as the tool to match what cognitive process and individual method is required to demonstrate in a particular standard. Each student understands their cognitive strength(s) and is able to use that strength to demonstrate understanding and skills needed for proficiency. Students and teachers participate in conversations and build skills targeted to the increase cognitive processes while demonstrating increased rigor: retrieving knowledge, comprehending knowledge, analyzing knowledge, and using knowledge.
Cognitive process to demonstrate proficiency:  
Educators explicitly teach how to perform the Cognitive Processes needed to demonstrate proficiency and skills to extend learning to level 4 opportunities. Students develop metacognitive understanding of what level in the taxonomy they are working at as they build skills, become familiar with the content and engage in application.

Students examine opportunities within the process based on student strengths or preference. Students learn to understand their strengths as well as the areas they need to focus on. As they consider learning opportunities they begin to think strategically about which cognitive processes they will use and what they need in order to be effective.  

Students use voice/choice to communicate with teachers their best avenue for demonstrating proficiency.  As students develop an understanding of cognitive processes and how to use the taxonomy tool discussion with teachers become more explicit about which level of processes will be used as learning, applying and demonstrating learning. Students begin to be the co-designers of their learning experiences.
Outcomes of teaching
The explicit teaching of these cognitive process levels leads to three outcomes with students:
Students are empowered to apply skills to content with confidence

Students are able to grow in demonstration as cognitive process increases

Through the teaching of each level, the students are more capable of learning the next level

They are more available and willing to increase their learning when they are successful
Students become empowered when they understand how the taxonomy supports demonstrating proficiency. The opportunity for learning grows deeper and performance increases to demonstrate rigorous levels of learning. As educators, it is our obligation to provide all students will the tools needed to maximize their educational opportunities. Connor (2016) said it best, "provide great instruction in every school, everyday, in every class, and for every learner." That's what proficiency-based learning is all about. Now think about how much richer the learning experience will be when we extend this great instruction to the process of learning and not just the content being learned.
See also:
---
Deb and Eric are special education staff members in the state of Maine with 42 years experience. Both are leaders in the implementation of proficiency based learning for students PK – 12, as they work in one of the school systems following full implementation. Deb and Eric support special educators across the state with connecting proficiency based learning in the learning environment, and development of the individualized education plan.