Virtual Youth Summit Supports Student Agency and Community-Building During COVID-19 School Closures
CompetencyWorks Blog
---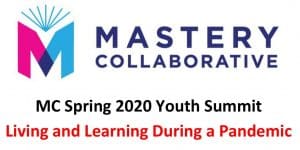 Living and Learning During A Pandemic is the theme of an online youth summit being organized by the Mastery Collaborative, a network of student-centered schools in New York City that use culturally responsive-sustaining and mastery-based practices. The youth summit is a terrific strategy for centering student voice and community-building during the COVID-19 school closures.
The Spring 2020 Youth Summit is structured as a daily video chat this week on Monday through Thursday from 3:00-4:00 pm. It's billed as "Conversations, Surveys, and Leadership Training—in a student-centered, collaborative, generative, anti-racist, egalitarian online space." They encourage students to participate, and "one adult from each school may join to support/listen."
I exchanged emails with Joy Nolan, Director of the Mastery Collaborative, who shared valuable context and rationale for the youth summit: "The pandemic is hitting NYC very hard right now, and there is a lot of fear. The familiar patterns of daily life are upended, a huge number of people are losing jobs, and many have lost and will lose people they love. Students are taking in all of this while grappling with learning remotely for the first time.
"When you think about everything a day of school means for a young person, one thing missing now is all those interactions with friends and peers, feeling like part of a group, finding ways to express your identity, your ideas, your style, among other young people. Students need a space to be together to talk about and process what they are experiencing. Young people have so much to share, so much that needs saying and hearing. We hope the summit can be a chance to share what all this has been like, hear from others, build on ideas, create some clarity, positivity, and hilarity, and have an hour of conversation that flies by, each day. While we're veering six feet apart, it is also true that we need to be in this together."
The summit's four calls are designed to meet students where they are during the pandemic. The first two calls provide opportunities for students to share their current experiences, coping mechanisms, and feelings about remote learning. The final two calls move on to building students' leadership skills and supporting their desire to take positive action. Equity is at the forefront of the Mastery Collaborative's work and informs the summit's format and substance. The proposed contents of the four calls are:
DAY 1 – What's Happening?
Our city is battling a worldwide pandemic crisis. What is happening for you, your family, your community? How are you feeling? What issues are on your mind? What experience do you want to share? How are you coping, and what makes you feel better? How can we see our experience in a larger context? Who or what is helping? What do you hope for?
DAY 2 – What and How Are You Learning?
What is remote learning like so far? How is it the same as/different from regular school? What do you get from a day in school vs. from remote learning? What do you miss? How are you connecting with teachers, peers? What equity issues are students experiencing with remote learning? How is mastery helping? How are culturally responsive-sustaining practices helping? How should grading be happening?
DAY 3 – Leadership Skills 1 – Building A Network for Student Voice
What power can student voice have right now? What do students need? What issues are most important to YOU (students)? What equity issues do we want to uplift through student voice? What are our change ideas? How can we build community? What advice/expertise can we share out with each other? What steps can we take as youth advocates? What do decision makers need to hear from students?
DAY 4 – Leadership Skills 2 – Documenting and Sharing Out
How can we create clear goals around the 1-3 issues youth find most pressing? How should we take action? How can youth and adults be partners in making change in our school system, right now? How can we be creative?
Up to 100 students can participate, and they must submit a media consent form signed by parent or guardian if they're under 18. Speaking of strong equity efforts, the consent forms are also available in Arabic, Bengali, Chinese, French, Haitian Creole, Korean, Russian, Spanish and Urdu. Once the consent form is received, participants receive a registration link.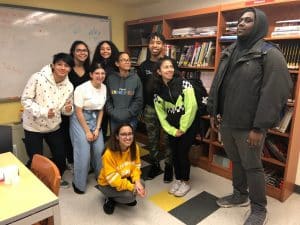 For those thinking of developing similar events, some additional logistics are:
Schools can register students or students can register themselves.
Registration is first-come, first-served, and ends 24 hours before each session.
Students can register for any or all days.
A maximum of 10 students can register from a single school.
Student registration is prioritized, and "One or two supporting adults from each school are welcome (but NOT needed) to participate as listeners during the sessions. We hope supporting adults can help participating youth to build on their experience in the summits."
The registration link asks for the participant's name, school or organization, email address, grade, age, days they want to participate, whether the consent form was committed, and the questions "Do you have any suggestions for us? Anything we should know?"
The Youth Summit doesn't say anything about meeting competencies, being assessed, or the usual grammar of daily schooling. Nonetheless, it encompasses many of the quality principles for competency-based education, such as being responsive to student needs, fostering the development of a growth mindset, committing to equity, activating student agency and ownership, designing for the development of higher-order skills, and nurturing a culture of learning and inclusivity. It's a powerful model that other schools and networks could follow during the COVID-19 pandemic and beyond.
Learn More
Eliot Levine is the Aurora Institute's Research Director and leads CompetencyWorks.