Personalized Learning from a Distance: An Early Report from Schools Closed by Coronavirus
CompetencyWorks Blog
---

Leading the way in personalized learning in South Dakota, the Harrisburg School District was featured in a series of CompetencyWorks posts last year. I asked Travis Lape, the district's Innovative Programs Director, how the COVID-19 school closures are affecting personalized learning in the district. He put me in touch with Tyler Muth, a 5th-grade teacher at Freedom Elementary School, which has deeply transformed to a personalized learning approach over the past several years.
The district's schools – six elementary, two middle, and one high school – are currently closed through May 1st per the Governor's orders. Distance learning officially began on March 25th, two days before our call, so they're very early in the process. Muth explained that grade-level teams across the district have been developing online "learning boards" with daily and weekly "must do" and "can do" activities for each grade level in each academic discipline. All students in a given grade level are receiving the same assignments across all schools in the district.
The assigned activities are available to all students online, such as a Mystery Science unit about how the sun can tell you what season it is. The district is almost entirely one-to-one on devices, but parents can pick up print materials for students with connectivity and/or special-needs issues that preclude online work. Students are expected to submit their completed materials, which will count toward meeting specific course standards on their report card.
Having uniform assignments across schools and grade levels is intended to simplify communications as well as demands on students, teachers, and parents at a time when communications and logistics are difficult and everyone is grappling with new academic, personal, and professional challenges due to the pandemic. This is a major change for students in several schools, who are accustomed to being able to advance through academic competencies at their own pace, track their own progress on customized "play lists," and upload evidence to the school's Empower learning management platform.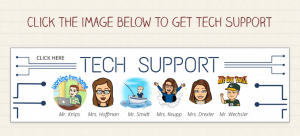 Muth and his colleagues are striving to maintain close personal contact with students and to provide personalized supports. He has a daily Zoom video call with his whole class, and he says "It's nice for everyone to see each other, to have that community experience, that connectedness. A lot of learners miss school. Even the ones who say they hate school are saying they're bored being at home." In addition to Zoom, the students contact their teachers using ClassDojo and SeeSaw, and teachers can call parents and students on their personal cell phones if they press *67 first, to keep their phone number from displaying. They also had a "school parade" where teachers drove around the school neighborhoods to wave at kids and have quick interactions from "a safe social distance."
Harrisburg teachers feel that other aspects of their personalized learning approach are paying dividends under the current circumstances. During the school parade, one parent stopped Muth and said that "because her daughter has been in our personalized learning program the past four years, she was able to switch to distance learning without skipping much of a beat."
Students in the personalized learning cohorts spend considerable time developing habits of work such as persistence and self-direction (as described in this CompetencyWorks post). "Learners in our program are able to move at their own pace, so those soft skills that we've built in have been very beneficial," Muth explained – as I heard his computer beep in the background every few minutes with inquiries from students. "Parents have also been playing a huge role in asking the right questions and helping their students focus and make progress."
As personalized, competency-based schools navigate this unprecedented situation, they are innovating every day. CompetencyWorks wants to capture how this is playing out so we can share your challenges, questions, lessons learned, and insights. Feel free to be in touch and let me know: How is your school and district supporting learning, social-emotional, and other needs? What PL/CBE practices have you been able to continue, and how have they changed or stayed the same? How are you addressing equity issues related to school closures? How is your approach evolving with experience?
At the time of our call, Harrisburg and Sioux Falls had about 10 identified cases of COVID-19. Reflecting on the challenges of teaching and personalized learning in this time of illness, anxiety, and school closures, Muth said "Teachers are resilient – we're going to find a way. We're going to figure it out."
Learn More
Eliot Levine is the Aurora Institute's Research Director and leads CompetencyWorks.