Educating the Whole Child (and Young Adult) at Alta Vista Innovation High School
CompetencyWorks Blog
---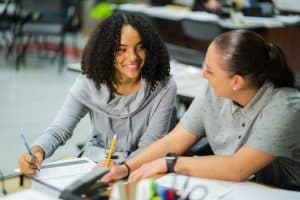 This is the second post in a two-part series about Learn4Life schools. The first post is here.
Alta Vista Innovation High School is a Learn4Life learning center in Los Angeles County. In addition to the many academic supports described in the first post in this series, Alta Vista provides many non-academic opportunities and supports, to help develop the whole child (or young adult) and be responsive to the many challenges their students face.
The school's flexible schedule – open weekdays, evenings, and Saturdays, with students able to attend for a minimum of two four-hour days per week – is an essential element of serving its older, high-need population of students. Social workers, social work interns, and psychologists provide case management and mental health supports, and all teachers have completed professional training in trauma-informed practice. Knowing that one source of trauma has been students' experiences of academic failure at past schools, Alta Vista staff work hard to provide the encouragement and scaffolding needed for their incoming students to have a successful transition.
The school also provides wellness services such as free food and snacks, yoga classes, and relaxation training. A staff member is devoted to dropout prevention, and students with low attendance receive calls and supportive home visits to help them get back on track. Multiple resources are also provided for parenting students. One room is set up to allow parenting students to work while their children are with them. Partnerships with two nonprofit organizations – El Nido Family Centers and Baby to Baby – enable the school to offer parenting workshops, health and hygiene classes, lunches for students' young children, and supplies such as diapers, formula, strollers, and car seats. Alta Vista does not provide day care, so parents who bring their children with them to school must be with them at all times.
Eunetra Rutledge, Alta Vista's community liaison, said that students who have struggled in past schools have fewer challenging behaviors in this less stressful environment; they are more able to focus on learning and rise to meet opportunities the school offers.
Vocational and Extended Learning Opportunities
Responsiveness to students' needs extends outside the school's walls. Workforce development partnerships with local employers such as Target, Amazon, and Trader Joes are funded through the Workforce Innovation and Opportunity Act (WIOA) and the Department of Vocational Rehabilitation. Partner organizations come into the school and provide services such as a "hiring boot camp" to build students' career readiness skills. They also provide paid internships for cashiers, stockers, and greeters at local stores, and students can earn postsecondary credentials such as a forklift operator certification.
Through a partnership with UPS, Alta Vista students can enroll in three eight-week courses in "global logistics," learning to be a package handler or seasonal worker. These entry-level positions are intended to enable students to rise in the company's ranks and pursue a career with UPS, as well as building general career readiness skills and experience. Partnering with WIOA allows Alta Vista to serve students from ages 19 to 24, who have aged out of the traditional school system, so they can participate in job training services while earning a high school diploma.
An additional opportunity for experiential learning is Learn4Life's partnership with the Pathways organization. Students take trips that combine travel with project-based service learning such as building homes in New Orleans, and college visits that include working on college essays and financial aid forms. Groups that are formed across multiple Learn4Life schools have traveled from California to Colorado, Washington DC, New Orleans, and Cuba.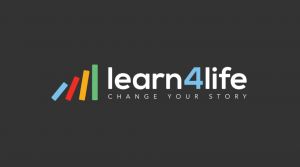 A Student-Centric Model – "Remove All Barriers To Learning"
Learn4Life calls their network a personalized and "Student-Centric" model. They frame their approach with pairs of "Realities" and "Solutions," asserting that "Realities are facts, not faults. Finding solutions is everyone's responsibility. Remove all barriers to learning."
Several of the reality/solution pairs are presented below. In what ways can these strategies and perspectives influence innovation in other personalized, competency-based schools?
Reality – Students have to change schools a lot, losing credit for work done when they can't finish a semester.
Solution – Learn4Life arranges the curriculum so students can finish credits on a weekly and monthly basis, ensuring they don't have to redo work they have already done.
Reality: Students don't decide to restart their education at the beginning of set semester calendars.
Solution: Learn4Life's calendar is year round. Students may matriculate on any day, starting instruction at whatever level they need.
Reality – Students have trouble juggling five or six classes at a time, plus probation, parenting, and/or work.
Solution – Learn4Life supports students taking as few as two classes at a time, but more intensively, to keep them learning and making progress.
Reality – Students need more time.
Solution – Learn4Life works with students up to age 26, ensuring that they never give up.
Reality – Life happens.
Solution – Learn4Life always welcomes students back and enables them to pick up where they left off, even in a different center, always.
Learn More
Eliot Levine is the Aurora Institute's Research Director and leads CompetencyWorks.