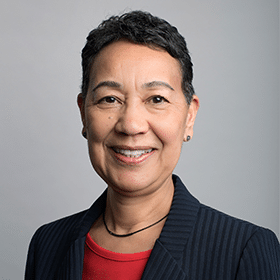 Loretta Goodwin
Chief Operating Officer
---
Loretta Goodwin joined the Aurora Institute as Chief Operating Officer in November 2020.  In this role she leads the Aurora Institute staff; owns talent management and Diversity, Equity and Inclusion (DEI); aligns the work on the ground with the organization's mission, vision, values, and goals; and supports the CEO and Board of Directors in crafting a new, long-range strategic plan.
Most recently, she was the Deputy Director at the American Youth Policy Forum, focused on promoting equitable education for all young people by providing professional learning opportunities to policymakers.  She oversaw AYPF's DEI efforts, as well as instituting innovative staff professional development.  An educator at heart, she has worked consistently in the fields of education reform from her teaching days in her native South Africa to dissertation research for her doctorate on Soviet education reform.
Dr. Goodwin holds a bachelor's degree from the University of Cape Town, a Higher Diploma of Education from the University of Cape Town, master's degrees from Wesleyan University and the University of Washington, in History and Political Science, and a Ph.D. in History from Princeton University.