4 Key Takeaways from #SXSWEDU2022
Education Domain Blog
---
Last week, I had the privilege of being able to attend the SXSW EDU 2022 conference in Austin. Attending my first in-person conference since 2019 did not disappoint! This year, the Aurora Institute had the privilege of being a conference partner, and SXSW was filled with lots of great conversations with folks looking to make our education system more personalized, equitable, and effective for all young people. A few themes and highlights arose from my time there:
1. Build On What's Worked, and Intentionally Center Students in Reshaping Education: 
Secretary of Education Miguel Cardona and three Austin young people – Gensenia Alvarez, Audra Garcia, and John Mark Wesley Hunter – joined us for the keynote conversation, focused on centering students in education. During the session, Dr. Cardona lifted up the importance of centering students in all decision-making processes, noting, "As we reimagine, how are we engaging student voice in a real way; how is student voice driving the improvement work of the school?" At one point, Dr. Cardona even stressed, "Why are we building it [the system] back the way it was, when it didn't work for everyone?"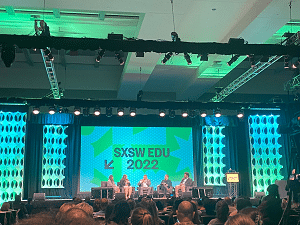 The amazing young people on the panel shared both the struggles and joys they had found over the past two years of pandemic schooling. Like many students, mental health challenges arose, but there were pieces of pandemic learning that they hoped would remain long past COVID. One student noted it was much easier to have the option to access office hours with a teacher through Zoom; another noted how flawed the traditional grading system is at providing intrinsic motivation, and that flexibility from the system allowed them to focus on more authentic learning.
2. The Appetite for Adopting and Implementing Competency-Based Approaches to Learning is Strong: 
At the conference, our president and CEO, Susan Patrick, hosted a meet up for those interested in learning and connecting about competency-based education (CBE) approaches. We had tremendous turnout at the meeting, with a mix of folks who were just getting started with CBE, to those who had been involved in the work for many years. Our session brought together a number of educators, state leaders, nonprofit groups, and funders to discuss the current CBE landscape. We had a great discussion about the need for teacher prep programs to support more educators to teach in a competency-based learning environment, how valuable competency-based systems of assessments are towards really measuring what our young people know, and what supports they need to thrive, and how to build buy-in and demand for competency-based learning approaches.
3. Be Intentional About Strategies and Policies to Build a Diverse Educator Pipeline: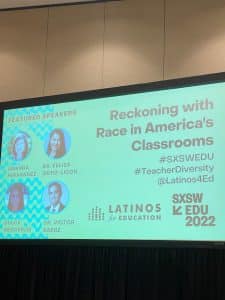 A session led by Amanda Fernandez of Latinos for Education highlighted three Latinx education leaders and dove into the history behind racist policies that sought to bar students from culturally affirming education. The session called for being intentional and strategic about making our teacher pipelines more diverse, and explored how we can use public policy to make pathways for educators of color more accessible. We explored examples of Grow Your Own initiatives across the country, and programs such as Call Me MISTER and Maestro – aimed at getting more male educators of color into the classroom. 
4. Putting Students at the Center Means Ensuring They Are Represented in Curriculum and Learning Materials:
A second keynote brought together a retired librarian-turned-activist, Carolyn Foote, and author George Johnson to talk about academic freedom and much of the legislation focused on book banning and the removal of curriculum and books focused on diversity, equity, and inclusion, and specifically LGBTQ+ content. The session examined the importance of young people having mirrors (to see themselves) and windows (into the lives of people who may be different from them) so they can better understand the world around them.
Until next year, SXSW EDU! We hope that many of our partners who attended SXSW EDU will join us at the 2022 Aurora Institute Symposium, which will take place virtually from October 24-26. Our call for presentation proposals is open until 3/17, and you can stay tuned for updates on the conference via our Symposium website.