9 Ways States Can Support Personalized, Competency-Based Education Systems
Education Domain Blog
---

Creating an education system that prepares every student to succeed requires systemic transformation to high-quality, personalized, competency-based education.
Today, the prevailing traditional, one-size-fits-all K-12 education model, is not meeting the unique needs of learners. Too many students are falling through the cracks, not graduating or  graduating unprepared for success after high school.
School districts across the country are making incremental shifts to student-centered learning without state supports and policy flexibility. However, transformation at scale will require alignment of both policy and practice.
Before the recent passage of the Every Student Succeeds Act (ESSA), state leaders had the authority to make room for districts to shift to a competency-based approach in significant ways. However, by removing federal policy barriers to aligning accountability, assessment, and teacher and leader development to student-centered learning, ESSA makes it possible for states to pursue a more comprehensive policy approach to supporting personalization at scale.
The graphic below shows the many different entry points for policymakers wishing to catalyze the shift to a personalized K-12 system.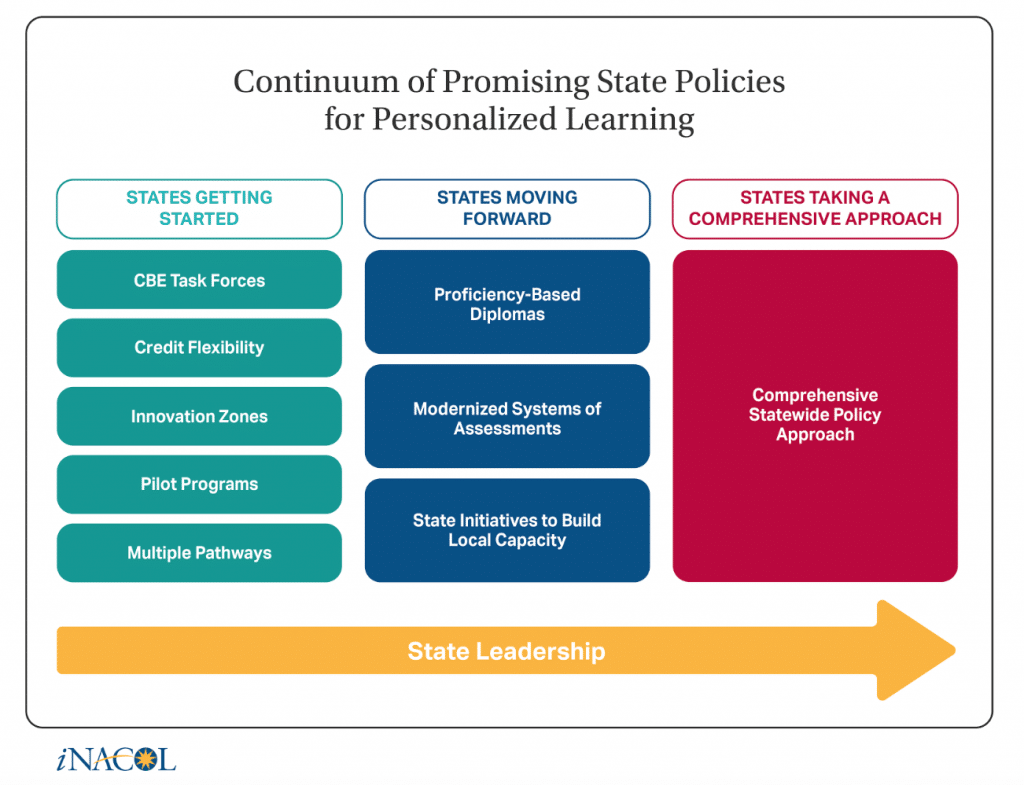 States that do not yet have any enabling policies can get started by studying policy barriers and creating room for local innovation, while states that have already made progress may want to consider more comprehensive steps towards transformation.
For states getting started, competency-based education task forces help to identify policy barriers, advance the concept of competency education in the state, and generate a feedback loop to state policymakers. Credit flexibility policies allow school districts to move away from seat time and to award credit for graduation on demonstrated mastery.
Innovation zones provide pioneering school districts with flexibility from state policies and requirements in order to implement personalized learning models. Pilot programs support the examination of which strategies work in practice and lead to sharing and scaling of best practices in other localities. Finally, policies that allow for multiple pathways to earning credits and to graduation create opportunities for students to to pursue their interests and gain real-world skills and experiences.
For states moving forward with more advanced policies, proficiency-based diplomas require students to demonstrate mastery of academic content before graduating. This approach encourages the adoption of personalized, competency-based learning by stipulating that graduation decisions be based on students demonstrating mastery rather than on seat-time credits.
ESSA allows states to redesign their systems of assessments, which can be structured to support learning in real time. These systems of assessments can help districts and schools identify where students are in their learning, and track their growth. ESSA also gives states the flexibility to rethink accountability using multiple measures. Next generation accountability models could support continuous improvement of student learning towards new, more meaningful definitions of success, rather than on high stakes decisions and consequences.  
Finally, state-level initiatives and partnerships to develop educator and school leader capacity provide educators with the knowledge and skills necessary to transform K-12 education at scale. These support strategies include connecting local leaders to research and expertise, technical assistance, specialized training, and peer learning networks to build local capacity to successfully transform education to personalized, competency-based learning.
Redesigning the foundations of K-12 to be learner-centered and competency-based will create a system that prepares all students for success.
State Policy Recommendations
Establish competency-based education task forces to identify barriers and policy issues.

Provide flexibility to school districts to allow students to earn credits on demonstrated mastery.

Establish innovation zones to provide school districts flexibility with state policies and requirements in order to implement new learning models.

Set up pilot programs and planning grants to support personalized, competency-based learning models.

Create policies that allow for multiple pathways to earning credits and to graduation.

Ensure mastery by implementing proficiency-based diplomas.

Redesign systems of assessment to support learning.

Create next-generation accountability models focused on enabling continuous improvement.

Build local capacity to transform education, connecting districts with research and experts, technical assistance, specialized training and peer learning networks.
This is the third blog in a series for the iNACOL State Policy Frameworks 2016. Taken as a whole, these frameworks create a foundation for sustainable, systemic change that will dramatically increase personalized, competency-based learning opportunities for all students. The complete iNACOL State Policy Frameworks 2016 will be released in September.
Learn more: