A Guide to the iNACOL Symposium Program: Innovation for Equity + Redefining Success
Education Domain Blog
---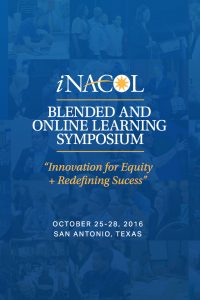 Leaders, educators, policymakers and experts around the world are leading the transformation of K-12 education and redefining student success. They are finding ways to provide students with more opportunities, close opportunity gaps, and better prepare students to lead successful lives.
It is paramount for these changemakers to convene, share what they're learning, engage in deep conversations about transformative and sustainable change, and collaborate to push thinking and expand the boundaries of learning.
The iNACOL Blended and Online Learning Symposium offers the perfect venue for these innovators to gather and work towards catalyzing K-12 education transformation. These efforts for change are reflected in this year's theme: "Innovation for Equity + Redefining Success." The conference is being held in San Antonio, Texas on October 25-28, 2016 and includes the following itinerary of innovative pre-conference workshops, general sessions and workshops.
A Snapshot of Pre-Conference Workshops
iNACOL is offering a great lineup of pre-conference workshops to kick off the iNACOL Blended and Online Learning Symposium.
All pre-conference workshops are being held on Tuesday, October 25, 2016–the day before general sessions begin. Pre-conference workshops offer attendees an additional professional learning activity designed in small, interactive groups for hands-on, deeper learning.
iNACOL offers both half-day and full-day pre-conference workshops for knowledge building in competency-based, blended and online learning. These highly individualized sessions are not included in the conference package and must be registered for separately. Space is limited to ensure small-group interaction and high-quality professional learning opportunities, so please register for pre-conference workshops as soon as possible.
Attending #inacol16? Extend your learning by attending a pre-conference workshop: https://t.co/0NpCDaUTyK pic.twitter.com/L8ikW7eRvW

— Aurora Institute (@Aurora_Inst) July 26, 2016
2016 Pre-Conference Workshops:
Blended Learning Live!

Administration and Management of Online Programs

An Update on Online Learning and Students With Disabilities: Practitioner Perspectives, Research Results and the Legal Landscape

Are You Ready for Personalized Learning? How to Diagnose Your School or District's Readiness to Launch Personalized Learning

Building a Blended School from the Ground Up

Competency Education Leadership Forum

Creating an Immersive Project-Based Learning Experience

How to Launch a Successful and High-Quality Online Learning Program

K-12 Online and Blended Learning Research Community Meeting

Policy Advocacy Skills Workshop

Preparing All Teachers to Teach Coding

Putting It All Together: How to Create a Personalized System of Education
A Sneak Peak of Symposium Workshops and Sessions
At the iNACOL Symposium, attendees have access to more than 260 workshops and sessions exploring trends and developments in personalized learning. Experts and practitioners share the latest research, promising practices and tools for creating powerful, personalized learning experiences for all students and building understanding to catalyze the transformation of K-12 education.
We categorize each session into one or more tracks to guide your personalized, professional development and best meet your individual needs. Tracks this year include competency education, empowering educators, rethinking assessments, personalized learning, school redesign, and many more.
Highlights of the 2016 presentations:
Rethinking Educator Learning to Move Toward Competency-Based Learning

Proving Ground: Using Evidence to Drive Change

Transforming Education with Learners at the Center

Strategies to Support Educators in Creating Personalized, Learner-Centered Environments

Amplifying Teacher Voice to Uncover and Address EdTech Market Gaps

Bottom Up Strategy to Implement ESSA in New Mexico

Blended Learning for Secondary Students: How Four Districts are Increasing Student Outcomes

Diffusing Innovation: Beyond Pockets of Excellence

T

5

–A Teen's Totally Techy Teacher Tools

The Future of Curriculum and Instructional Tools
For the complete list of this year's sessions and workshops, please visit our website.
Helpful links for #inacol16:
For the most up-to-date news on the iNACOL Symposium, follow us on Twitter (@nacol) and sign up to receive our newsletters.