A Reflection on the 2018 iNACOL Symposium from Principal McNeal
Education Domain Blog
---
"To create a learner driven environment, we must move from compliance to autonomy. Each member of the team needs to assess where they are, where they are going, and humbly accept feedback to GROW."
This week, my friend and colleague, Nichole Velasquez and I left Boise, Idaho for Nashville, Tennessee. The reason…to put ourselves in a position to reflect, share, connect, reform and evaluate our thoughts and emotions regarding the competency-based journey that we embarked on three years ago. We also arrived optimistically hopeful to see where our school stood in the national dialogue around 'driving the transformation of learning'. As we touched down in Nashville, there was a peace and serenity that consumed our energy. For the first time in doing the work, I realized we were a part of a movement. A movement to change outcomes for human beings for generations to come. The work of those in the field is sincere, genuine and unapologetic. Unapologetic due to the stark reality of operating in an outdated system that has proved to be harmful when not rooted in doing what is best for kids. One of our favorite quotes from the week was "don't get good at playing a bad game." The quote reiterates the harsh reality that bureaucracy, content and compliance have schools around the world stagnant in their attempt to continuously improve and grow.
Over the past several decades there has been attention brought to the reality of the American dream in the lives of those from diverse backgrounds. Communities across the country, following the civil rights movement, have dealt with the implications of living in a society where the perception is that all people, regardless of background, have an inalienable right to be confident in their ability to pursue happiness in relation to the American dream. Our nation has used different metrics to measure the effectiveness of schools with little consideration for the implications of the establishment's decisions and inevitable negative impact on the student experience.
We are in a day in age where human beings must demand that the time and energy that schools are investing into our children will translate and transfer positively for all. Though we began the work using words like engagement, empowerment and ownership, the real work that we do is about equity. Equity for students of color, students with special needs, students with high intellect, students from rural areas, students from poverty-stricken communities and students whose parents do not share in the education system's beliefs, morals and values regarding the rearing of young people. Building a society where we value and fight for equity starts at home and should be strategically supported by schools. What are the common set of beliefs, morals and values that define our existence? What are life's most important lessons? As we took steps toward building our own capacity of what blended learning, competency-based education and mastery-based education entail, I have been amazed at the inability of the adults to not change but simply shift. What have we done to educators where simple adjustments require a herculean effort? What if children are simply a reflection of the adults they see every day? Would we believe that we would need to readjust, or will we continue to push compliance and simplicity?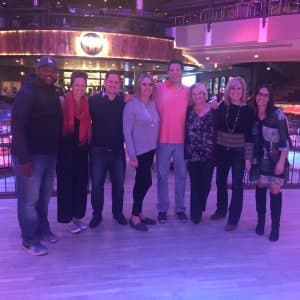 The needle is moving toward a simple but complex reality that all kids CAN learn. To the teachers and students around the world, we need to do as much as possible to work together. The goal of this partnership and relationship is to ensure that students leave our system with a set of skills that will all but guarantee students are future, college AND career ready. All the while, building student agency through voice and choice.
Through conferences and think tanks like iNACOL and educational research centered around student learning, it is clear the time is now to mesh the voice of the practitioner, the hearts of students, with the pen of researchers. I am fully aware that there will be setbacks, but I cannot tolerate the presence of surrender and passive-aggressiveness. The intricacies and differences separate us but love for our fellow man is what binds us. I humbly thank all of those who have committed to improve a system that is due for a makeover. I am rejuvenated and encouraged by the spirit that lives within each of us to live freely as beings addicted to learning and specifically learning about our own minds, hearts and spirits. For those struggling to identify the WHY behind the current progressive movement in education, let's be clear…IT'S ABOUT EQUITY! We must reform and restore education to a global common good. Please know that our fight is for ALL students. The battle is not about teaching, the battle is rooted in learning for all. And for all of us to win the battle for the future of our children, we must know that WE are the model of what a world entrenched in equitable decision making and social interaction will look like in the future.
---
Donell McNeal is principal at Central Academy in Meridian, ID.