Creating Long-Term Strategy for State Policymakers to Support a Fully Developed, Competency-Based Education System
Education Domain Blog
---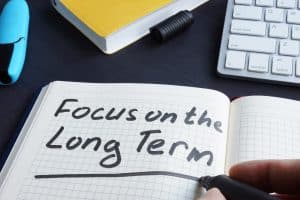 Creating an education system that prepares every student to succeed requires systemic transformation to high-quality, personalized, competency-based education.
Today, the prevailing traditional, one-size-fits-all K-12 education model, is not meeting the unique needs of learners. Too many students are falling through the cracks, not graduating, or graduating unprepared for success after high school. School districts across the country are making incremental shifts to student-centered learning, even without state policy supports and flexibility. However, transformation at scale will require alignment of both policy and practice.
In this blog series, we have explored ways state policy could begin to tackle threshold concepts ("core concepts, that once understood, are needed to transform a given subject") as part of a long-game strategy to develop a K-12 education system that is fit for purpose:
How can we move from understanding the threshold concepts to creating a long-term strategy to support a fully-developed competency-based education system?
Many of the threshold concepts introduced in the paper Fit for Purpose: Taking the Long View on Systems Change and Policy to Support Competency Education and explored in this blog series are still nascent today in competency-based education models in the United States. While innovators are beginning to develop more competency-based systems, many early practices and models are still rooted in traditional time-based systems and constrained by our short-term approaches to incremental policy reforms and limited concepts of what is possible.
It is very important to recognize that innovators designing competency-based education models may get started within the current K-12 education policy environments, but in order to have a fully developed competency-based education system, significant state policy considerations must be addressed with a long-term theory of change and long-term strategies, including: how to build a system designed for every child's success; how to build  meaningful qualifications aligned across K-12, higher education and workforce systems; and how to build trust and capacity across systems.
Ways States Are Beginning to Shift to Competency-Based Education
There are many different entry points for policymakers wishing to enable the shift to a more personalized, competency-based K-12 system in their state. States that do not yet have any enabling policies in place may wish to take one or two incremental, initial steps to create space for new learning models, while a state that already has made some progress may be contemplating some bolder, more comprehensive steps toward transformation. The graphic below summarizes the different entry points that policymakers could discuss to catalyze transformation of K-12 education in their state, with varying levels of state leadership: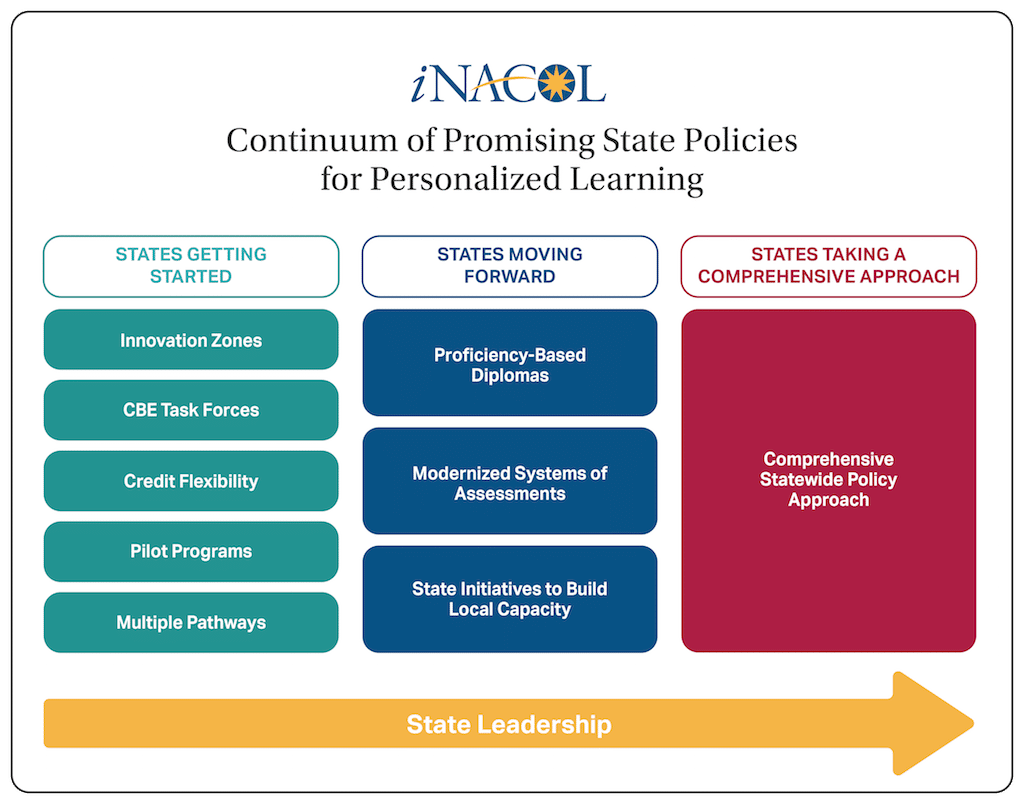 For a thorough discussion on each of the above entry points, the iNACOL report, Promising State Policies for Personalized Learning, goes into each of these policy levers, with examples of specific policies and practices that are active in different states.
Innovation zones and competency-based education pilots are two promising entry points for states to create space for personalized, competency-based learning models.
Innovation Zones
State policymakers can help to catalyze personalized, competency-based learning by creating innovation zones. This policy strategy creates room for districts and schools to develop new learning models by identifying state policy and regulatory barriers, and offering waivers and exemptions from certain administrative regulations and statutory provisions.
State policy leaders create innovation zones to provide district and school leaders with the flexibility they need to innovate and develop new personalized learning models. Innovation zones offer state education policy waivers in order to support practitioners in the process of developing and implementing new learning models. Innovation zones serve the state in providing a safe place to identify potential policy barriers to innovation and also serve the district well in having a method to quickly address and remove policy barriers to better serve students.
For example, in Arkansas, state law allows a school district to petition the State Board of Education for all or some of the same waivers granted to an open-enrollment public charter school. This is enabling innovative Arkansas district leaders to implement personalized, competency-based learning models.
Competency-Based Education Pilots
State policymakers can also consider launching pilots to help launch small-scale, short-term programs that localities use to determine how a larger program might work in practice and go to scale. While innovations in schools are taking hold across a state, it is helpful for policymakers to support collaboration across pilots to help bring together innovative practitioners and educators to build capacity, to share lessons learned, and to address the changes needed in instructional methods. Pilot programs are one way to connect and support innovators to plan, implement and ultimately scale high-quality competency-based education practices and systems.
Pilots are generally limited to a specified number of districts, and they are created to enable innovative educators to begin designing new learning models. A state educational agency may use pilots to identify which educators, leaders and localities are ready to move forward with personalized learning innovations. Pilots often help educators work through planning stages, identify core design elements, communicate about what competency-based education systems look like and how they work, build educator capacity for assessing performance tasks as students create evidence of mastery, and fine tune strategies that cohesively work together to create a true mastery-based system through exhibitions of student work.
State leaders are creating pilots for personalized learning and competency-based pathways to build capacity and support educators at the district and school levels for promoting student success. As a strategy to catalyze the development of new programs, states are shifting from a culture of compliance to one of cultivating innovation in an effort to support district and school leaders creating powerful, personalized learning experiences to meet each student's needs. Nevada, Ohio, Utah and Idaho are a few of the states that have recently launched competency-based education pilots.
Learn more about competency education and issues that need to be addressed in policy over the long-term in the paper Fit for Purpose: Taking the Long View on Systems Change and Policy to Support Competency Education.
Follow this blog series:
Learn more: