CompetencyWorks Releases New Report: Reaching the Tipping Point: Insights on Advancing Competency Education in New England
Education Domain Blog
---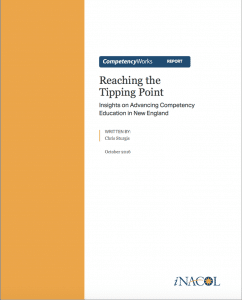 CompetencyWorks published a new report, titled Reaching the Tipping Point: Insights on Advancing Competency Education in New England. This report explores K-12 competency-based education policy and practice across six New England states: Connecticut, Maine, Massachusetts, New Hampshire, Rhode Island and Vermont.
Competency education is expanding across the country as a means to ensure all students are mastering the skills and knowledge to be successful in college, career and civic life. In the New England region, competency education is developing and expanding at unprecedented rates: about one third of districts in this region are planning or transitioning toward competency education. This paper consolidates insights offered by hundreds of policymakers and education leaders across the New England region who are leading this transformation and creating competency-based systems to better serve students.
What Does This Report Tell Us?
This paper explores the core concepts of competency education, detailing the limitations of the traditional system, and how competency education is designed explicitly for equity and student success. Author Chris Sturgis then dives into why and how the New England region embraces competency education. She provides insights into policy strategies being used across states and analyzes the impact of competency education on quality, equity, scaling and sustainability. The Appendix offers a synopsis of each state strategy, complemented by short case studies of a few districts and schools.
This report is intended for district leadership and policymakers seeking to introduce competency-based education within their states.
Major Lessons Learned
This report offers incredible insights and lessons learned in transforming K-12 education policy and practice. Author Chris Sturgis's main lessons learned are:
It takes leadership at both the district and local levels to venture forth to transform districts.

It takes state leadership willing to create an enabling policy environment with a suite of supports.

The synchronization of supportive policies in concert with building capacity for educators and practitioners are keys to success.
Please join us in sharing this report:
New @CompetencyWorks report: Reaching the Tipping Point: Insights on Advancing #CompetencyEd in New England

[http://ow.ly/ZQIZ304IJyy]

@nacol #CBE

New @CompetencyWorks report explores #K12 #competencyed #policy & practice across 5 New England states

[http://ow.ly/ZQIZ304IJyy]

@nacol #CBE
Stay tuned for more: iNACOL will be sharing the report findings in greater detail through an upcoming blog series and by hosting an interactive webinar on highlights of the report with the author.
Learn more:
For more state resources and recommended reading, visit the CompetencyWorks wiki.