Developing a Statewide Framework for Student Success Through Graduate Profiles
Education Domain Blog
---
The previous blog, Redefining Student Success: Organizing Education Systems Around the Knowledge and Skills Students Need to Succeed, explored the need to redefine student success to improve student outcomes and drive coherence in state education systems. This blog will focus on how states can begin to redefine success through using graduate profiles.
One action states can take is to redefine success is through partnering with diverse stakeholders to create a "Profile of a Graduate." A graduate profile specifies the knowledge, skills and dispositions that students will need to succeed and thrive after high school. States, districts and schools can use this profile as a clear framework of priority goals for teaching and learning that can be easily communicated to students, parents, faculty, and staff.
Profile of a Virginia Graduate
In Virginia, an initiative to examine future directions for the high school diploma led to the creation of the "Profile of a Virginia Graduate." This initiative was born from a series of public conversations around whether students are adequately prepared with transferable skills, employability skills and college readiness with value to the learner, workplace and community. These conversations originated from the local level; it is an example of policymakers engaging with and listening to stakeholders to define what graduates should know and be able to do, and working together to begin to build system coherence. From across the state, a common vision emerged which is now adopted in a Profile of a Virginia Graduate policy for the state, districts and schools.
The Profile of a Virginia Graduate "describes the knowledge, skills, experiences and attributes that students must attain to be successful in college and/or the workforce and to be 'life ready' in an economy and a world characterized by rapid change." In the Profile of a Graduate, a "life ready" Virginia graduate must:
Achieve and apply appropriate academic and technical knowledge (content knowledge);

Demonstrate productive workplace skills, qualities, and behaviors (workplace skills);

Build connections and value interactions with others as a responsible and responsive citizen (community engagement and civic responsibility); and

Align knowledge, skills and personal interests with career opportunities (career exploration).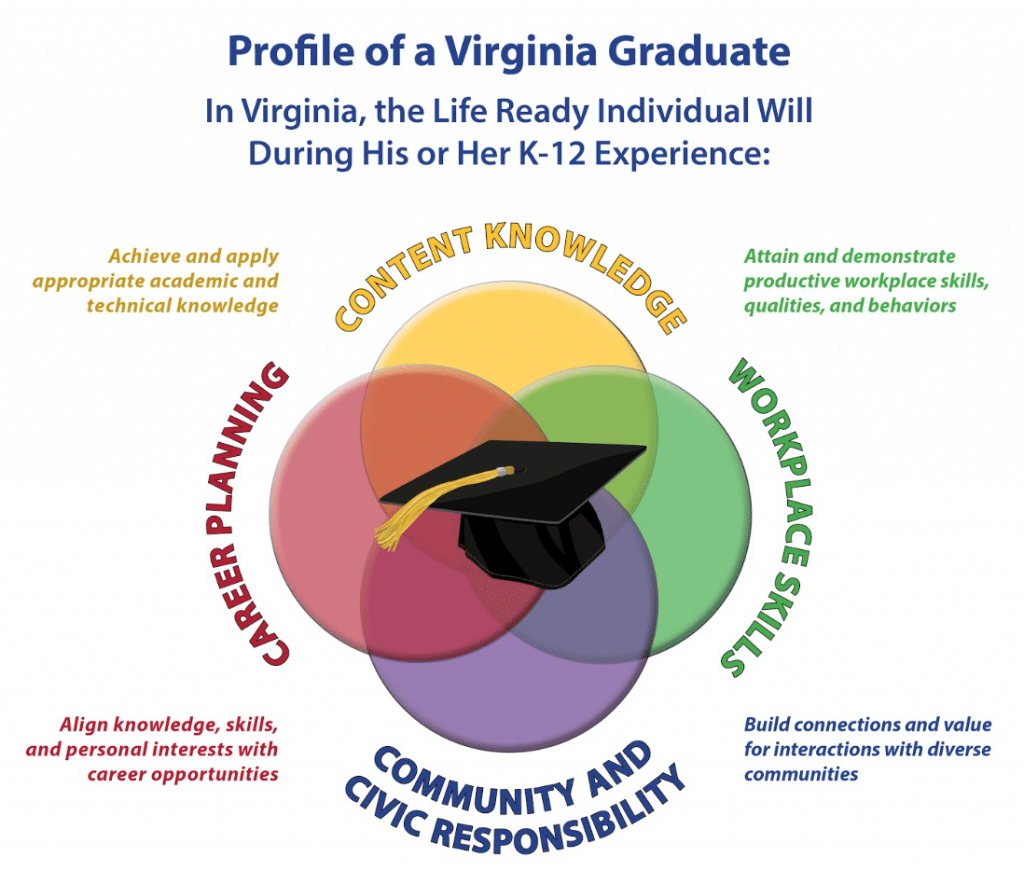 Local leaders and educators in Virginia are actively engaging in systems redesign around the Profile of a Virginia Graduate. For instance, the Virginia State Board of Education proposed changes to the state graduation requirements and accountability system to align with the Profile of a Virginia Graduate. Further, under the state's proposed Virginia ESSA State Plan, school counselors would be trained to assist students with individualized academic and career plans that align to the vision of college and career readiness under the Profile.
Profile of a South Carolina Graduate
In South Carolina, conversations around new definitions of student success also began at the local level. Superintendents in the state had conversations with local communities around the skills and knowledge students should have upon graduating high school.
A coalition of education and business leaders organized as "TransformSC" under the South Carolina Council on Competitiveness in 2012 created of the Profile of the South Carolina Graduate. A network of 37 schools adopted the Profile as a shared mission in 2013 and are piloting the delivery and measurement of learning by implementing the following practices:
Real-world learning

: Students are engaged in content relevant to them while also learning skills and characteristics like problem solving, critical thinking and teamwork.

Anytime-anywhere instruction

: Digital content adapts to students where they are in their learning, allowing teachers the flexibility to design instruction for individual students.

Real-time information

: With full integration of technology in the classroom, teachers, parents and students have the ability to continuously assess student progress.

Students advance when ready

: The combination of real-time information and the flexibility of digital content means that students can progress based on competency.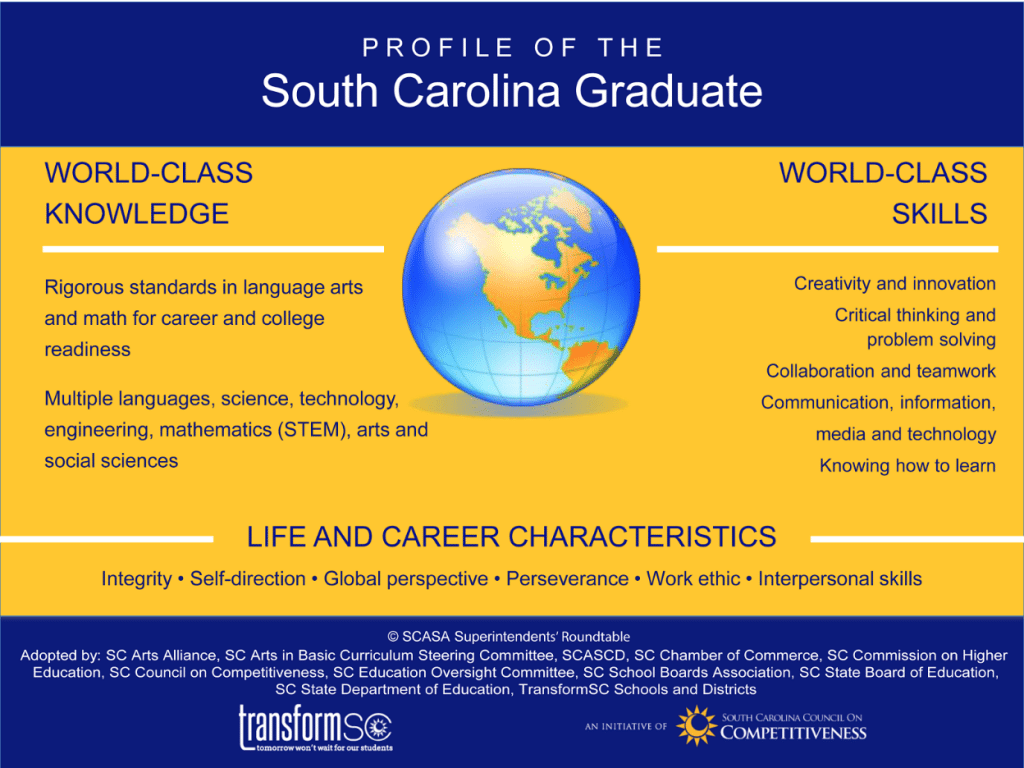 States can use graduate profiles to articulate a shared vision for student success, create coherence in state education systems, and align curriculum and assessments. The next blog on "State Policy Action Steps" provides action steps states could take to redefine success in the state and move to greater coherence.
This is the fourth article in the Current to Future State series that explores the ideas in the upcoming iNACOL report titled: Current to Future State: A Compendium of Issues and Action Steps for State Policy to Support Personalized, Competency-Based Learning.
Learn more: