HĀ in Hawai'i: Redefining Success for Whole Child Learning
Education Domain Blog
---
Emerging research in the science of learning asserts that environmental, developmental, psychological, emotional and cultural contexts and experiences are highly interrelated. These contexts individually and collectively impact the educational outcomes of students. Student-centered learning focuses on the development of the whole child, allowing students to co-design learning environments that support both cognitive and social-emotional skills, knowledge and habits. Education stakeholders, such as state and district leaders, community members and educators, are answering the call to focus on educating the whole child to increase learning opportunities and ensure every student can reach high expectations for success.
Under the Every Student Succeeds Act (ESSA), states have an opportunity to build K-12 education systems that reflect their communities' values and aspirations for their students. Several states are beginning to explore designing a vision for student success by articulating the skills, knowledge and dispositions students should have upon graduating from the state's K-12 education system. Through redefining and creating a statewide vision for success of the whole child, states can begin to transform their education systems in a coherent manner in which every function and individual has a clear role to play in helping all students succeed.
HĀ in Hawai'i
In Hawai'i, a concept called "HĀ" guides the state's vision for rooting student learning with Hawaiian cultural values and beliefs. With a foundation in Hawaiian values, language, culture and history, HĀ reflects the uniqueness of Hawai'i and is meaningful in all places of learning. HĀ supports a holistic learning process with universal appeal and application to guide learners and leaders in the entire school community.
According to the Hawai'i Consolidated State ESSA Plan, HĀ, which means "breath" in the Hawai'ian language, is derived from Nā Hopena ("end goals") A'o ("learning and teaching").  HĀ "was developed through a widespread community process of dialogue, feedback and co-creation, and includes competencies designed to develop a strengthened sense of:
B

elonging,

R

esponsibility,

E

xcellence,

A

loha,

T

otal well-being, and

Hawai'i
("BREATH") in all students and staff at all levels within the Hawai'i Department of Education (HIDOE) community."
HĀ has grounded the development of the HIDOE/Board of Education (BOE) Strategic Plan in the values and traditions that are unique to Hawai'i. With implementation being led by HIDOE's Office of Hawaiian Education, the HĀ philosophy is being infused into every aspect of work and learning in HIDOE and also in partner agencies.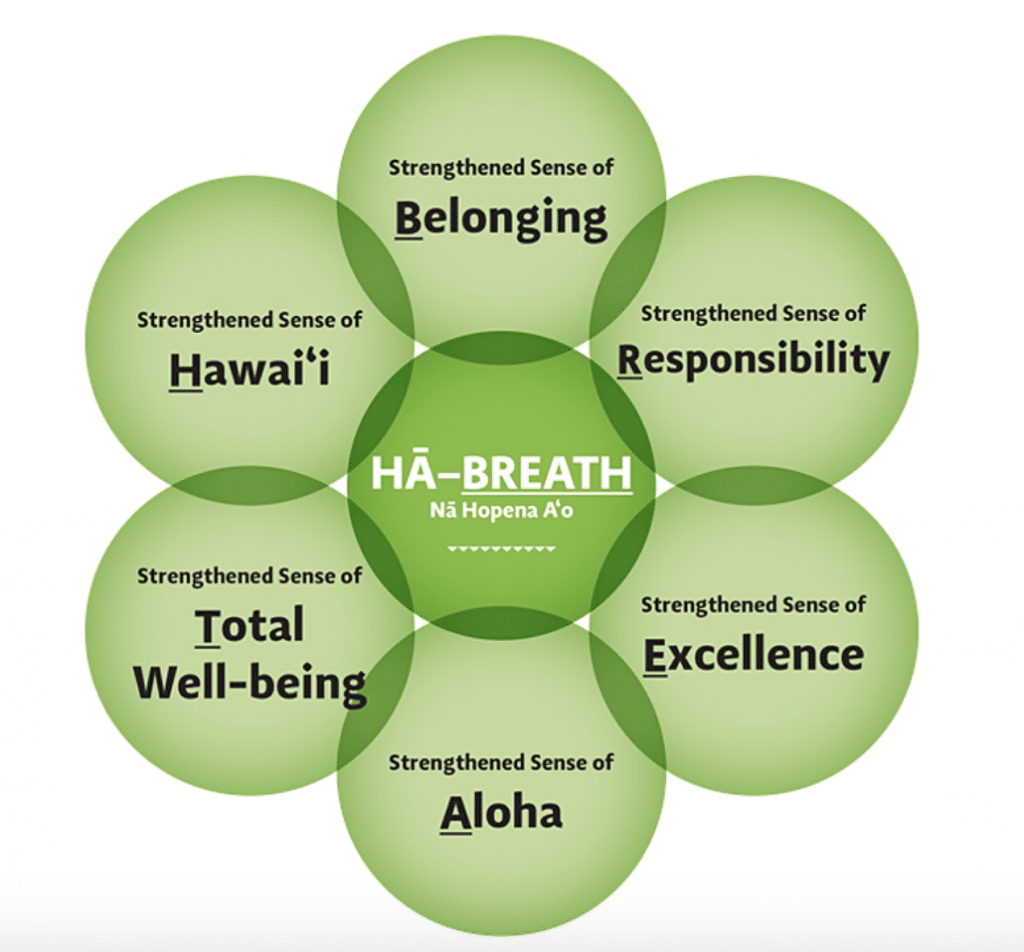 According to the HIDOE Policy E-3, the following guiding principles are intended to lead all efforts to use HĀ as a comprehensive outcomes framework:
All six outcomes are interdependent and should not be used separately.

Support systems and appropriate resources should be in place for successful and thoughtful implementation.

Planning and preparation should be inclusive, collective and in a timeframe that is sensitive to the needs of schools and their communities.

Current examples of HĀ in practice can be drawn on as sources for expertise.

All members of the school community share in the leadership of HĀ.
The purpose of this policy is to provide a comprehensive outcomes framework to be used by those who are developing the academic achievement, character, physical and social-emotional well-being of all Hawai'i students to the fullest potential.
Innovating Assessments to Align to HĀ in Hawai'i
An example of Hawai'i aligning the vision of HĀ to student success is through connecting cultural relevance in its systems of assessments.
In student-centered learning systems, assessments should be meaningful experiences for students and provide benchmarks of student growth and learning trajectories. Multiple assessments can, for example, measure student learning, provide feedback to educators and students and measure competencies. At the same time, they can be authentic, reliable and informative with consideration of student culture, prior learning experiences and language and background.
Hawai'i has taken steps to provide meaningful assessments that reflect students' cultures, languages and communities. The state education department wanted to ensure that all students could demonstrate their knowledge and that language and background wouldn't be a deterrent on statewide summative assessments. The state sought to redesign assessments based on the guiding principles of HĀ by centering students and meeting their diverse needs.
Beginning in 2014-15, Hawai'i sought waivers from the U.S. Department of Education to allow Hawaiian language assessments for Hawaiian immersion students. Called the Kaiapuni Assessment of Educational Outcomes (KĀʻEO), these assessments allow students in grades 5-8 to "take a specialized assessment in lieu of the state's English language arts and math student assessments" in their native language, rather than in English. In that regard, KĀʻEO assessments take into account students' linguistic and cultural diversity and move away from the "one test" requirement under the Elementary and Secondary Education Act.
In partnership with the Assessment for Learning Project, HIDOE is also developing a culturally responsive assessment framework for HĀ. Rather than collecting evidence of HĀ outcomes in individual students, the assessment is designed to identify the presence of HĀ in learning environments. Using an asset-based approach that asserts that a community's BREATH is always present but can always be strengthened, the assessment provides a dynamic reflection tool for leaders, educators, and students to more thoughtfully engage and integrate HĀ outcomes into learning experiences.
Hawai'i will continue the development of new assessments focused on holistic, culturally relevant and responsive teaching and assessing in the state.
Learn More
: