New Report Released by CiE Focusing on Leadership in a New Education Environment
Education Domain Blog
---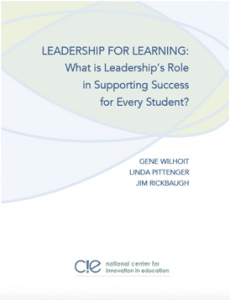 The Center for Innovation in Education released a powerful new report, Leadership for Learning: What is Leadership's Role in Supporting Success for Every Student? written by Gene Wilhoit, Linda Pittenger and Jim Rickabaugh.
The ideas portrayed within this paper are comprehensive, well-framed and influential for education leaders advancing next generation learning models. This leadership piece outlines a new learning agenda, defines key dimensions of leadership for systems change and cites the enabling conditions for transforming communities toward the future state of education.
What does leadership mean in a new education environment? The report defines leadership as: "the art of enabling a learning community to transform from its current to future state by dramatically and continuously improving its capacity to deliver on the goal of readiness for every child through influence on the organization itself, its stakeholders, and the systems within which it operates."
Preparing all students to succeed requires strong leadership, focused on continuous improvement, to move from the traditional education system to a new, personalized education system. The powerful ideas in this paper around contextually-based transformational leadership are crucial for those leading the creation of personalized learning systems, focused on deeper learning and dramatically improving student learning outcomes.
Today's leadership requires deep analysis of systems and how to support building capacity for a future that is increasingly complex. This requires third order change and a commitment to not just tweaking the existing system, but to have a deep commitment to sharing a broader vision and having adaptive, shared leadership with empowered educators across the system. Their exploration of leadership is centered on a shared responsibility focused on reaching high levels of educational achievement for all students and enabling all students to thrive in today's expansive, global and interconnected society.
As the report notes, "Powerful changes are immediately upon us." This paper is an urgent call to action for leaders to create higher, better-aligned expectations and learner experiences, explore new frontiers in education innovation, foreground equity in the design of new models, and create an aligned, supportive policy environment to enable implementation at scale. We encourage you to use this report to begin a deep exploration around transformative leadership and engage in a rich exchange of ideas within your local communities to yield meaningful educational transformation grounded in equity and inclusion.
Kudos to the authors, Gene, Linda and Jim. This is a must-read piece to begin a new conversation around future-focused leadership competencies.