Policy Update: Congress Reaches Key Deal in No Child Left Behind Rewrite
Education Domain Blog
---
On November 19, 2015, leaders in the United States House of Representatives and Senate struck a landmark agreement to rewrite the Federal K-12 education law. A bill to reauthorize the Elementary and Secondary Education Act (ESEA)—previously known as No Child Left Behind—is getting closer to the finish line. This significant piece of legislation will allow states to redesign assessments, rethink accountability, and modernize teacher and leader development to better align with personalized, competency-based learning.
iNACOL released a statement applauding the bipartisan compromise.
Next Steps for ESEA Reauthorization to Become Law
The agreement struck by the House-Senate ESEA Conference Committee contains important changes for the field of competency-based, blended, and online learning and closely resembles the Senate's Every Child Achieves Act, which we wrote about this summer.   
Congress Conference Committee voted 39-1 to advance an agreement to reauthorize #ESEA. @nacol issued this statement https://t.co/qfYvy6g9HC

— Susan Patrick (@susandpatrick) November 20, 2015
 The entirety of the bill's language will be released November 30. The House will vote on final passage as early as December 2. Next, the Senate will vote on the final language in early December, and then the ESEA bill would go to the President for signature to become law.
White House Holds Summit on Next Generation High Schools
The November 10 White House Summit on Next Generation High Schools underlined a growing commitment at the highest levels of government to transform K-12 education to student-centered learning. The event highlighted students, educators, philanthropists, and entrepreneurs who are reinventing the high school experience to better empower students to seize opportunities in today's economy, and prepare students for success in college and career.
Missed the @WhiteHouse Summit on Next Generation High Schools? Catch the Storify recap by @rewolfejff https://t.co/7rZL6kZfWV #NextGenHS

— Jennifer Davis Poon (@JDPoon) November 12, 2015
The White House defines Next Generation High Schools as schools that incorporate key elements of redesign, including more personalized and active learning, access to real-world and hands-on learning such as "making" experiences, deeper ties to postsecondary institutions, and a focus on expanding STEM opportunities for girls and other groups of students who are underrepresented in these high-growth, well-paying fields.
The White House highlighted iNACOL's commitment to work with 10 states on policy advocacy for next generation learning and to help more than 1,000 public schools and districts in designing next-generation learning models.
For more information about the event, see the White House's fact sheet containing commitments from 25 organizations here and follow the conversation on Twitter using #NextGenHS.
Gates Foundation Supporting the Transformation of Teacher Preparation
The Bill and Melinda Gates Foundation recently announced grant awards to create Teacher Preparation Transformation Centers to ensure more teacher candidates graduate prepared to improve student outcomes in schools. The Centers will bring together higher education institutions, teacher preparation providers and K-12 school systems to share data, knowledge and best practices. Modernizing teacher and leader development is key to transforming education systems for personalized learning. This initiative will catalyze personalized pre-service programs to better prepare educators for student-centered learning environments.
The Gates Foundation announcement on the Teacher Preparation Transformation Center Grantees can be found here.
iNACOL Releases Updated Federal and State Policy Frameworks
Earlier this month, iNACOL released the 2015 State Policy Frameworks and Federal Policy Frameworks, which provide concrete, actionable recommendations for policymakers to support the transformation of K-12 education.
Click to access iNACOL Federal and State Policy Frameworks below.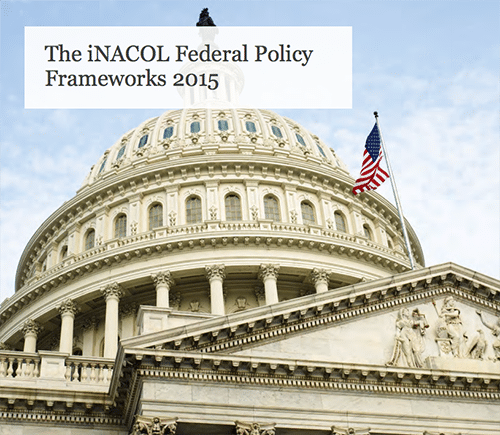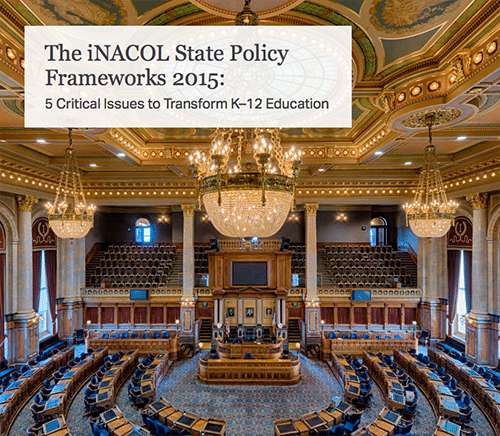 See EdWeek's article on the iNACOL Federal and State Policy Frameworks here.
These developments show growing support among policy leaders and foundations for personalized, competency-based learning environments. As policy and practice align to support new learning models, many more students will graduate from high school prepared to succeed in college and in the workplace.
What items do you want to see in iNACOL's next policy update? Please comment or Tweet us, @nacol and sign up for our newsletter.