Vermont and New Hampshire's Creative Approach to Funding Education Transformation
Education Domain Blog
---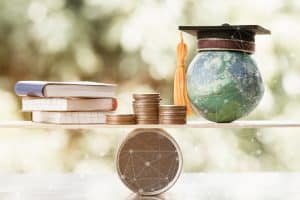 Forty-eight states have done the work of creating space in policy for schools and districts to shift toward more innovative and student-centered learning models. As these new models take hold, interested policymakers and school district leaders are more frequently consulting us on the question of how to fund them.
We published State Funding Strategies to Support Education Innovation to answer that frequently asked question, with eight examples of promising approaches to resourcing competency-based education. Two New England states — Vermont and New Hampshire — both model the power of leveraging partnerships and existing state resources, along with creative strategies to incorporate new sources of funding.
In several New England states, innovation in education came from communities' high expectations and a burgeoning demand for students to graduate with the skills necessary for success to keep pace with the needs of the workforce. It was clear that the traditional way of doing school would become a stumbling block to students facing an ever-changing future. As early pioneers in K-12 education transformation, Vermont and New Hampshire provide instructive models for planning change, retooling systems and resources, building coalitions and fundraising.
Vermont Re-Aligns Existing Resources to Support Education Transformation
Vermont codified its commitment to personalized learning and systems change in 2013 in policy. The state adopted a comprehensive approach to statewide education policies that include proficiency-based graduation requirements, personalized learning plans, local systems of assessments, accountability for continuous improvement and flexible pathways. State leaders recognized their top funding priority lay in increasing the capacity of teachers and school leaders to effectively implement these student-centered learning models. With public education being the state's largest expense, Vermont has a history of working to restructure education financing to make learning environments more equitable and to strike the balance between local control and state standards. Consequently, the approach to supporting capacity for personalized learning in Vermont follows that same spirit.
In 2014, the state Agency of Education (AOE) used one-time, repurposed state funds to enable Vermont school districts to participate in a series of professional development seminars on a systemic approach to proficiency-based learning. AOE also reorganized its work to create a learning community to support schools' transformation. It created four teams tied to state standards on personalization and flexible pathways, proficiency-based learning, multi-tiered systems of support and education quality assurance. Moreover, the agency launched the Professional Learning Network to ensure a consistent, coordinated approach to professional development. In addition, the state deepened its work with education groups, such as the state's principals and curriculum directors, to support the shift.
Much of the work to innovate education in Vermont has happened without a new or dedicated appropriation. Rather, AOE has aligned its existing state budgeted resources, as well as federal funding, including federal state assessment grant and Title II dollars, to support personalization and proficiency-based learning efforts statewide. It would be more difficult to justify allocating federal funding sources if the funding were to go to activities that would benefit only a subset of Vermont districts or students, agency staff told us. However, because Vermont's comprehensive, statewide policies impact all of Vermont's students, justifications to the U.S. Department of Education for dedicating federal funding sources to support capacity-building for personalized, proficiency-based learning have been fairly simple and straightforward.
New Hampshire Leverages the Power of Partnerships and Philanthropy
Among New Hampshire's many initiatives, its Performance Assessment for Competency Education (NH PACE) Pilot is a leading example of the influential role of the state, combined with third-party and philanthropic funding, to advance personalized, competency-based learning models.
NH PACE is a first-in-the-nation accountability strategy, begun in 2015 under a No Child Left Behind state waiver, and carried over through the Innovative Assessment Demonstration Authority in the Every Student Succeeds Act. It reduces the number of standardized tests schools give and instead offers the opportunity to use locally developed common performance assessments. These assessments are designed to support deeper learning through competency education and to be more integrated into students' day-to-day work than current standardized tests. Meaningful assessment is one of the five hallmarks of competency-based education, and it should be designed to provide real-time information to students on their progress.
Costs for NH PACE have been approximately $300,000 per year. Activities under the pilot include assessment literacy training, data analysis, quality reviews, meetings and assessment calibration. Grants from the Nellie Mae Education Foundation and the William and Flora Hewlett Foundation have covered about half of those costs. State and federal sources — mainly state and federal assessment dollars and federal longitudinal data grants — cover the other half.
Partnerships, too, undergird much of the work of New Hampshire's entry into competency-based education. The New Hampshire Learning Initiative (NHLI), which supports the assessment pilot, is an illustration of pooling resources to oversee and scale the state's competency education efforts. Using time and in-kind support, professional technical assistance and philanthropic dollars, NHLI develops deeper learning competencies — aligned to the state's Work-Study Practices — into all of the practices related to curriculum, instruction and assessment within the NH PACE school districts. The Barr Foundation provided NHLI with operational support in 2016, and it is an Assessment for Learning grantee. The Nellie Mae Education Foundation and the Hewlett Foundation also provided support for the design of NHLI, along with the New Hampshire Charitable Foundation.
First Steps for Interested Policymakers
The trend of states moving toward competency-based education is significant and has grown considerably over the past seven years. The locus of control for much of this work is at the local systems level. Nevertheless, when state leaders partner with local schools and communities to transform education systems — by changing policy and finding resources to build educator capacity — they can spark meaningful transformation.
Policymakers seeking to resource and support student-centered learning can begin with identifying existing funding that can be repurposed to build capacity and then determining whether options exist to request additional funding. In addition, state policymakers can convene a working group to study innovative funding approaches in other states, and even other countries, to help inform their options.
For more examples of state approaches to funding innovation, see our policy brief.
Learn More: