Caution: Change Ahead! How Harnessing Emotions and Motivations Can Help Drive Change for Equitable, Learner-Centered Education
CompetencyWorks Blog
---
This post is part of a series inspired by the new report: Teachers Making the Shift to Equitable, Learner-Centered Education: Harnessing Mental Models, Motivations, and Moves. The first post offers a summary of the ideas, theories, and research in the paper. 
As humans we are hardwired to avoid danger. When we embark in a new direction we want to be sure that the path ahead is "safe." Anyone who has engaged in professional learning has likely encountered colleagues who are decidedly risk-averse when it comes to change. Perhaps you have felt that way yourself at times!
Being aware of what makes change challenging can help us take steps to make change feel less dangerous. As Chip and Dan Heath identify in their best-selling book Switch: How to Change Things When Change Is Hard (2010), "change brings new choices that create uncertainty" (p. 53).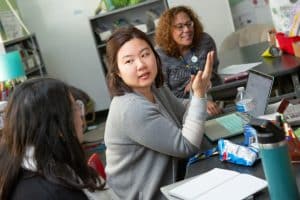 What makes risk-aversion during a change process natural is that, as biologist Zull (2002) argues, we derive a sense of safety from and are most likely to trust our own experiences. Fahey (2019) argues that when educators work together in supportive professional learning communities, they are able to experience the encouragement and social support needed to reduce fears, anxiety, and apprehensions and become "socializing knowers."
To bring about change in complex and dynamic systems such as schools, leaders and educators must do the hard work of uncovering and confronting implicit assumptions, surfacing unspoken norms and traditions, and tackling ingrained patterns of practice—and they must do this work together as a community (Fahey 2019). In other words, educators need to grapple with the inconsistencies between what we say we do and what we actually believe and do. This process is not easy for school leaders and educators and it can stir up a lot of emotions.
Creating the Conditions for Change
One of the key conditions for promoting teacher learning about learner-centered education is to start by addressing the "why" of shifting to more equitable, learner-centered practice by recognizing teachers' motivations as integral to their learning. This means uncovering and addressing emotional responses that may inhibit action—and harnessing emotions that increase the relevance of and receptivity for positive change. For instance, a teacher may be excited about the possibilities that implementing personalized playlists with their learners will afford for meeting more learners' needs, while simultaneously feeling anxious about the additional workload and changes in classroom management. Surfacing these emotions provides the teacher the opportunity to strategize manageable next steps to avoid feeling overwhelmed. This in turn increases the teacher's sense of agency and ability to control the intensity of the change. The graphic below summarizes these "why" strategies.
"Why" Goals and Strategies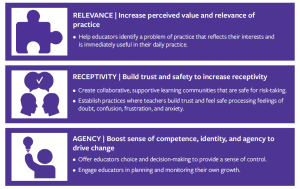 When seasoned teachers confront substantial change efforts, they may feel like they've become novices all over again. Creating conditions that help teachers maintain a positive sense of identity and agency throughout the change process can go a long way toward supporting them, particularly in the early stages. Two strategies that can help create those conditions are offering educators choice and control (Calvert, 2016) and providing them with professional learning communities where they adopt a growth mindset and commit to being "accomplished novices."  According to the National Research Council report, "How People Learn,"
"Accomplished novices are skilled in many areas and proud of their accomplishments, but they realize that what they know is minuscule compared to all that is potentially knowable. This model helps free people to continue to learn even though they may have spent 10 to 20 years as an 'expert' in their field" (p. 48). 
An Example from the Field
Learning Couture—an organization that supports professional learning to promote learner-centered, personalized, and competency-based education in districts, schools, and institutions of higher education—recognizes that being a learner in this new environment has the potential to be disconcerting to those who have historically "done" traditional school well. Learning Couture's professional learning facilitators have observed teachers expressing frustration or anxiety when asked to engage in co-construction with their learners. This is often because of the ambiguity involved in this new approach and the near-universal movement for teacher teams to develop common definitions of proficiency that are based on the standards. For example, it can seem counterintuitive for teachers to both calibrate proficiency with fellow teachers and then to allow learners to co-develop and co-own quality criteria for the demonstration of those standards. Teachers may wonder, "Am I letting go of too much control when I let learners help determine what 'done' looks like?"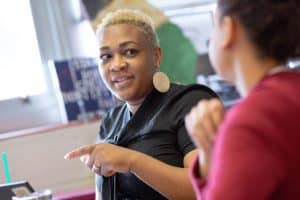 Designers of professional learning can model the experience of learner-centered practices such as these to guide teachers through frustration to a place where they find value in the increased learner buy-in and commitment to producing quality. For example, facilitators can involve teacher learners to share in the development of professional learning expectations based on context, learner perceptions, and individual learner goals.
One way Learning Couture eases anxiety and increases teachers' agency is through inviting teachers to create their own adult learner profiles. By drawing on the teachers' sense of identity and empowering them to make decisions about how they learn most effectively, these tools help nudge teachers toward deeper understanding of the process of learning in a way that is positively juxtaposed with the role of leading learners. Learning Couture believes that by designing an adult learner profile and by solidifying their identities as learners, teachers experience increased receptivity to the necessary shifts during the journey to becoming learner-centered with their students.
Ready to Get Started?
To design professional learning with these principles in mind, click on the button below to access examples, resources, and practices used by one school to harness emotions and motivations to help drive change.
Learn More

Check out the other Making the Shift blogs and professional learning exercises designed to address the hidden drivers of teaching practice that can thwart change efforts!
Dig deeper into the theory and research underlying an equitable, learner-centered approach in the Making the Shift report.
Kim Carter, founder and Executive Director of the Q.E.D. Foundation, is committed to creating, inspiring, cultivating, and sustaining communities where each individual is empowered to use his or her unique voice effectively and with integrity in co-creating our public world.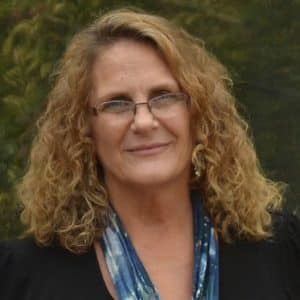 Passionately curious and a zealous learner, her librarian roots are evident in the constantly refreshed information she brings to developing and supporting learner-centered systems and practices that enable student agency, equity, and community collaboration.
With more than four decades of local, state, and national education redesign experience, facilitating youth, adult, and system capacities for co-creating learning communities and co-constructing learning experiences, Kim has been involved in the founding and launch of four schools. She is proud to be in professional community with colleagues in NHASCD, School Reform Initiative, and Education Reimagined.
Kim was the 1991 New Hampshire Teacher of the Year, 1996 New Hampshire Media Educator of the Year, 2021 New Hampshire Leader of the Year, and a first cohort Distinguished Fellow with Students at the Center Research Collaborative. She holds a master's degree from the University of Arizona.