College Transformed: Five Institutions Leading the Charge in Innovation
CompetencyWorks Blog
---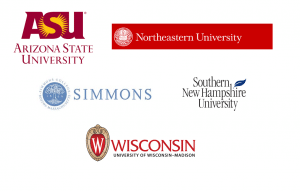 This post originally appeared at the Christensen Institute on February 22, 2017.
EXECUTIVE SUMMARY
Higher education leaders today confront a bevy of criticisms ranging from worsening affordability and persistent socioeconomic disparities to a lack of relevance in the ever-changing economy. Institutions are beset by internal challenges and external pressures. Business models are cracking under enormous pressure as state appropriations decline and net tuition growth wanes. Business as usual simply can't continue.
The nature of competition in higher education is changing—presenting both challenges and opportunities. For decades—centuries, even—higher education has been on a continuous trajectory of developing more complex and comprehensive institutions to build and disseminate knowledge and educate students. But technology is enabling a new, disruptive path: simpler, more affordable, more accessible educational experiences, built in alignment to the needs of the workforce. Leaders can look to examples of institutions that are successfully innovating in the new environment, some along this new disruptive path, and others by incorporating disruptive technologies to move forward along the traditional trajectory:
Arizona State University: Its open-access Global Freshman Academy creates a new pathway into the institution, and an innovative business model allows students to pay when they successfully complete courses.
Northeastern University: Drawing on its expertise in experiential learning, it established a coding and analytics bootcamp that defines success by student outcomes in the workforce.
University of Wisconsin: In order to address workforce challenges in the state, it deploys a competency-based degree program that draws on the academic resources of the UW System to develop new, accessible programs targeted to adult learners.
Simmons College: In partnership with 2U, the college transformed its business model by developing high-quality, online graduate programs that expand its reach beyond geographical constraints.
Southern New Hampshire University: Its radically affordable College for America creates opportunities for adult learners through a competency-based degree program in which the university partners with employers.
Leaders at these institutions used a variety of strategies to ignite different types of innovation, including building heavyweight teams, developing autonomous units, partnering with external organizations, and creating alliances with employers. But similarities also emerge: successful innovators focus on solving specific challenges for specific types of students and proactively build their institutional capabilities for innovation.
As trailblazers in the evolving higher education ecosystem, these institutions illustrate how innovation, even innovation that goes against the organizational grain, can be successfully deployed. Their experiences offer lessons for any leader hoping to carve an innovative path forward in today's turbulent environment.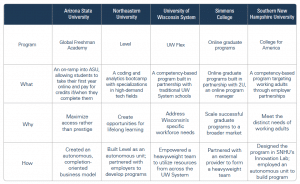 See also:
---
Alana leads the Institute's higher education research and works to find solutions for a more affordable system that better serves both students and employers. In this role, Alana analyzes disruptive forces changing the higher education landscape.