A Mastery-Based Math Teacher's Journey
CompetencyWorks Blog
---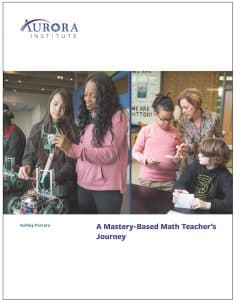 Today, CompetencyWorks released A Mastery-Based Math Teacher's Journey, the inspirational story of one teacher's multi-year transition from skeptic to devoted practitioner of mastery-based (or competency-based) learning. While the content focus is high school mathematics, the author's insights illuminate the journey for teachers in all disciplines, as well as school and district leaders, who are working toward deeper competency-based practice and systemic transformation.
Author Ashley Ferrara has spent nine years as a math teacher, instructional coach, and assistant principal at the Academy for Software Engineering, a public high school in New York City. She also shares her expertise as a mentor teacher for the Mastery Collaborative, a national leader in advancing mastery-based and culturally responsive education.
Ferrara's candor is one of the report's great strengths. She generously shares her initial missteps, so others can learn from them—followed by multiple iterations of her thinking and practice as she gains deeper insight into competency-based learning. Finally, she arrives at a set of deeply transferable competencies and corresponding learning strategies, helping her students develop skills as general problem solvers while also preparing for the state's high-stakes assessments.
Ferrara's story of deep devotion, reinvention, and improvement provides guidance and inspiration for all education stakeholders working toward deeper competency-based practice and transformation of the education system. The field of competency-based education is very fortunate that she has shared her journey with us. Download and share A Mastery-Based Math Teacher's Journey.
Learn More
Eliot Levine is the Aurora Institute's Research Director and leads CompetencyWorks.