Competency-Based Education Sessions at the 2021 Aurora Institute Symposium
CompetencyWorks Blog
---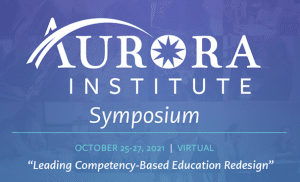 This year's Aurora Institute Symposium offerings make it clear that competency-based education has been building momentum during the pandemic. If you are trying to deepen your understanding of competency-based education, the virtual Symposium is a great opportunity. From October 25 to 27, you can join dozens of virtual sessions that share successful practices, important ideas, valuable resources, and new developments in the field.
For CompetencyWorks readers, almost every Symposium session offers learning and inspiration for advancing competency-based education. This blog post lists some of the breakout sessions that focus on it most directly. (The plenary sessions are also deeply relevant to competency-based education; they are described in the Symposium Agenda.) All times shown below are Eastern Time.
Monday, October 25
1:00-2:00 PM – Personalizing State-Wide Transformation. To ensure the successes of each child, Arizona, North Dakota, and South Carolina have launched and inspired large scale efforts to develop the capacity for personalized, competency-based learning. Each state is ensuring that learning communities receive access to high-quality professional development that meets the unique needs of each educator and, by extension, the unique needs of learners within their communities. The panel will speak to the strategies and lessons from each state.
1:15-2:15 PM – Connections at the Center: Innovative Approaches to Relationship-Centered School Designs. In the wake of the pandemic, schools are all too aware that relationships matter. But fostering connection in systematic and equitable ways remains challenging for schools short on resources. Luckily, a host of early innovators are taking a more relationship-centered approach to school design. These designs treat relationships with peers, educators, and community members not only as inputs to learning and development, but as valuable, measurable outcomes in their own right.
1:15-2:15 PM – Reimagining Washington's Education System Through Mastery-Based Learning and a Profile of a Graduate. Washington recently made significant investments in expanding mastery-based learning (MBL) by extending the directive of the MBL Work Group and by creating a state-funded grant program to support MBL demonstration sites throughout the state. We will present on the progress of the Work Group in creating a state Profile of a Graduate, which will be used to align the state's education system, including graduation requirements, and transform the system to advance equity and personalized education.
1:15-2:15 PM – Transformative Learning Experiences in Post-Covid School: Lessons from an Alternative School on Re-engaging Youth in Their Learning. Students from Opportunity Academy (OA) will showcase their work and discuss how intentionally designed PBL units kept them engaged—even through remote learning—helping them build the skills and knowledge necessary to thrive in high school and beyond. OA's school leader and his coach will discuss how students solve real-world problems, engage in their community, and use their voice. Attendees will get guidance on how to leverage key practices and principles in their own context.
2:30-3:30 PM – Designing a Personalized, Competency-Based System of Professional Learning: Placing Collaboration, Flexibility and a Bias Towards Action at the Core. Learn how The North Dakota PCBL Cohort is practicing a collaborative approach to professional learning, while actively considering impact and sustainability in your own learning community. We will apply the constructs of learning pathways and cycles to meet a variety of learning needs and consider how collaborative reflection can bring both synchronous and asynchronous participants together in a powerful space.
2:30-3:30 PM – Equitable Access to Learning Through Competency-Based School Choice Models. The continuum of competency-based implementation includes measuring effectiveness but, most importantly, evolving and innovating in response to our most important stakeholders—our learners.  Developing school choice models is critical to intentionally mapping equitable opportunities for the interests of all learners. Westminster Public Schools has implemented a variety of key competency-based school choice models with intentional designs to prepare learners for the day after graduation.
2:30-3:30 PM – From Standards-Based to Competency-Based Learning: One District's PK-12 Story. Join Liberty Public Schools (MO) as they transition from a more traditional grading model to competency-based grading through the process of personalized learning and learner agency. The interactive session includes small groups addressing problems of practice including: 1) entry points for teachers transitioning to CBL, 2) enabling conditions in schools/districts that allow for easier transitions, and 3) examples of resources, processes, and tools used by teachers to support the CBL work.
2:30-3:30 PM – Upgrading Our Educators' Job Description for Student-Centered Success: Bringing the Portrait of a Future Educator to Life. With the growing education crisis reinforcing the importance of student-centered learning, it is well past time to reimagine the role of educators if we are to successfully transform our schools. LEAP Innovation's Portrait of a Future Educator provides a roadmap of the competencies teachers need for a dynamic new education model that is learner-led and connected to the real world. Attendees will dive deep into the Portrait and understand what it takes to support teachers and make it a reality.
2:30-3:30 PM – What We Learned About School: Agency by Design. During post pandemic reflections, it became apparent that students were not equipped with the skills required for remote learning environments.  The panel will present intentional elements required to ensure student agency is cultivated and developed and apply them to an instructional planning model. The presentation will include the 10 essential elements required for fostering agentic behavior, as well as the three dimensions of agency: self, others and environment, based on research in New Zealand.
3:40-4:00 PM – #RethinkCurriculum: A Model That Increases Learners' Engagement and Success with High-Quality, Culturally-Relevant, Competency-Based Learning Experiences. Access to engaging learning materials that develop key competencies and critical consciousness, alongside a profound connection to community, is particularly scarce for a significant majority of learners. This session presents a new curriculum model that address this inequity, supporting learners as they undertake deep, self-directed learning that works in remote, hybrid or in-person contexts.
3:40-4:00 PM – Speak Truth to Power: Action Research of Graduation Pathways. We transform graduation pathways, by co-creating them with young people, to be culturally-responsive and community-informed. Our Youth Participatory Action Research internship recruits and pays students to research graduate profiles and capstone projects. Interns gain research experience, engage with their communities and peers, and have the opportunity to share their voices with those who have positional power to make change.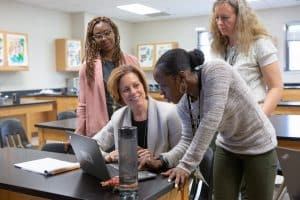 Tuesday, October 26
12:00-1:00 PM – Demonstrating Evidence of Learning Anytime, Anywhere: Spotlighting State Efforts to Leverage This Unprecedented Opportunity to Dismantle the Legacy of Seat-Time. This drive to support the efforts of schools during the COVID shutdown has surfaced many of the same policy obstacles that have long stood in the way of personalized learning, in particular seat-time. Every state has implemented temporary measures to ensure schools are funded and students receive credit during the pandemic, but we will take a look at the states that are seizing the moment and implementing bold systemic changes that will empower innovation well into the future.
12:00-1:00 PM – Competency-Based Education Is Not Enough. Learning Outcomes for Culturally Responsive Sustaining Education's Three Pillars: Academic Success, Cultural Competence, and Critical Consciousness. Competency-based education is not inherently responsive and sustaining to students' racial, cultural, and social identities. It's up to us to make it that way. Dr. Gloria Ladson-Billings's groundbreaking 1990s work on culturally relevant pedagogy is at the heart of today's field of CRSE (culturally responsive-sustaining education). We'll create learning outcomes for the three pillars she named: academic success, cultural competence, and critical consciousness. Let's work together to move the field of competency-based education to a new place.
1:15-2:15 PM – Ambitious Teaching & Learning. Ambitious teaching and learning focuses on three core concepts: (1) teachers and students have a shared understanding of their learning goals, (2) students are sharing their thinking, and (3) learning is grounded in discourse. These practices amplify equity and agency within the school's pedagogy. In this moderated panel discussion, participants, teachers, and students will engage in interactive conversations regarding the practices, reflections, and lessons learned that transformed their classroom experiences.
1:15-2:15 PM – Competency-Based Education: Getting Started with Learner-Centered Practice and an Equity Lens. Competency-based education is more than understanding proficiency levels and assessment practices. We must take context into account and deeply understand who learners are, what they love, and what they value. Join experts from around the country to discover entry points to competency-based learning, how to get started, and how to lay the foundation for learner-centered practices and approaches to begin to truly transform from traditional time-bound systems to equitable learner-centered systems.
1:15-2:15 PM – Hearts, Hands, and Minds; Engaging Students in Performance-Based Assessments that Emphasize Social Justice and Social-Emotional Learning. In the midst of the pandemic, 19 Chicago Public School teachers came together to design experiences that would engage students' hearts, hands and minds. They created performance-based assessments that would enable students to explore issues of social justice while demonstrating both academic learning and social-emotional skills. In this session, we'll explore teacher-created materials and student work, and discuss how teachers can weave these three components into their own teaching.
2:30-2:40 PM – How Competency-based Education Helps Address Some of the Inequities Baked into the K-12 Education System. We often talk about the fact that the K-12 education system upholds an industrial-era model of schooling, but we are only just beginning to discuss the ways that the industrial-era model upholds the tenets of white-supremacy culture (Okun, 2007). This Ignite Session articulates a few of reDesign's learnings regarding the potential of competency-based learning to turn these tenets on their head.
Wednesday, October 27
12:00-1:00 PM – Cultivating Student Identity and Purpose Through Connectedness: Innovative Approaches to Relationship-Centered School Designs. Innovative high school models recognize that preparing students to navigate the complex roadmap of career-related pathways requires supporting students in ways that go beyond mastery of core academic skills and content. Taking a more relationship-centered approach, these programs are partnering with youth to strengthen their own identities and sense of purpose which can serve as a north star as they navigate their personal and professional journeys.
12:00-1:00 PM – Post-Pandemic Imperative: Living into a New Future That's Equitable, Community-Based, and Learner-Centered. The time for invention is now—to leapfrog school-by-school transformation to whole-system transformation. What if we invent a system that enables vibrant ecosystems of learning grounded in equity, community, and youth empowerment? One that is life-affirming and organized to thrive. Join Education Reimagined's Kelly Young for a thought-provoking panel to explore what it will take to organize, support, and credential learning in fundamentally new ways for a fundamentally different purpose.
1:15-1:35 PM – Emerging Impact Data: Measuring Adult Development to Support Competency-Based Learning. We will introduce an adult development model (piloted in a virtual format) designed to support competency field-testing in elementary, middle, and high school settings in South Carolina. The presentation will detail specific action research methods and tools used, and highlight sample data gathered on both teacher learning and student growth. Participants will leave with new ways of thinking about evaluating the efficacy of CBL models, as well as concrete resources that they can adapt or share.
1:15-1:35 PM – Progress to Agency: Using Progressions to Create Learner-Centered Classrooms. Coaching and supporting teachers takes a village (of resources)! During this session, participants will use Dallas ISD's coaching progressions & PL Toolbox to support teachers and leaders who are working to leverage blended and personalized learning for their students. Participants will explore strategies to use the progressions during the coaching cycle and consider how to use the tools for goal setting and progress monitoring.
Learn More
Eliot Levine is the Aurora Institute's Research Director and leads CompetencyWorks.