CompetencyWorks Releases Report on Helping Students Develop Essential Habits of Success
CompetencyWorks Blog
---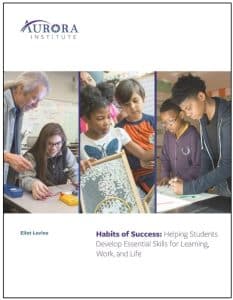 Today, CompetencyWorks released a new report, Habits of Success: Helping Students Develop Essential Skills for Learning, Work, and Life. Anyone who lives or works with young people (or adults, for that matter) has experienced the importance of habits of success such as self-direction, collaboration, communication, a growth mindset, and others. We know that students need these skills and dispositions to attain their educational, professional, and personal goals more effectively.
What most of us in the field of education need to know more about is how to help young people develop habits of success and assess their progress, and how to do this work with equity and cultural competence. This report attempts to bring together the latest practice resources, research, and guiding principles to provide a practical guide that enables readers to go deeper in all aspects of this work.
Fortunately, I began doing the research for this report before the pandemic, while visiting schools across the country and was able to discuss and observe how staff and students were selecting, promoting, and assessing habits of success. Their perspectives are reflected throughout the report.
In some ways, it feels like I began this research 20 years ago, when I became a teacher—a role in which helping young people develop habits of success determines how well the entire journey will go. The schools where I taught, members of the Big Picture Learning and EL Education networks, were already doing focused, explicit work on habits of success back then.
What's new is a growing recognition that habits of success can be developed—they are not fixed, innate traits—and that the field of K-12 education needs to take a much more active role in helping students develop them. Fortunately, a notable shift in this direction is underway, with a growing number of schools, districts, states, and community settings acting on this vital responsibility.
The report's synthesis of principles, practices, and research will help these groups build habits of success into the structures and routines of learning, whether they are just getting started or already actively engaged. The goal is to help all students be better prepared for success in learning, work, and life. You can download the report here.
Learn More
Eliot Levine is the Aurora Institute's Research Director and leads CompetencyWorks.