Considerations for Next Generation Accountability System Redesign
CompetencyWorks Blog
---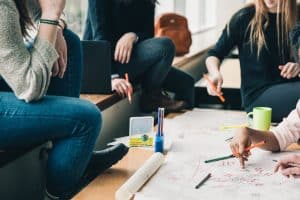 This post originally appeared at iNACOL on February 6, 2018.
The previous blog, Why Next Generation Accountability for Continuous Improvement is Important, explored the need to redesign accountability systems to support all learners based on reciprocal accountability and continuous improvement. This blog will focus on how states can begin to design next generation accountability systems.
As policymakers think long term about accountability redesign, an important first step in the development of a next generation accountability system is to create a clear vision of student success with diverse internal and external stakeholders. A shared vision for student success can clarify the purpose of the state's K-12 education system and drive coherent policies across the education system to make that vision a reality. One way states can create a shared statewide vision that reflect a new definition of success is through the creation of graduate profiles (Redefining Student Success: Profile of a Graduate).
Policymakers can also consider how multiple measures of student learning and school quality can be used in next generation accountability systems to provide stakeholders with rich, accessible information and to help inform and support all schools towards continuous improvement.
Transparent Data with Multiple-Measures Reporting
Next generation accountability systems can provide multiple measures of student learning and school quality that are aligned to graduate profiles. They can be designed to provide greater transparency, a key purpose of accountability, by providing a comprehensive understanding of student readiness and progress towards future success in college, career and civic life. High-quality accountability systems should be designed for transparency and usability by students, parents, teachers, principals and district leaders. With the appropriate data available at the appropriate levels, accountability systems could empower stakeholders with actionable, timely information on student learning and school quality.
Better accountability systems based on multiple measures could address the different information needs of state, local, schools, and communities. They would also drive more meaningful and timely identification of schools for school improvement, professional learning communities and offer needed supports for educators, or interventions to build capacity, in order to ensure that every student can succeed. In designing next generation accountability systems, states should consider how multiple measures of student learning and school quality could be clearly presented with advanced data visualization to provide families and communities with rich, easy to understand information and supports for educators. Additionally, policymakers should consider how accountability systems could provide timely information to the appropriate stakeholders for equity and transparency, ensuring the data can be aggregated or disaggregated to meet different needs.
Policymakers designing new accountability models should give ample consideration to supports that will be required to build the capacity of educators and leaders to access, interpret and use data to support student success in personalized, competency-based educational environments.
Thinking Differently About Growth and Proficiency Metrics in Accountability
As we consider student learning outcomes, it will be important to think differently about the concepts of proficiency and growth and how we can monitor student learning in real-time, so educators can intervene quickly to fill in gaps or meet other needs as they arise. We need to move from thinking about measuring one point of proficiency at one point in time, to understanding the transparency of data with student proficiency every day as well as each student's growth over time. There is a need for more advanced quality assurance, evaluation and assessment approaches to provide ongoing transparency of student progress. With better data, data literacy, and the requisite investments in educator capacity, it would be possible to evaluate proficiency, achievement gaps, rate of progress and also understand growth based on individual student growth over time; we could also look across cohorts of students and disaggregate data by sub-group to ensure equity and transparency with a depth not possible today.
Supports for Improvement in Teaching and Learning
As states consider accountability systems redesign, models for school interventions and supports need to be part of the conversation around continuous improvement. States can consider how school improvement could be a vehicle for innovation with an equity frame to better support teaching and learning.
At the heart of the federal policy on accountability in education is the idea that states need to monitor school performance with student achievement data that are disaggregated by subgroup, and intervene to turn around and improve schools when they are not adequately serving students. The NCLB policy on school improvement required states to select from a limited menu of highly prescriptive turnaround models that did not always work best in the local context. Under ESSA, states now have more flexibility than before to design school improvement models and to help build networked professional learning communities.
Comprehensive school improvement is the process required in ESSA for states to intervene in the lowest-performing five percent of schools in the state. Targeted support is required for schools where subgroups of students are not meeting benchmarks. All school improvement models and plans must be responsive to a school's needs assessment and be evidence-based. One way this can be achieved is through school quality reviews. Policymakers can support the development of school redesign and improvement models that are competency-based. They can do so by defining criteria for improvement models that align to student-centered learning, and by examining barriers and opportunities in state policy to build competency-based systems (see State Policy & K-12 Competency-Based Education).
The capacity of educators and leaders to effectively lead school redesign is an essential consideration for policymakers. Educators need the opportunity to develop the skills required for next generation learning environments, while leaders at all levels need capacity to lead the transformation of school models. As policymakers identify new models for school improvement, they need to consider investing in the requisite educator and leader capacity and embedding professional learning into quality improvement processes. Policymakers can build educator capacity with the skills they need for student centered learning through:
Identifying clear, specific educator competencies needed for personalized learning environments, student-centered models and competency-based education structures;
Creating multiple, high-quality pathways to educator credentials and development;
Developing educator capacity and professional judgment; and
Building an understanding of assessment literacy.
Tennessee's Approach to School Redesign Under ESSA
In Tennessee's ESSA State Plan, the state will prioritize continuous improvement for schools and districts by customizing improvement strategies based on district needs and supporting local innovation. The state will provide continuous support and differentiated technical assistance to districts and schools by "work[ing] directly with districts and schools on assessing the needs, conducting a readiness review, developing a plan for improvement, and supporting and monitoring progress."
In addition, Tennessee will empower schools and districts by providing:
Access to accurate and timely data linked to clear action steps;
Decision-making supports for districts – communicating and prioritizing choice points, options, and flexibility for various initiatives;
Coaching and support;
Earned autonomy for high-performing districts;
Pilot opportunities and space for districts to innovate; and
Access to strong networks of learning and opportunities to contribute to decision-making around statewide initiatives.
Tennessee also encourages local continuous improvement and innovation efforts with Innovation Zones and supports Networked Improvement Communities, which are "a colleagueship of expertise building on the hard work and creativity of many." The Innovation Zone model "is designed to provide greater autonomy and flexibility to schools served within the Zone and remove barriers to success and innovation." Tennessee schools that have been identified for support may apply to participate in the Innovation Zone as part of their school improvement plan. Districts can participate in the Networked Improvement Community to share tools, resources and build cross-district capacity to problem-solve barriers to school improvement with special attention to local context and needs.
Tennessee's Theory of Action defines "how the state will support, resource, and monitor school improvement plans and subsequent implementation:"
"If Tennessee creates:
A culture of high expectations and commitment to continuous improvement through evidence-based practice;
A framework for earned autonomy and choice in intervention;
Resources to support continuous improvement and capacity building;
An Achievement School District that serves as the state's most intensive intervention and catalyst for change.
"Then:
Districts will be charged and empowered to serve the schools identified as Priority schools by:
Ensuring that every school has a results-oriented, community-competent leader;
Recruiting and retaining effective teachers with the will and skill to teach students in high-needs schools;
Training and supportive effective teachers in the depth and knowledge of instructional practice;
Providing support and wraparound services that engage students, parents, community partners and other stakeholders.
"Then:
Schools will provide effective and engaging instruction within a supportive culture, resulting in academically-prepared and socially-responsible students who are equipped with the knowledge and skills to successfully embark on their chosen path in life."
See also: