Designing Data-Driven Personalized Pathways for Professional Learning
CompetencyWorks Blog
---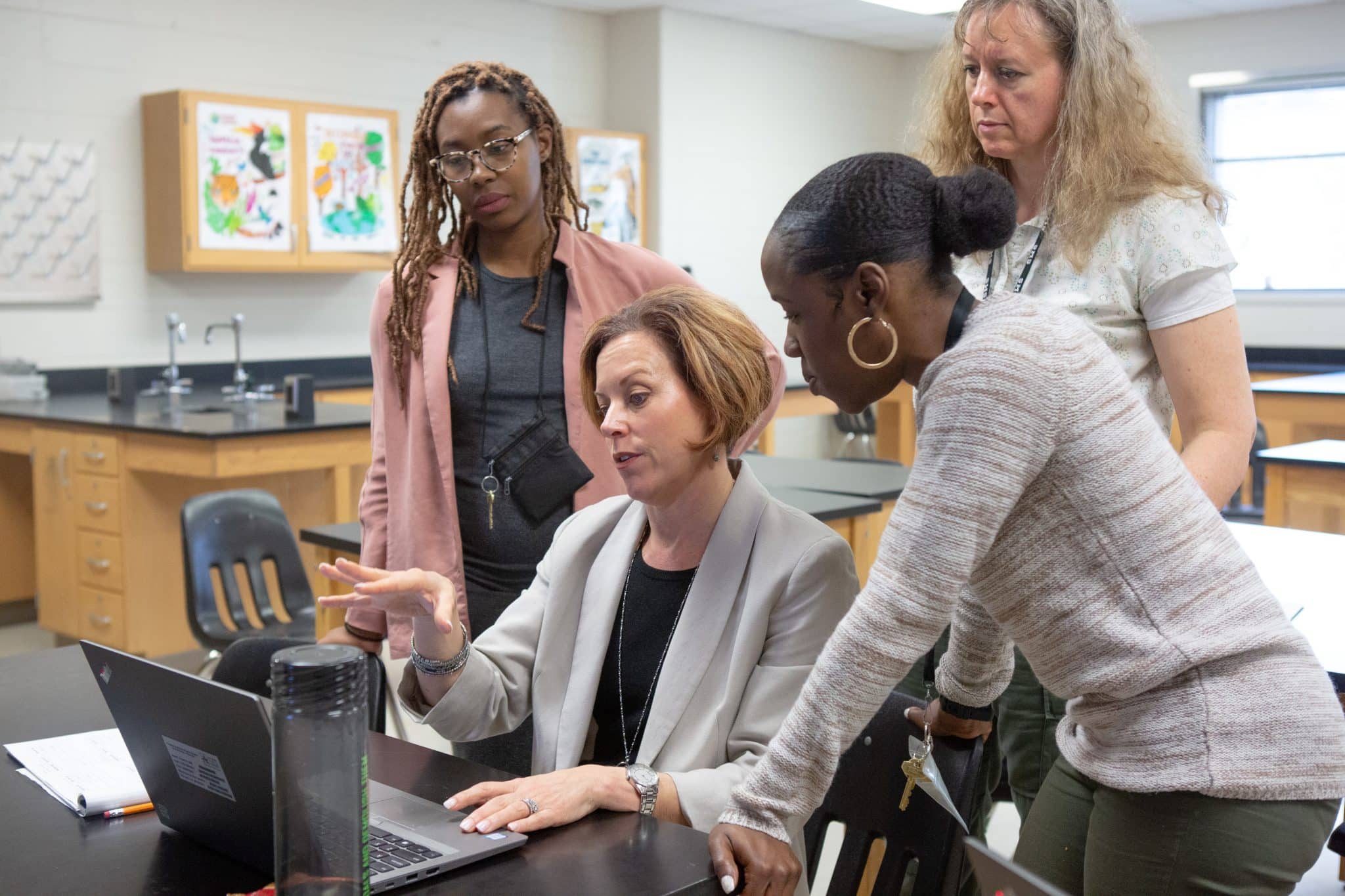 This is the second in a series of blog posts focused on how The Center in Iowa is providing web-based tools and resources to personalize professional learning for educators moving into competency-based systems. This blog post focuses on what adult learning looks like when leaders in a school or district design, lead, and personalize complex change using educators' target zones of development and shared problems of practice.
In the first part of this series, I described The Center's approach to helping districts find and follow a clear path to personalized, competency-based learning. Our web-based, customizable roadmap empowers teachers, administrators, and designers of professional learning with a dashboard that ties teacher practices to hyperlinked resources. The roadmap provides leaders with a real-time view of where teachers are in their practice and a way to coach them over time in learning pathways grounded in the Aurora Institute's Competency-Based Education (CBE) principles.
How do we prepare adult learners for personalized CBE experiences?
Shifting from traditional to competency-based practices is complex. It requires care and feeding to nurture people and processes over time so they thrive and grow. One of the keys to addressing complex change is to home in on the parts of the change process that will help adult learners feel and be successful.
We use the Lippitt-Knoster Model (TrustDigital, 2021) with districts and schools to better understand current reality and to mitigate potential barriers. Figure 1 below shows the main elements of the change process—vision, consensus, skills, resources, incentives, and an action plan—as well as the problems that arise if any element is neglected. For example, as I shared in Part 1 of this series, The Center's professional learning roadmap provides vision and the ability to develop an action plan. These steps are made more sustainable by fostering consensus through protocols and consultancies that address both the head (logic, reason, knowledge) and the heart (motivations/values and mindsets).
Figure 1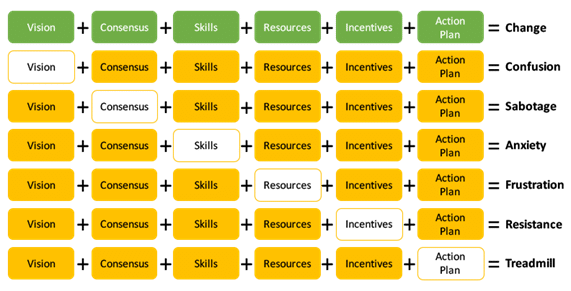 When leaders are implementing personalized, competency-based professional learning, it is also important to ensure educators have time to develop the skills they need to be agents of their own learning—to employ voice and choice, demonstrate autonomy, and lead their own learning. Not developing the skills to be successful results in anxiety and can slow or stall change altogether. You can explore more about learner agency here on The Center's website.
Educators also need resources that will lighten the burden of learning something new, and that are offered in a range of modalities to accommodate learning preferences and to keep engagement high. Without these resources, adult learners become frustrated with the change process and often resort to quick fixes rather than deep learning (see Figure 1).
The web-based solution we are using with Iowa schools provides for each of the key elements of the change process: vision (the IC Map), consensus (addressing values and developing shared goals), skills (discrete instructional practices that can be stacked to create change), resources (e.g., micro-credential learning experiences, videos, websites, protocols, and templates), incentives (more on this in Part 3 of this blog series), and action plans (shared or individual). The schools we are supporting are finding the most success when they model the learning design process via whole-school and/or small group learning cycles.
How are PL designers differentiating educator supports?
In The Center's web-based solution, designers access a customizable dashboard that allows them to personalize professional learning based on educators' responses from reflective surveys. The image below shows the dashboard for 13 educators in one high school who have reflected on their instructional practices for developing partnerships for anytime/anywhere learning. Six educators are in the initial zone, four are ready for intermediate instructional practices, none are in the "collaborative" zone, and three report more advanced practices and are ready to start optimizing them. These three clusters of adult learners have distinctly different needs, which the software:
makes visible, and then
pairs those needs with a bank of resources from which to design professional learning experiences, and then
shows growth over time to affirm the impact of professional learning.
Figure 2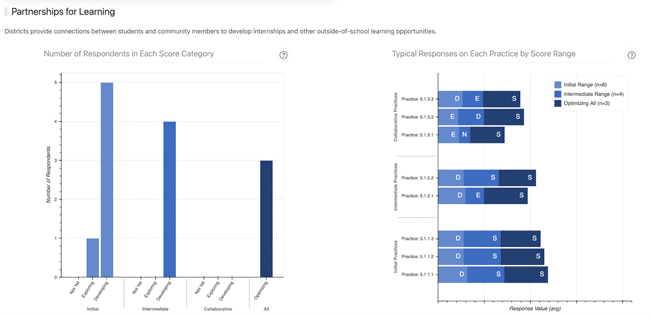 After identifying clusters of adults with the same proficiency level on a given instructional practice, designers work with educators to identify a common problem of practice on which to work. A common problem of practice helps narrow the focus for a learning cycle, which may last 8-10 weeks to allow for accessing new resources, engaging in learning activities, and applying that learning in job-embedded experiences with learners (more on this process in Part 3). Strategies for identifying the common problem include think-alouds, consultancy protocols, and agile prioritization processes such as facilitated voting techniques (e.g., hot dot voting).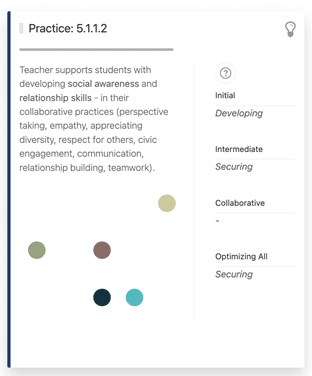 The figure to the right shows one of these common problems of practice—helping students develop social awareness and relationship skills—and the self-reported levels of practice of educators (initial, intermediate, and optimizing). The colored dots in the figure link to a range of aligned resources that designers and teachers use to develop professional learning plans. While developing the action plans, designers and educators discuss how the resources connect to the larger vision, which specific skills will be developed and practiced with learners, and in which order.
Where do educators go from there?
Once the designers have created a data-based plan for—or, better yet, with—each cluster of educators, they are ready to monitor progress within the learning cycle by listening to stories of implementation and providing feedback via walkthroughs and consultative protocols. During this time, teams engage in data collection and culminate their learning cycle with sharing artifacts and celebrating their learning, as further discussed in Part 3 of this blog series.
Part 3 also discusses how to use teacher-level data and a gradual-release approach to prepare educators to be agents of their own learning. This empowers them to emulate the design process that was modeled for them in the first one or two learning cycles, and to become owners of the change process.
We believe deeply that your learning should be just in time, not just in case. If you want to know more about the work we do at The Center, please see The Center's website or contact me to discuss how I can support you and your school or district with this type of solution outside of Iowa.
Learn More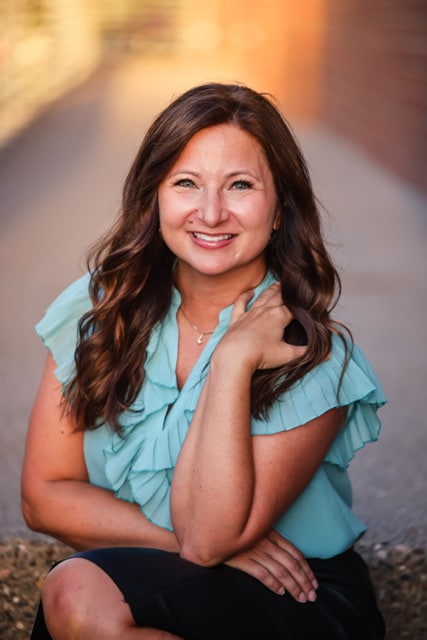 Andrea Stewart is the Director of The Center with 11 years in personalized, competency-based learning and 24 years in education. She leads transformational change with schools, districts, education service/state agencies, higher education, and via national conferences and cross-state partnerships/consultation. Andrea served on the Iowa Department of Education's CBE Task Force, CBE Collaborative, and Design Team, where she led the state's competency design and assessment process. Her work in competency-based education began in 2011, when she led pilot implementation of standards-based assessment and reporting and competency-based education. Prior to this work, Andrea taught high school English for 12 years.