A District-wide Personalized Professional Learning System to Advance Competency-Based Education
CompetencyWorks Blog
---
The Shelby County Public Schools (SCPS), a 13-school district near Louisville, Kentucky, have been transitioning to competency-based education at deeper levels for a decade. This fall they launched a professional learning system designed to give educators and school leaders a more experiential understanding of the approaches they are using with students, such as customizing their own professional learning, assessing their own progress, and demonstrating their learning to peers.
Tracy Huelsman, the district's Staff Developer, is leading the initiative in collaboration with the district's instructional coaches and external partners. Huelsman, who was an instructional coach in the district for ten years and a teacher before that, spoke with me and shared many resources SCPS has developed. The new professional learning system aims to build clarity and consistency across the district around the major goals for all staff while leaving room for schools and teachers to adapt it to their needs.
The district's competency-based education system is based on the Aurora Institute's CBE definition. In the figure below, SCPS arrayed the seven elements of the definition with helpful summary titles and icons corresponding to the strands of their professional learning system. The system emphasizes all students having equitable opportunity to succeed and staff gaining deep understanding of culturally responsive approaches.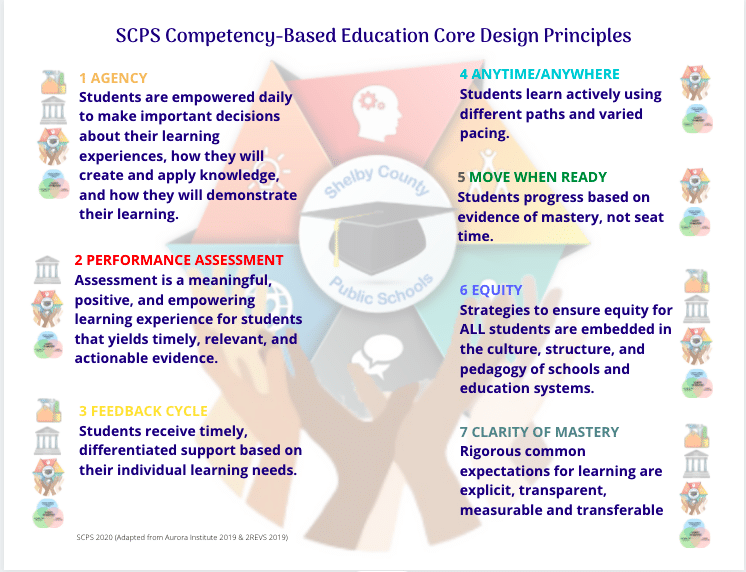 The professional learning strategy has four strands—Foundations of SCPS, Pillars of Thinking Strategies, Principles of CBE Culture, and Clarity of Mastery—as shown in the image below. All educators and school leaders participate in professional learning related to Clarity of Mastery, whereas the other three strands are tailored to the needs of each individual.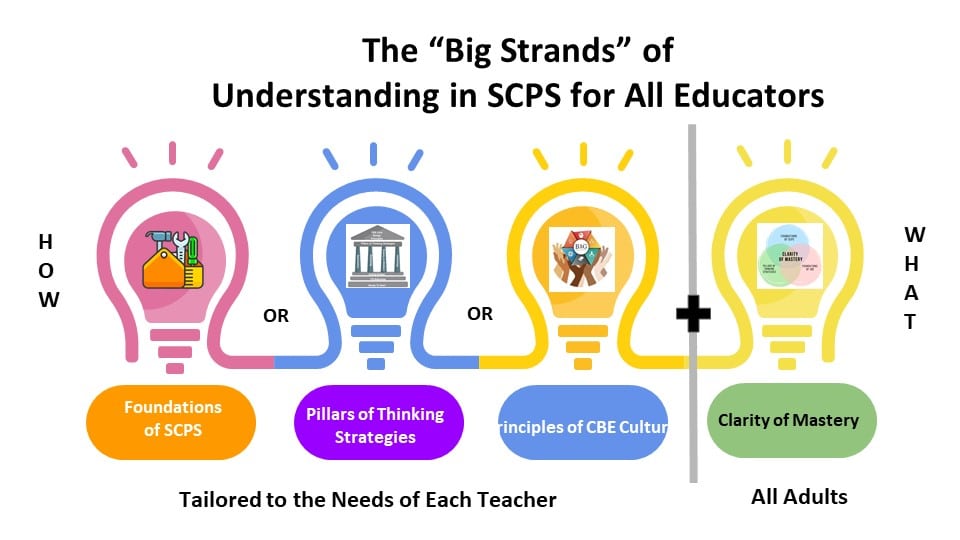 Strand 1 – Clarity of Mastery
Clarity of Mastery encompasses everything related to content mastery, assessment literacy, and best practices in content instruction. SCPS lays out a continuum to describe practice at the Learning, Engaging, Growing, and Advanced levels, where some of the practices at the Growing level include:
Create a classroom culture of mastery learning in which feedback, revision, and student agency are core components.
Collect high quality evidence in a variety of ways, including performance assessments.
Use a feedback cycle to move students to mastery.
Provide problem-based learning opportunities.
Some practices at the Advanced level involve mentoring colleagues to reach higher levels. Others focus on agency, such as increasing student voice in developing success criteria and how to demonstrate their mastery. The district's rubric for all four levels is shown below.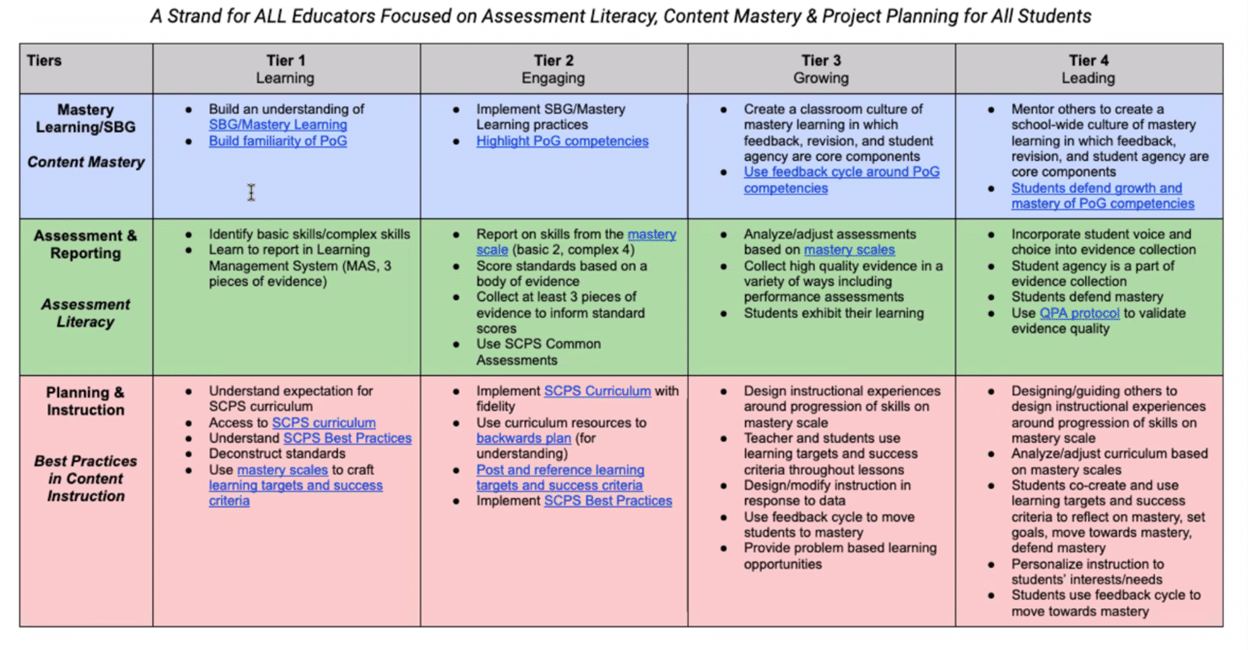 The other three strands are more focused on instruction and are tailored to the needs of each teacher. They form a learning progression, with teachers moving to higher levels as their experience with competency-based education deepens. The Foundations of SCPS and Pillars of Thinking Strategies strands use the anchor text Phenomenal Teaching by Wendy Ward Hoffer and a series of companion professional learning workshop modules developed by the Public Education and Business Coalition (PEBC). The Principles of CBE Culture strand uses the anchor text Competency-Based Learning: A New Architecture for K-12 Schooling by Rose Colby. SCPS instructional coaches and lead teachers facilitate this learning, and the district also works directly with PEBC and Rose Colby.
Strand 2 – Pillars of Thinking Strategies
In this strand, teachers develop key pedagogical practices that facilitate competency-based learning. The strand has a series of three modules—Workshop, Discourse, and Language of Thinking—each with its own continuum and criteria. For example, the Workshop continuum, based on a rubric from Phenomenal Teaching, includes key elements of competency-based teaching and learning, such as active learning, student agency, and self-assessment. One of these elements, Independence, has the following four progressive levels:
First step – Create daily opportunities for learner's independence and collaboration.
Next steps – Match resources, supports, and time to work with complexity of task(s) and individual needs.
Advancing – Engage learners in authentic work of the discipline for the majority of the learning time.
Peak Performance – Learners lead meaning making throughout learning time.
Pillars of Thinking Strategies is a multi-year progression. As teachers demonstrate deeper knowledge and implementation of the Workshop and Community modules, their professional learning shifts to the Language of Thinking module. The final step is for staff who have demonstrated expertise in all three modules and wish to take a leadership role by supporting the learning of their colleagues who are at an earlier stage in the progression.
Strand 3 – Principles of CBE Culture
This strand is open to staff who, through their practice with students, have demonstrated a strong applied understanding of the Pillars of Thinking Strategies. The strand focuses on implementing CBE structures and systems, using Colby's text as well as the recently revised Competency-Based Learning School-Design Rubric from Breaking With Tradition: The Shift to Competency-Based Learning in PLCs at Work by Brian Stack and Jonathan Vander Els. (Stack and Vander Els recently wrote a blog post on CompetencyWorks about the revised rubric.)
Strand 4 – Foundations of Shelby County Public Schools
This strand is for first-year staff in the district. By the end of their first year, they are expected to be able to take initial steps in the other three strands, as shown in the table below, as well as demonstrating initial mastery of several of the district's EdTech resources.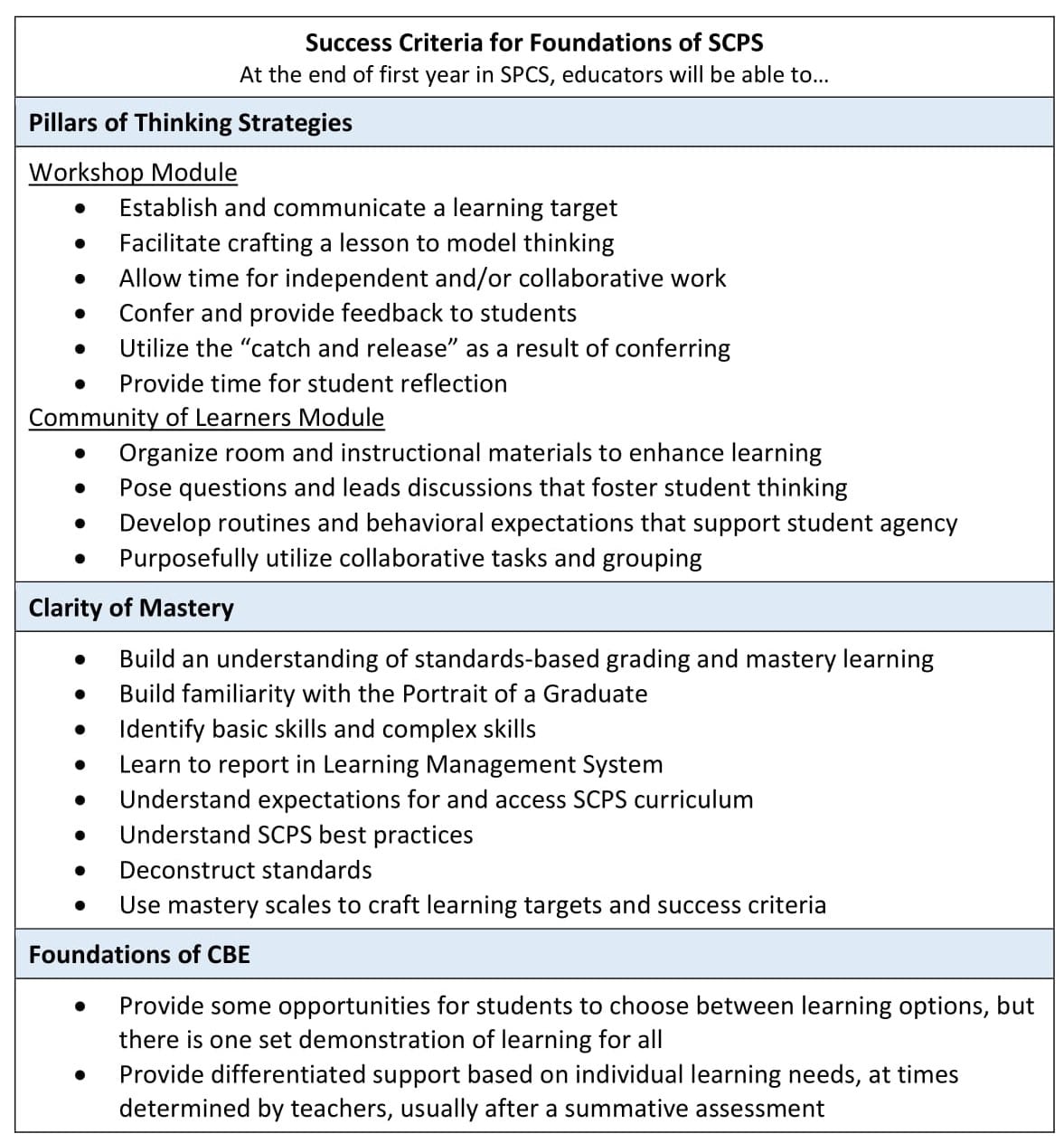 It's so valuable that Shelby County provides opportunities targeted to teachers who are new to the district. The district is acknowledging that teachers can't be fully-formed competency-based educators in their first year, just as with traditional teaching. Offering a multi-year developmental progression makes it clear that improving over time is possible and necessary. It also reduces the overwhelming stress and demoralization that so many teachers experience when placed under impossible demands.
"There are so many teachers who want to do such a great job and whose expectations of themselves are so high, and I value that," Huelsman said. "But so many are just breaking themselves to try to go above and beyond. Being able to articulate these expectations is a way to manage that. The CBE work will continue to grow every year."
Professional Learning Logistics and Evaluation
Professional learning devoted to the four strands takes place across the district after school every other Tuesday afternoon for 60-90 minutes of contractual time. The first Tuesday of the month focuses on Clarity of Mastery and the third Tuesday focuses on the other three strands. Full professional learning days at the beginning and end of the school year focus on the four strands, and ongoing coaching and professional learning communities (PLCs) are embedded in daily practice. Lead teachers and district instructional coaches lead the professional learning, which enables school administrators to participate as learners.
Teachers also visit their colleagues' classrooms once per semester, carrying out structured observations to gather data that they can discuss with their teams. Staff who are new to the district do two visits in their first semester and participate in three full professional learning days in the summer before starting in the district. The structured opportunities to learn from more experienced colleagues are essential for professional development.
Within the four professional learning strands, educators set and track their own goals and demonstrate their progress in ways that are personalized and compatible with the Kentucky's statewide evaluation system. As SCPS continues to develop its professional learning and evaluation system, they plan to use microcredentials that are linked to learning standards, enabling teachers to guide their own learning at their own pace. The district will also share some educators' professional learning plans and products publicly, providing opportunities for staff to identify and develop PLCs with colleagues who have common goals.
Few districts nationally have committed to implementing competency-based education as deeply and for as many years as Shelby County. They have invested substantial resources in district personnel and external experts to lead the work, yielding structures and a culture that align with competency-based principles. The personalized professional learning system is an important next step in that commitment.
As an early innovator, SCPS is adept at launching systems that are still under development, then refining the systems based on experience. For districts that are in earlier stages of CBE implementation, it's valuable to know that Shelby County is striving for excellence, but not perfection. Describing the impetus for the new professional learning system, Huelsman said the district knew their competency-based practice was deepening but they needed to go deeper. Their goal was for at least 90 percent of staff to be doing strong CBE practice at least 90 percent of the time. Given the tremendous challenge of transforming a district, that is an ambitious goal, and the personalized professional learning system will be essential to achieving it.
Learn More
 Eliot Levine is the Aurora Institute's Research Director and leads CompetencyWorks.