A Roadmap for Personalized, Competency-Based Professional Learning
CompetencyWorks Blog
---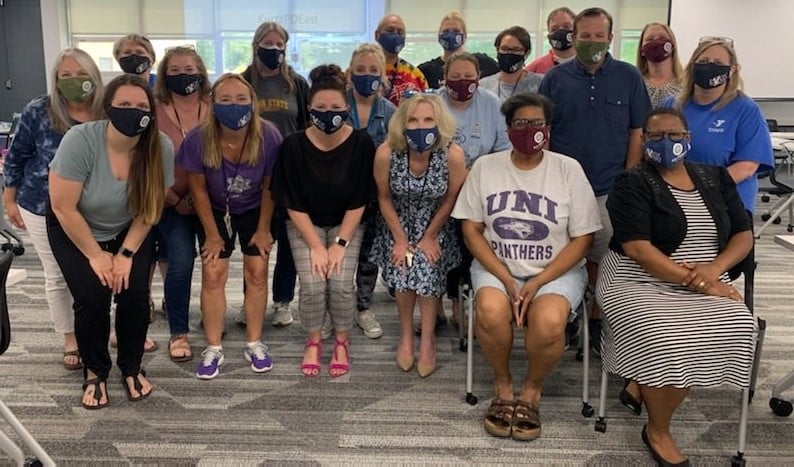 This is the first in a series of three blog posts focused on how The Center is providing customizable web-based tools and resources for educators seeking to move to a competency-based system. The Center is an Iowa-based organization that facilitates networks of educators and community-based stakeholders to co-create rigorous, authentic, learner-centered ecosystems as pathways to future readiness. This first blog post focuses on understanding how we use reflective practices to determine real-time professional learning needs at the individual, building, and district levels.
Finding and following a clear path to personalized, competency-based learning is a multi-year transformation with many challenges. The road often seems obscured: we know we want a learner-centered, competency-based system, but what does it look like and how do we get there?
Despite the uncertainty in the journey, many of us remain learner-centered because we believe learners' potential is limitless when they are inspired to use their agency to design pathways to their goals. Both young and adult learners engage deeply in the learning process when their curiosity is tapped and their passions drive their purpose.
Thus, we are looking for ways to make professional learning relevant, just-in-time, and effective in increasing student engagement and achievement. When possible, this includes ensuring that the adult learners have meaningful input and control over their learning. Two of The Center's key professional learning goals are to:
Ensure that high-quality, personalized professional learning occurs all year every year and can be measured through data dashboards that illuminate current reality and growth over time;
To support each educator in creating a personalized learning profile rooted in a growth model that tracks their level of experience and proficiency with different instructional practices.
The Center is helping educators across Iowa use a roadmap that provides these benefits. They use a web-based tool that empowers teachers, administrators, and designers of professional learning with a dashboard that links teacher practices to a bank of online resources. This gives leaders a real-time map of where teachers are in their practice and a way to coach them to increasing proficiency over time. The practices that teachers reflect on and select from when designing their learning pathways are all grounded in the Aurora Institute's Competency-Based Education (CBE) principles.
For example, In Figure 1 below, a teacher reflected on their instruction as it relates to the Personalized Supports principle. Within that principle, the teacher homed in on "Choice and Co-Design" as a desired place to shift their practices. The web-based solution recommended three practices for this teacher to try based on their self-assessment:
Teacher uses grouping strategies to differentiate learning based on readiness, interest, and the cognitive demand of learning targets.
Teacher involves students in reflecting on teaching practices and the learning environment.
Teacher instructs students in self-awareness and self-motivation strategies.
Figure 1

These recommended practices are aligned to a range of initiatives (denoted by the colored dots, which are interactive within the software) and come with a resource bank (e.g., micro-credential learning experiences, videos, websites, protocols, and templates). Some of these resources are created by The Center, and others are curated from the field. They ensure that designers and teachers have multiple modalities to choose from when they are co-designing professional learning plans.
Each teacher's data is pushed to building- and district-level dashboards where designers can see where teachers fall across a range of proficiency in each CBE principle. From there, districts and schools can co-design short-cycle learning plans (8-12 weeks) for selected learner-centered instructional practices. In the next two blog posts in this series, we will share what that adult learning looks like.
What is helping schools and districts succeed?
Shifting from traditional to personalized, competency-based practices is second-order change: it's complex, multi-faceted, and lasting in a way that "undoes" the way a school operated prior to the change. (For example, courses becoming project-driven rather than unit-driven, or a school shifting from seven periods to four periods per day). Second-order change requires care and feeding to nurture people and processes over time so that they thrive and grow.
The schools that are finding the most success are planning for complex change by starting with people before processes, including a focus on beliefs, consensus, and efficacy. Specifically, they focus on:
Beginning with both the head and the heart by working to make mental models about teaching and learning visible, and by developing collective efficacy within and across teacher teams;
Co-creating a shared "why" and theory of action for learner-centered practices; and
Identifying entry points and high-leverage moves by prioritizing small shifts and incremental goals.
Using protocols and processes during complex change, such as the Voice in Decisions Technique (VIDT) from the Right Question Institute, helps to center teacher voice in the decision-making process and reduce the roadblocks that emotions can cause. Additionally, helping teachers identify their mental models—using tools such as this Ladder of Inference and these Ladder of Inference Questioning Strategies—creates a safe space and a structure to address educator thoughts and actions so that we can make new habits and lean into meaningful change.
How are designers differentiating supports to fit all educators' needs?
Within The Center's web-based solution, each adult learner has a personalized set of surveys derived from an Innovation Configuration (IC) Map. The IC map breaks complex changes into four columns that describe how to move from current reality to a competency-based system. Figure 2 below provides an example of how one instructional practice—transferable competencies—builds in complexity from Initial Practices to Systemic Practices. The web-based tool provides similar maps for all of the Aurora Institute's CBE principles.
Figure 2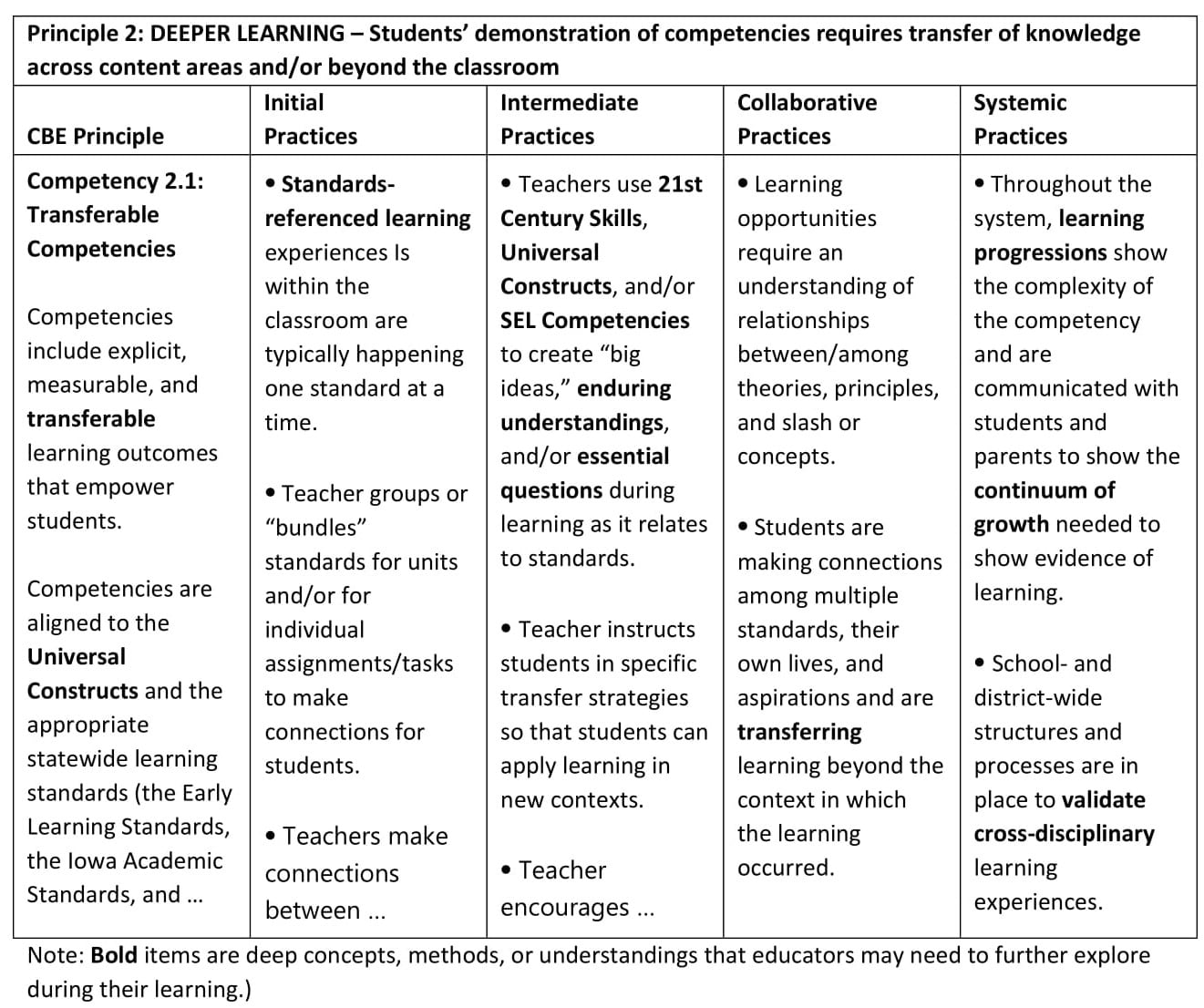 Designers develop professional learning based on educators' level of proficiency with each practice. In this way, each educator's needs are met "just in time, not just in case"—in other words, they get what they need when they need it, but not before. This can be done one CBE principle at a time or based on groups of shifts that cross multiple principles.
After educators self-assess, each receives a descriptive score placing them in a target zone for learning. Districts and schools can see where each cluster of educators falls on a continuum and can customize learning for each based on their self-reported readiness. Figure 3 demonstrates the dashboard view for designers, which they use to tailor professional learning experiences based on educator readiness.
Figure 3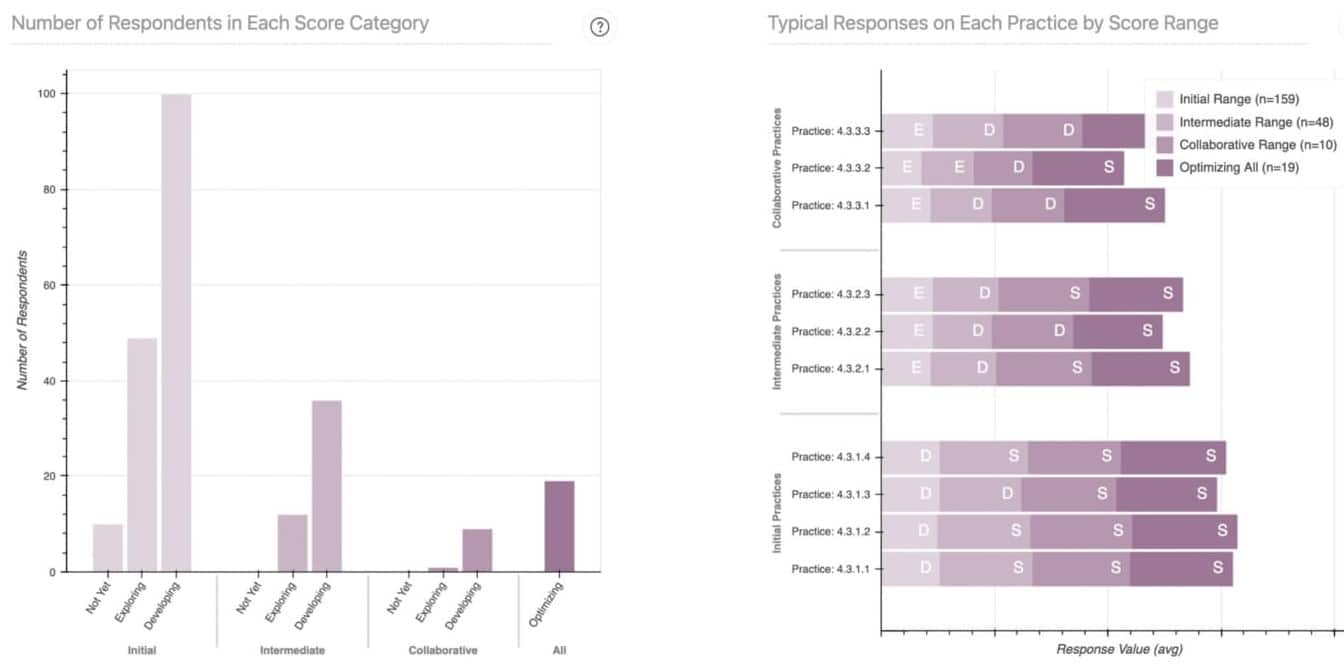 Where do educators go from there?
The schools and districts we are currently supporting through this web-based platform are able to customize their approaches to fit their context. Once they have engaged their staff to build buy-in and collective efficacy, and once educators have self-assessed on a select set of practice shifts, they are ready to implement short plan-do-study-act cycles of job-embedded learning and doing. Learn more about how schools plan for these cycles in Parts 2 and 3 of this blog series, where we will share how to use data and a gradual release approach to prepare educators to be agents of their own learning.
We believe deeply that your learning should be just in time, not just in case. If you want to know more about the work we do at The Center, please see The Center's website or contact me to discuss how I can support you and your school or district with this type of solution outside of Iowa.
Learn More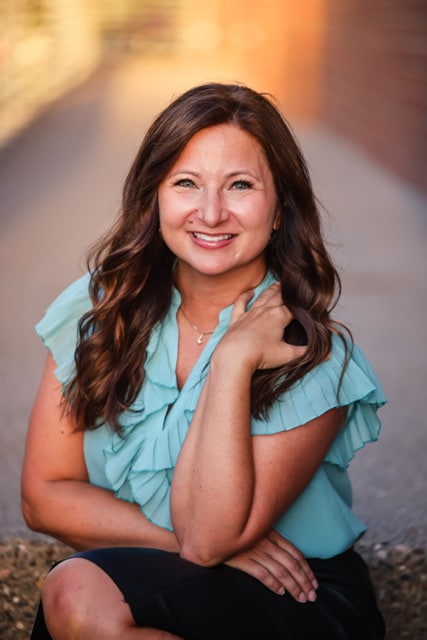 Andrea Stewart is the Director of The Center with 11 years in personalized, competency-based learning and 24 years in education. She holds a BA in English Education from the University of Iowa, an MA in Teacher Leadership from Morningside College, and an EdS in Education Leadership from Drake University. She leads transformational change with schools, districts, education service/state agencies, higher education, and via national conferences and cross-state partnerships/consultation. She is the product owner and developer for the Customizing Learning Platform, and is the founder of Learning Couture.
Andrea served on the Iowa Department of Education's CBE Task Force, CBE Collaborative, and Design Team where she led the state's competency design and assessment process. Andrea also served on the Midwest Comprehensive Center's Cross-state CBE Consortium, where she co-created micro-credential quality criteria/tools, and contributed to multiple technical advisory groups for the Aurora Institute's National 2017 Summit on K-12 Competency-Based Education. Her work in competency-based education began in 2011 where she led pilot implementation of standards-based assessment and reporting and competency-based education. Prior to this work, Andrea taught high school English for 12 years.