Did I Mention That It's Hard?
CompetencyWorks Blog
---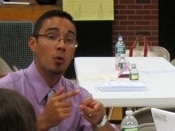 If you are considering having your district or school move towards competency education, then find an hour to dive into the recently released The Long Conversation or, "It's hard, but worth it. Did I mention that it's hard?"
This case study on Kennebec Intra-District Schools, better known as RSU 2, commissioned by the Maine Department of Education, really is a must-read for anyone starting to think about implementation.  It's chock full of lessons and insights that can help you leap over the hurdles you are bound to encounter.
Setting a Vision:  The process used by RSU 2 under the leadership of Don Sivisiki, now at the Maine Department of Education and its vision for student centered learning can be helpful to think about how to shape a process to engage school board, educators and community members.
Staying in Sync:  One of the lessons learned from RSU 2 is how important it is to keep educators and the community, especially parents, in sync in making changes. As I read the case study I couldn't help but think about the moral imperative of educating all students butting up against the needs of students that are at the far right of the bell curve.
Resources

Take the time to check out the RSU 2 website as well. The rubric for best practices of learning communities is probably one of the best I've ever seen.  You can find out a bit about Educate.  The blog on Learner-Centered News gives you a bit more information about each of the main points raised in the case study.
New Learning Together:  The case study gives an overview of the role that the Reinventing Schools Coalition played in helping build a strong consensus for change. So strong that 83% of the teachers voted to go forward towards competency education.
Bold Leadership and Its Impact:  One of the most interesting parts of the case study is year three, when Virgel Hammonds was hired as the new superintendent. Dr. Hammonds had substantial experience in competency education in Lindsay, Calif., a district that has been at this work for years.   He made bold decisions to bring in the Educate information system, embrace the Maine Cohort for Customized Learning's measurement topics even though they were not fully developed, and implement standards-based reporting in all grades in all high schools simultaneously.
Check and Adjust Management Strategy:  This part of the case study is invaluable. It describes the risks of pure student-paced model that needs to be thought about before implementation rather than letting a group of students fall beyond and become not-yet-competent.  In addition, it describes the importance of creating a culture of innovation in which educators can "check and adjust" as needed, creating a culture of continuous improvement.
We would love to hear your comments, questions, or your lessons learned from implementation.